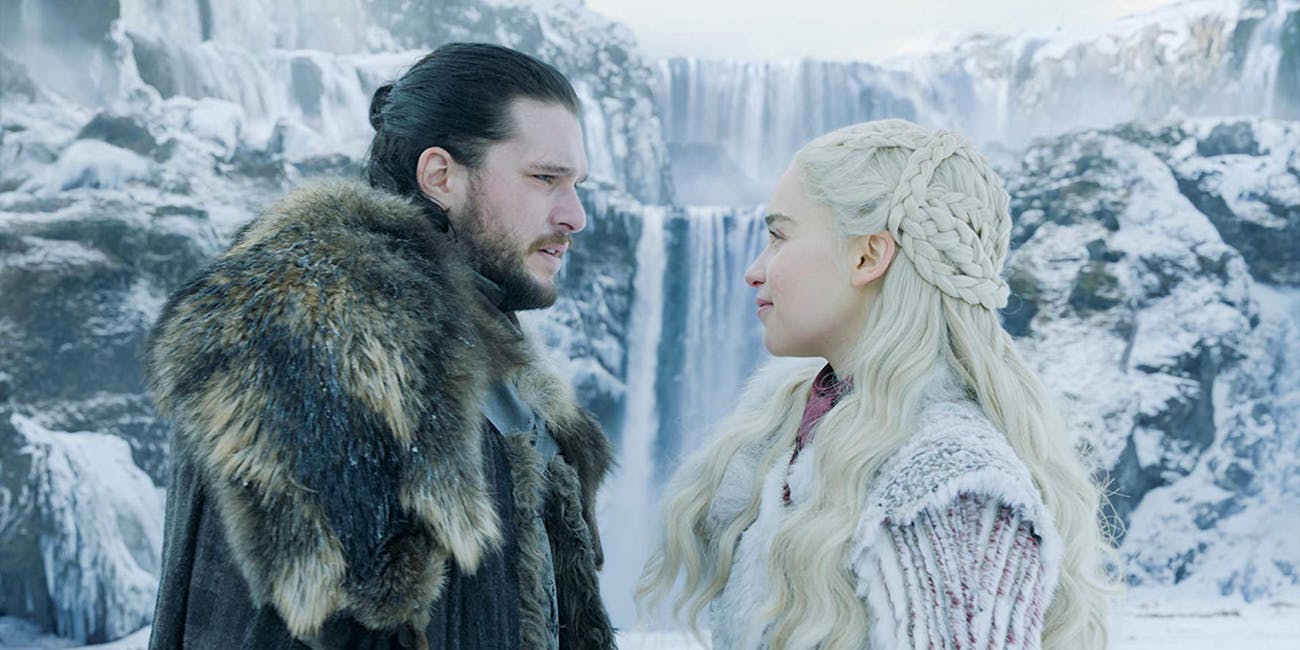 Welcome to the first "Shade of Thrones", our new series examining all the Shade in the Seven Kingdoms.

This is your only warning: SPOILERS!

This episode was all about mirroring, from start to finish. Even the opening sequence throws shade onto all of Westeros — starting from the POV of the White Walker army, for the first time, following their blue-tiled path as they cross the destroyed Wall, over the Last Hearth, and making their way to Winterfell. Later we see that their visit to the Umbers resulted in another high-concept art installation, utilizing the Night King's (Vladimir Furdik) favored medium of wight children (the latest in a series begun in episode one).


The Queen's (Emilia Clarke) procession into Winterfell (mirroring episode one's King's procession) included a fair amount of shady moments, such as the first time Northerners ever saw people of color! Missandei (Nathalie Emmanuel) and Grey Worm's (Jacob Anderson) reactions were pure gold.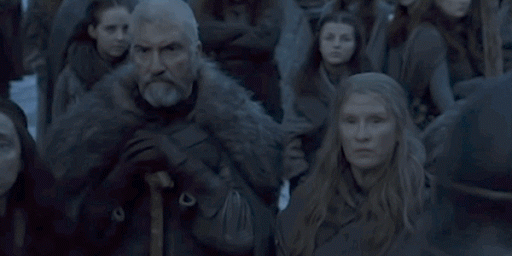 Arya (Maisie Williams) was on-point with her comebacks all day. From her gangster, "First I robbed you," response to The Hound (Rory McCann) when he confronts her for leaving him to die, to her flirtatious, "You don't know any other rich girls," at Gendry's (Joe Dempsie) insistence that she was just the same as the rest. When she reunited with Jon (Kit Harington), he really tried it with her by throwing shade at Sansa (Sophie Turner) but Arya wasn't having it with him either. Sisters before misters, Jon.

Arya said 'you don't know any other rich girls' AKA THIS PUSSY OUT YO TAX BRACKET

— Jahkara J Smith✨ (@SlaylerJ) April 15, 2019
Sansa became the nexus of shade this episode — both in giving and receiving. The whole time Jon was away, your girl was here calculating grain storage and running ALL this shit to get the North through the Long Winter while the newly-crowned "King in the North" was off fraternizing with the Dragon Queen. And now you wanna march a WHOLE-ASS army of thousands, their horses, AND two dragons into HER house and ask her to feed them? So can you really blame her when she asks, "What do dragons eat anyway?" only to be met by Daenerys's equally-snide, "Whatever they want"?

Having taken down both Littlefinger (Aidan Gillen) and Ramsay Bolton (Iwan Rheon) since the last time she saw Tyrion (Peter Dinklage), she's fully feeling herself as the grown-ass Lady of Winterfell and is not afraid to let her ex-husband know, "I used to think you were the cleverest man alive," in response to his naïve trust of his sister's word.

But the quote of the night? "You want a whore, buy one. You want a queen, earn her." Whooo, time to update those Tinder bios, my femme-identifying folks! Of course, Cersei (Lena Headey) gave it up about five seconds later but as Sansa would remind Tyrion: Don't underestimate her. Sleeping with Euron (Pilou Asbæk) was a smart political move on Cersei's behalf. When Euron insists he'll put a prince in her belly, she smirks because she's already pregnant with Jaime's (Nikolaj Coster-Waldau) kid. So now she can just claim it's Euron's and pull another Joffrey "Baratheon" move by placing another inbred Lannister on the throne of the Iron Islands. Or at least, leverage the idea of carrying Euron's heir to solidify his loyalty.

Even pure-cinnamon-roll Sam (John Bradley) gets in on the shade game this episode! His ambivalence at hearing that Dany flambéed his abusive father was tipped to barely-contained devastation at the loss of his fairly-decent brother. This finally drove him to sow seeds of doubt into Jon's mind about whether Dany was fit to be queen. Between Sam, Sansa, and Arya's opposition to Dany, it seems to foreshadow a Ygritte-like star-crossed tragic end to their romance. Except instead of pitting Ygritte (Rose Leslie) against the brothers of the Night's Watch, they are now pitting Daenerys against Jon's siblings and brother-in-spirit. This is further reinforced by having the waterfall scene reflect Jon and Ygritte's cave excursion where both foreign, fiery women expressed a similar sentiment of never wanting to leave those secluded aquatic oases.

Of all the shade being thrown in this episode, it was Bran (Isaac Hempstead Wright) who inherited the "Queen of Shade" title from Olenna Tyrell (Diana Rigg) — his level of petty has ascended to: 'Sitting out in the cold all night to stare down the guy who crippled him as he walked through the door' petty. If that isn't a flair for the dramatic, I don't know what is. This, of course, mirrors the end of episode one exactly — from their first interaction of Jaime defenestrating Bran all the way to this awkward reunion. Otherwise, his general fed-up-with-it-ness this episode has fully earned him the crown. Bran does NOT have time for your shit, Sansa/Dany/Sam/Jon! Winter is fucking HERE, time to get over your political BS!

did I download IMovie just to make this instead of sleeping at a regular hour? maybe. was it worth it? yes. #got #GameofThrones pic.twitter.com/ryfC7JX1qN

— Tav (@gohometav) April 15, 2019
—
---
Alice Meichi Li is an illustrator who's originally from Detroit and is now based in Jamaica, Queens. Please support her artwork by checking out her Game of Thrones-inspired merch here!