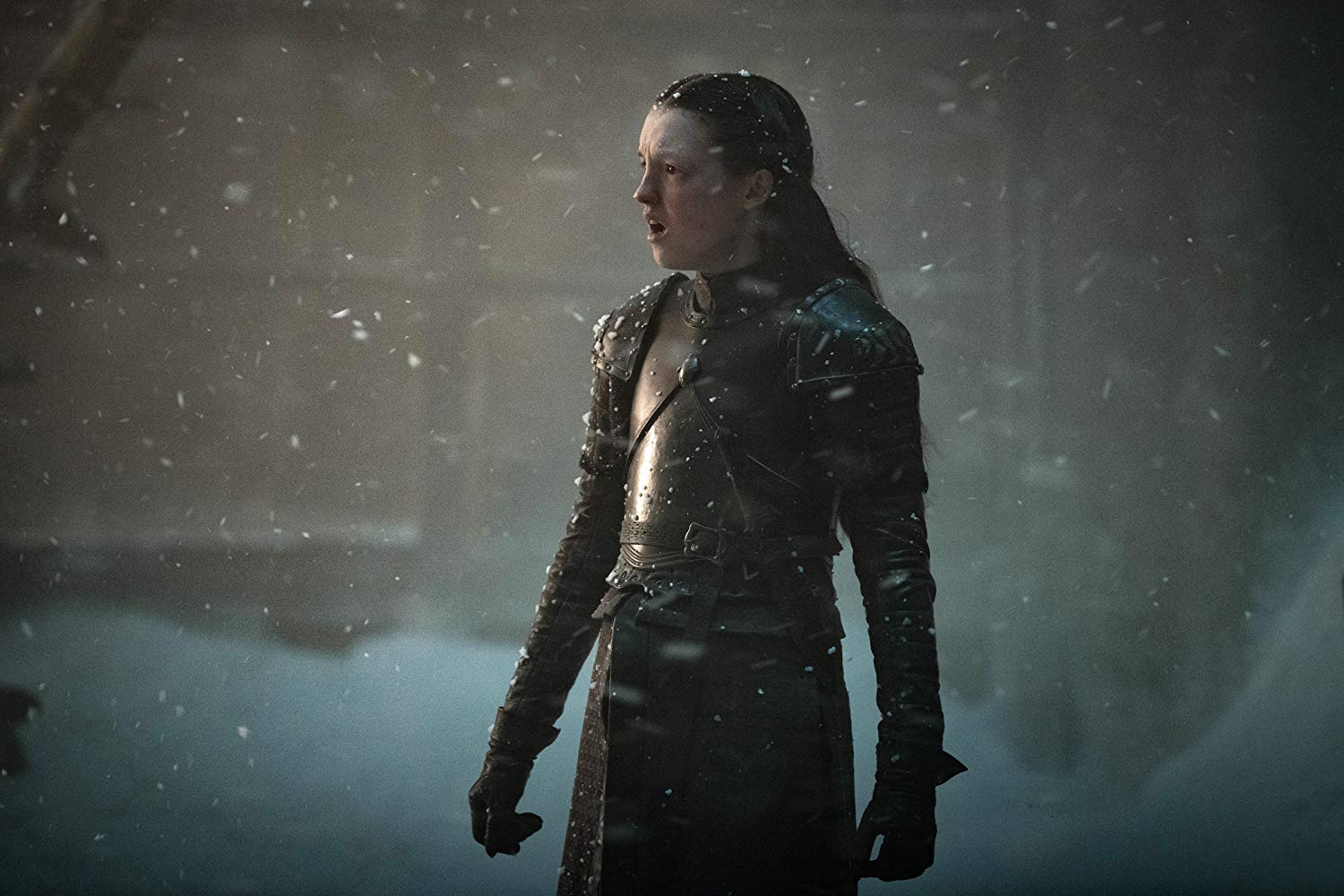 Welcome back! There was so much literal "shade" in this episode, it was hard to even tell what was going on at times! But that won't stop us from trying…
Me trying to see what's happening in this pitch dark #BattleOfWinterfell #DemThrones #GameOfThrones pic.twitter.com/AdHdBmIln4

— I love you 3000 (@SavionWright) April 29, 2019
/// This is your only warning: SPOILERS! ///

We start with Melisandre (Carice van Houten) really coming through with the assists for the night. We all thought she showed up to give the Dothraki a fiery power-up. What she really did was give both the main characters and the audience a convenient visual cue to show exactly how fast the Army of the Dead was able to snuff out the most vicious horde of Essos. Later on she goes on to light the trenches when both Jon (Kit Harington) and Dany's (Emilia Clarke) dragons were lost in the Night King's (Vladimir 'Furdo' Furdik) blizzard, *and* give Arya (Maisie Williams) the pep-talk she needed to dunk on the Night King. Melly really earned her right to die on her own terms.
Like Melisandre, Beric Dondarrion (Richard Dormer) also fulfilled his purpose in keeping Arya Stark alive to win the Great War. Now that their plot-armor has run its course, we can finally say "deuces" to the followers of the Lord of Light.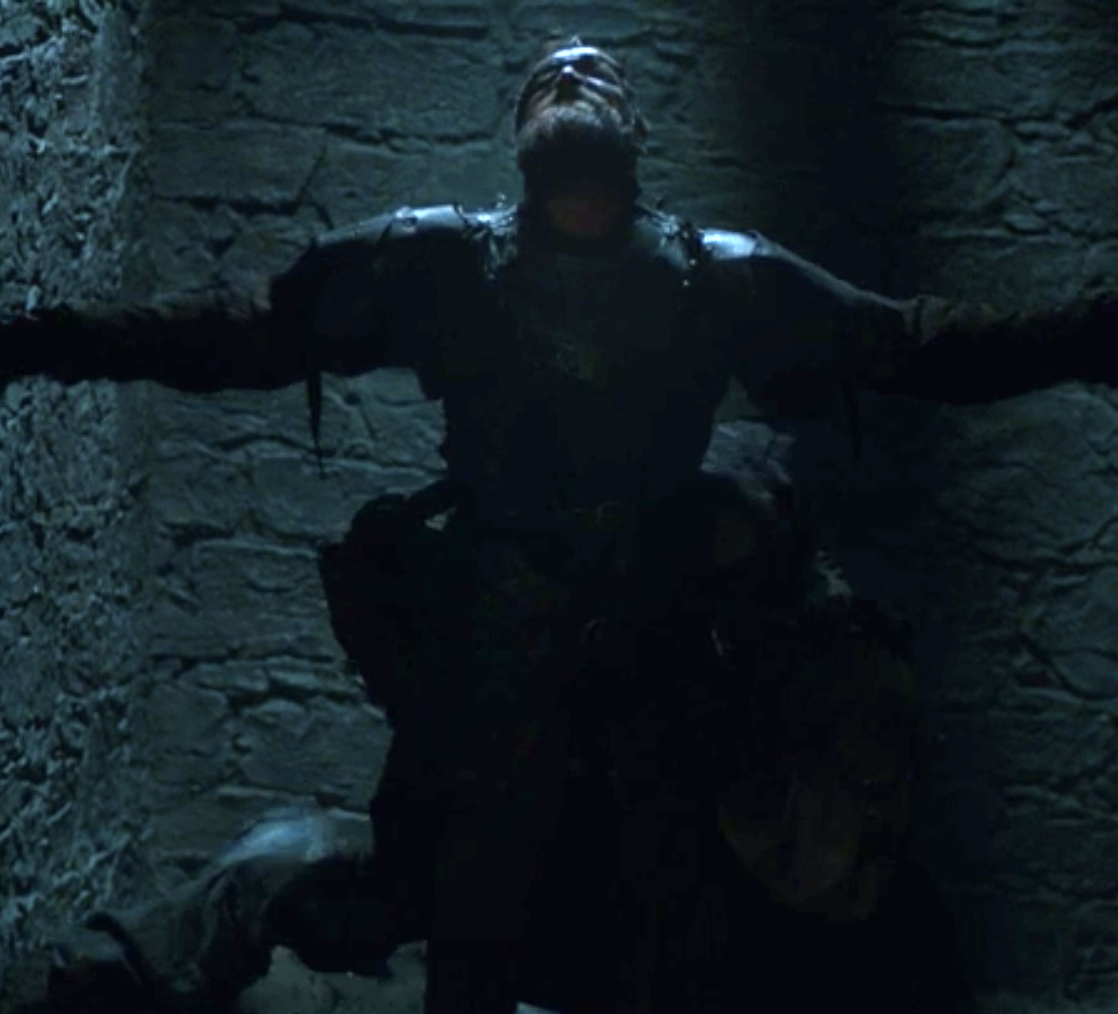 "Excuse me, sir, do you have a moment
to talk about our Savior, Beric?"
Speaking of Arya, A girl does not give a fuck about staring the literal personification of Death in the face. The HBIC in the North, First of Her Name, definitively told the Night King, "Not. Fucking. Today." before she closed his blue eyes forever. Give this little MVP the Iron Throne already!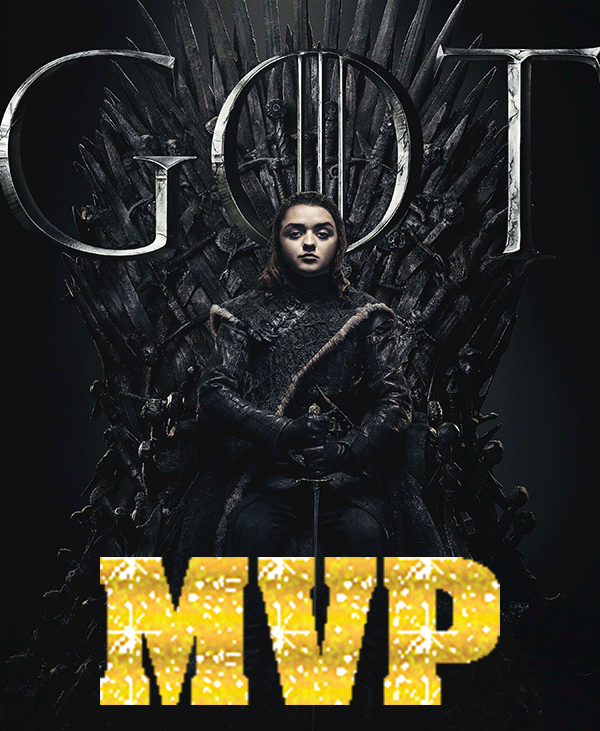 Arya is the GoT MVP!

The Valyrian steel dagger she uses to kill the king has had a history of exacting karmic retribution. It sparked the events of the series as Littlefinger (Aidan Gillen) used it in the first attempted assassination of Bran (Isaac Hempstead Wright) AND was then used by Arya to execute Littlefinger for these crimes. NOW it's being used to close the events of the series — as the Night King makes the second attempted assassination of Bran — Arya uses it to protect her brother. Most notably, the weapon was a re-gift from Bran last season, who trusted that she would find a better use for it than he. And did she! Bran is out here playing the Game on a whole other level.

Down in the crypt, Sansa (Sophie Turner) and Tyrion's (Peter Dinklage) warm reminiscence of their marriage is cut short as Sansa points out that her ex-husband serving as Daenerys' Hand would pose a problem to their relationship. Overhearing this exchange, Missandei (Nathalie Emmanuel) comes for Sansa with, "Yes. Without the Dragon Queen it'd be no problem at all. We'd all be dead already". But this doesn't prevent Tyrion from shooting his shot with a sweet kiss on her hand later as they're hiding from the re-animated dead Starks.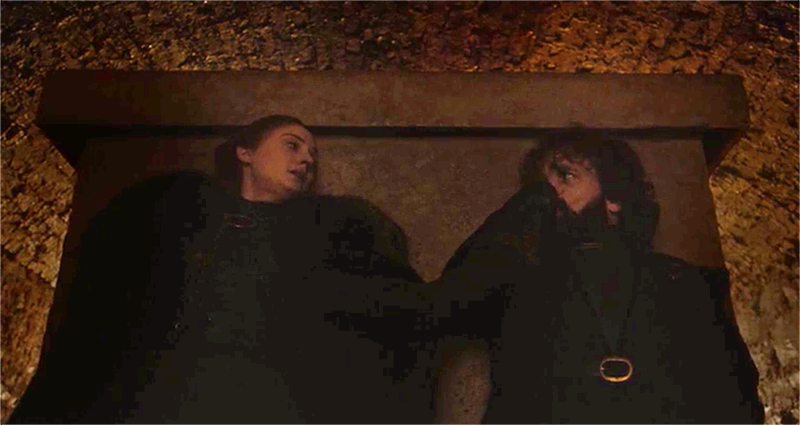 Priorities, amirite?
Can we just appreciate the shot below where Jaime (Nikolaj Coster-Waldau) and Brienne (Gwendoline Christie) are fighting back-to-back here? They're each wielding one half of Ned Stark's (Sean Bean) old greatsword, Ice, which was melted down to produce Oathkeeper (originally Jaime's, then given to Brienne) and Widow's Wail (originally Joffrey's, then given to Jaime). There's something poetic about the two halves coming back together to protect Winterfell as Ned would have if he were still alive.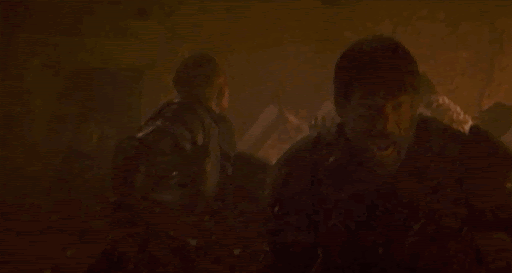 And finally, Lady Mormont (Bella Ramsey) got knocked down but she got up again and Tubthumped the Wight Giant's ass with her dying breath. Last week I wasn't sure about how well she'd fare in battle, even after she chided Jorah (Iain Glen) with "I have trained my men, women, and children. I have fought before. I can fight again." But the David-and-Goliath scenario was the perfect way for our ferocious little BB bear to go out. It would have made her Mama-Bear Maege (who died fighting for Robb Stark in the War of the Five Kings) proud.
#GoTspoilers

The main lesson from this episode is to never grab a little girl.#GameOfThrones #NotToday #LyannaMormont #AryaStark pic.twitter.com/5xUsBT6MrV

— Salomé ???????????? (@S_for_Shadows) April 29, 2019
—
---
Alice Meichi Li is an illustrator who's originally from Detroit and is now based in Jamaica, Queens. Please support her artwork by checking out her Game of Thrones-inspired merch here!