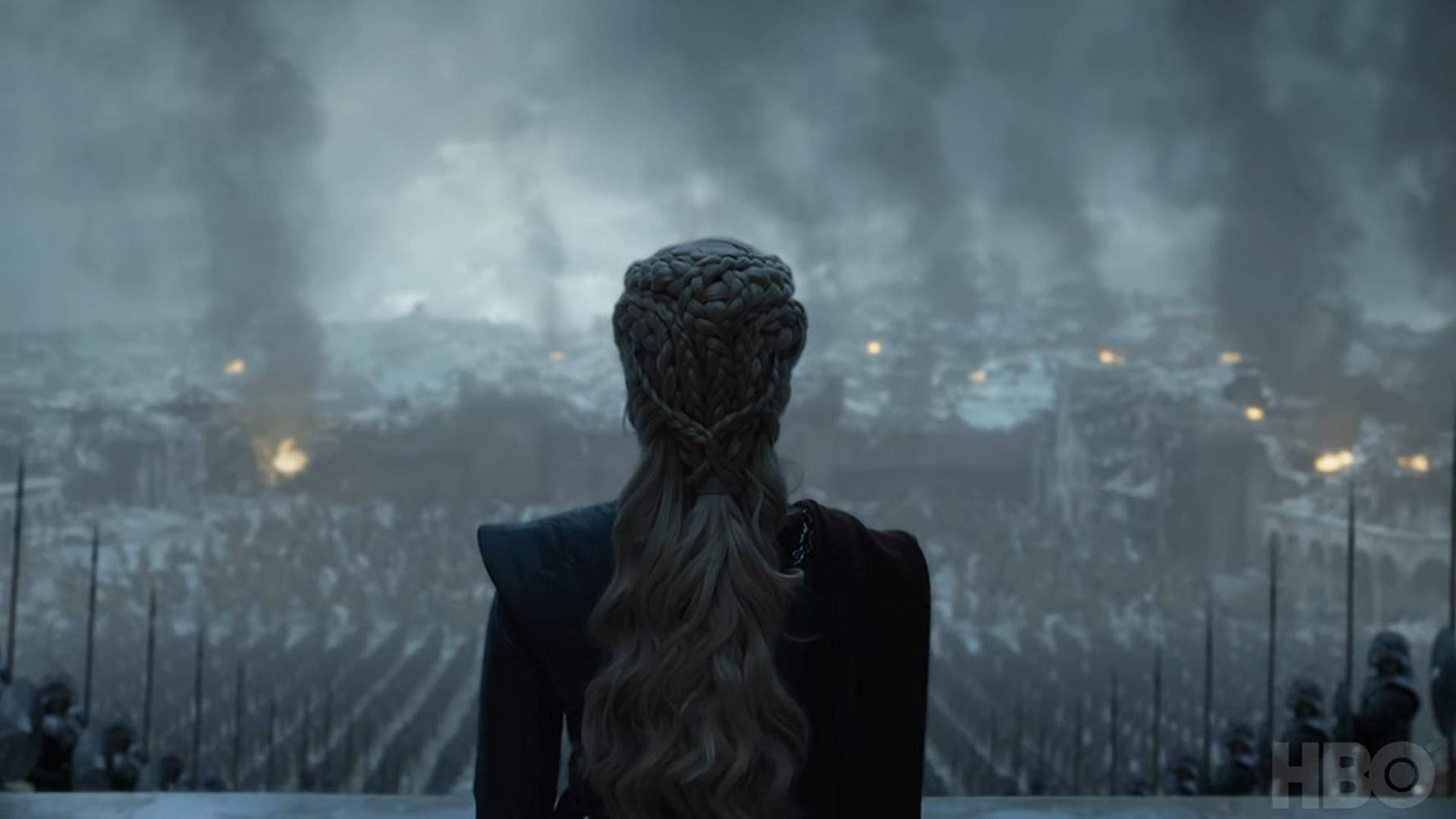 Cue Vitamin C's "Graduation (Friends Forever)", girls and boys! We're celebrating the end of an era with Game of Thrones Finale Superlatives! Congratulations class of 2019, we made it! What a ride! K.I.T. and have a great summer, XOXO.

/// This is your only warning: SPOILERS! ///

The showrunners themselves nab Most Likely to Have Senioritis – tired of hearing people complain about how the characters are suddenly fast-traveling across Westeros, they decided to fill huge chunks of the 80 minutes of this (the last episode of Game of Thrones EVER, mind you) with looooong shots of people taking silent walks and more fade-to-black fakeouts than Lord of the Rings: Return of the King. You know, like using a 20pt font and 2 inch margins on your final paper to fill up space? Thanks guys, that totally fixes everything. Have a great time at Star Wars University.

Shout-out to Drogon for being the actual Breaker of the Wheel when he melted down the Iron Throne out of grief for Daenerys (Emilia Clarke). He deserves the award for Best Interspecies Character Development. The loss of his brothers (basically his entire species) and mother, combined with the trauma of being used as a weapon of mass destruction, bestows upon Drogon the sudden(?!) insight that Jon Snow (Kit Harington) isn't what really killed Dany. It was the sociological construct of monarchy, symbolized by the Iron Throne—which was not only forged out of dragonfire but eventually destroyed by it. Truly incredible that it took a giant fire-breathing lizard to understand all of that!
Can't play the game of thrones if there is no throne #GameOfThrones #Drogon pic.twitter.com/5x2rbk1ATU

— BigPapiJavi (@BigPapiJavi1) May 20, 2019
Drogon and Dany also get a combined win for Most Likely to be Featured on a Heavy Metal Album Cover for this beauty here:
"Be a dragon" #Daenerys #GameofThrones
pic.twitter.com/3F7sIOoEKL

— ???? Nicolás Darfe (@NicolasDarfe) May 20, 2019
…with an Honorable Mention to Daenerys' solo act for her bleeding out here in a similar pattern to Jon's stabbing back in the Season 5 finale.

The award for Best Shade Thrown (Throne?) goes to Queen Sansa (Sophie Turner), who told her dusty-ass uncle to have all the seats—just not the throne. Nice to see Sansa continuing the great Stark-Tully Family Tradition of dunking on Edmure (Tobias Menzies), demonstrated with finesse by her late great-uncle Blackfish and brother Robb.

Sansa also wins Best Dressed for slaying her Queen in the North coronation gown—with red leaf detailing on top of Stark-gray modeled after the weirwood tree in the Godswood. Her fiery red hair (also eliciting weirwood trees) was worn down and loose for the first time in the entire series, drawing comparisons to the Virgin Queen Elizabeth I.
Sansa's hair completely down (vs complicated looks of her youth & severe pinbacks of Winterfell stewardship) took my breath away.

Elizabeth wore hers down at her coronation to signal sexual purity, in open hostility to those who said her sexual abuse ruined her. #GameOfThrones

— Anthony Oliveira (@meakoopa) May 20, 2019
Having brokered an unsatisfying compromise for the fate of Jon Snow, Grey Worm (Jacob Anderson) retires with his Most Likely to be Done With All This Westerosi BS and Already Booked Spring Break in the Beaches of Naath award.

At the Wall, Ghost finally gets awarded Best Good Boy with a long-awaited pat from Jon! And our Emo Quarterback Boyfriend wins Most Likely to Organize Senior Skip Day as he and his band of freefolk friends peace out on Castle Black and what's left of the Night's Watch (Uhm… Jon, basically?) to live in the true North beyond the Wall—a land apparently flowing with giant's breast-milk and honey.

Speaking of which, Glowed-Up-Surprise-Thirst-Trap Robin Arryn (Lino Facioli) makes a cameo just in time to join Tormund Giantsbane (Kristofer Hivju) as Most Likely to Star in a "Breast is Best" Ad.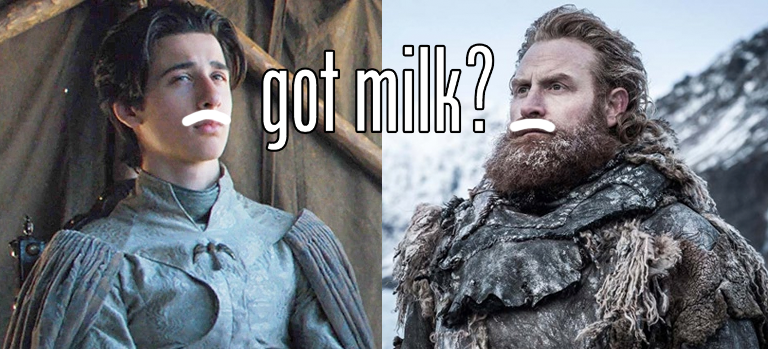 Meanwhile at the Shade Table (AKA: Small Council), Ser Davos (Liam Cunningham) gets Most Academically Improved as he went from being functionally illiterate and being tutored by young Shireen Baratheon (Kerry Ingram) just a few seasons ago to lecturing Professor Bronn (Jerome Flynn) himself on his grammar.

Although, the new Lady Commander of the Kingsguard, Brienne (Gwendoline Christie) only takes home Most Likely to Sign Your Yearbook With an Entire Page After You Only Dated for Like a Week this episode, it was nice to see her exercising her newfound knighthood to pay it forward to Ser Podrick (Daniel Portman).

Class Nerd goes to the new Grand Maester Samwell Tarly (John Bradley), for inventing democracy! All of the highborn lords and ladies of Westeros threw immediate shade on this radical notion of giving the smallfolk the right to vote, like No-One-Asked-You-Edmure's "Maybe we should give the dogs a vote as well". Mm-hmm. I see you, Westerosi 1%-ers. I see you.

Our lil MVP Arya (Maisie Williams) gets Most Likely to Return From Her Gap Year with an Asshai'i Accent and a New Magical Murder Skill and Best Clapback for her unbothered savagery directed at Yara Greyjoy (Gemma Whelan), "Say another word about killing my brother and I'll cut your throat."

And the meta-award for Best Acting goes to Peter "Get that 4th Emmy" Dinklage, who acted the fuck out of walking around King's Landing in silence and horror for 5 whole minutes and gave the best mourning scene we've seen when he discovers the bodies of his twin siblings who left the world the same way they came. Together, womb to tomb.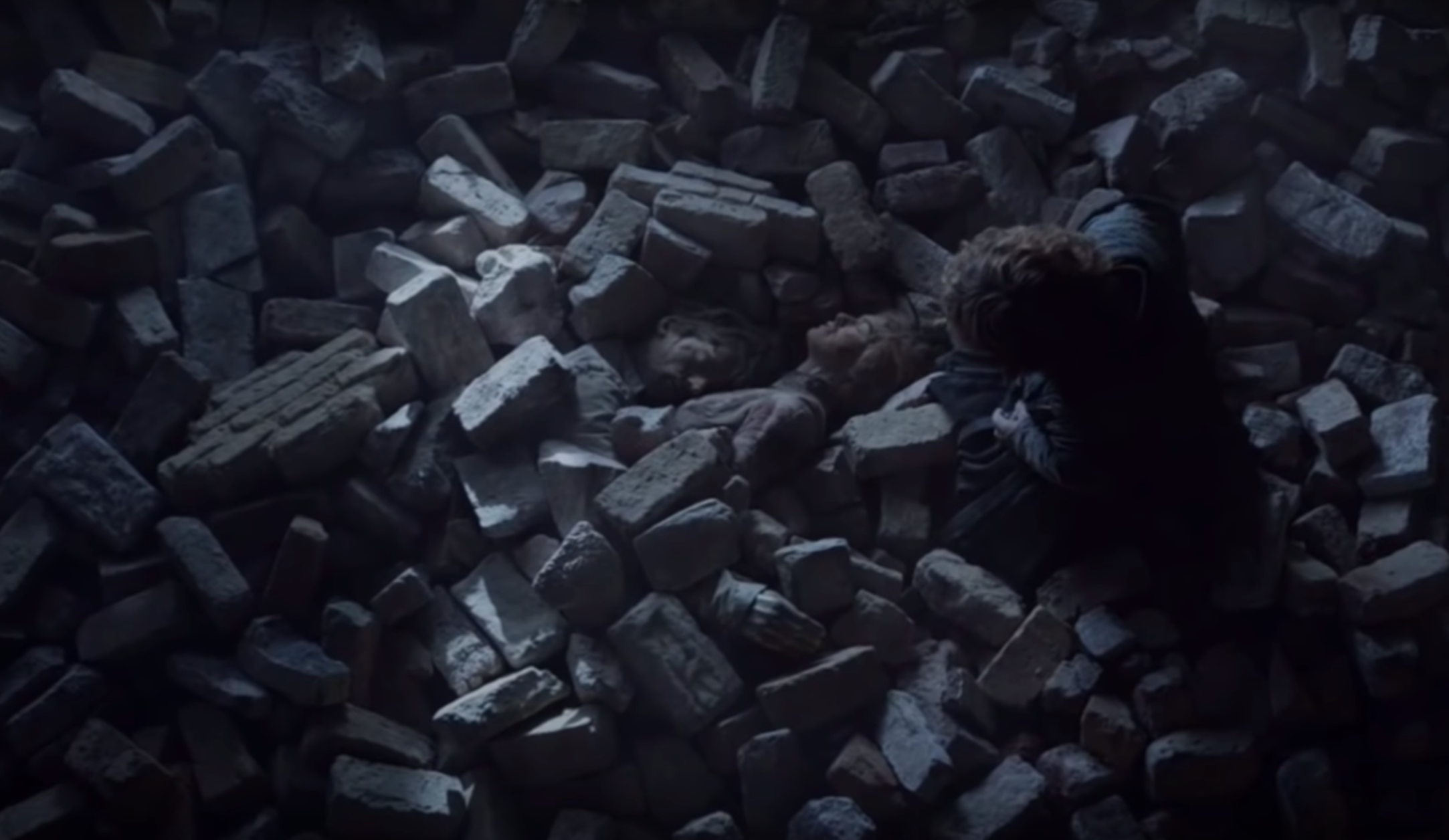 *Bummer Remix of "The Rains of Castamere" plays in the background. Literally.*

In the end, I think the moral of this entire series is clear: The only way to win at the Game of Thrones is to be like our reigning Queen of Shade, Bran "Psych!!! I actually wanted to be king all along!" the Broken. What kind of disrespect is that, Tyrion? You might as well call him "Bran the Friend You Take to Fast-Pass All the Rides at Six Flags Over Westeros", damn!

Tyrion: "all hail Bran the Broken"

Bran: "actually, i was thinking more along the lines of Bran the Rave-"

Tyrion: "that boy busted as shit, what a story"

Bran: "maybe we can workshop the nickna-"

Sansa: "his dick don't work!"

— daniel j???????? (@8Fourteen) May 21, 2019
Maybe Sansa and Tyrion should have stayed married, because they're clearly #PowerCoupleGoals and experts at blowing up Stark men's spot. But since they're not actually together by the end, the only remaining candidates for Best Couple left are Samwell and Gilly (Hannah Murray).

Finally, Bran Stark (Isaac Hempstead Wright) takes home the Most Likely to Succeed award, like every other unqualified mediocre guy who thinks they deserve that win because they "work smart, not hard".
When you don't contribute in the group project & still get an A Grade. #TheFinalEpisode #GOT#BranStark#TheFinalEpisode pic.twitter.com/SmxjNZwSCQ

— Vishwesh Gaur ???? (@iumvishwesh) May 20, 2019
Now that Game of Thrones is over, what's next? Or as Arya says, "What's west of Westeros?"
Westworld. It's apparently where Jesse Pinkman escaped after Breaking Bad, too.
—
---
Alice Meichi Li is an illustrator who's originally from Detroit and is now based in Jamaica, Queens. Please support her artwork by checking out her Game of Thrones-inspired merch here!