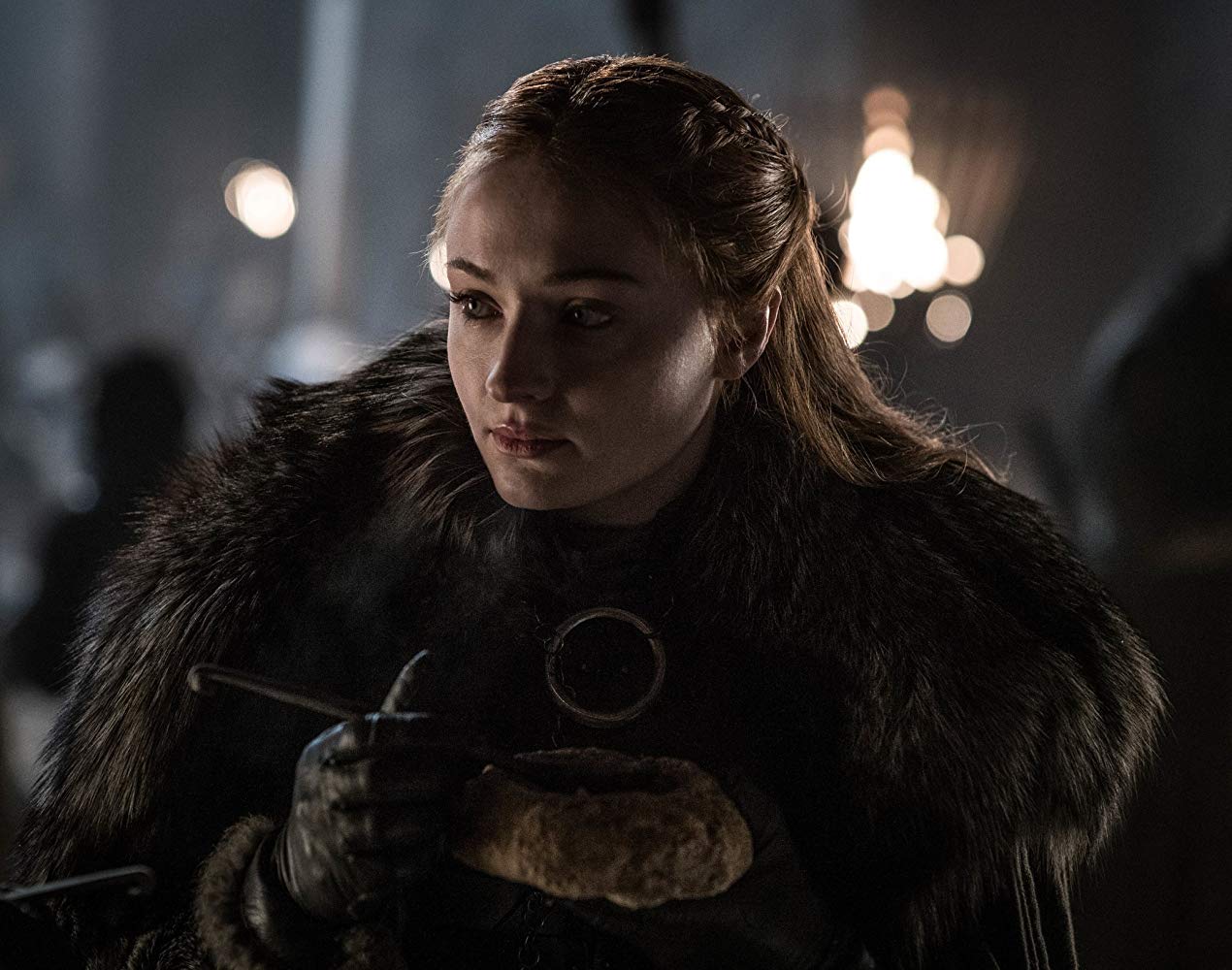 Welcome back to Shade of Thrones where we analyze all the Shade in the Seven Kingdoms.

This is your only warning: SPOILERS!

Other than serving as a "calm before the storm" episode, "A Knight of the Seven Kingdoms" examined women's places of power in Westeros. As the schism between Daenerys (Emilia Clarke) and Sansa (Sophie Turner) continues to deepen; Brienne (Gwendoline Christie) is finally granted a long-overdue knighthood, Lady Mormont (Bella Ramsey) brushes aside Cousin Jorah's (Iain Glen) protests of her going into battle, and Arya (Maisie Williams) is all grown-up and joining the rare rank of women on Game of Thrones who have initiated consensual, non-incestuous, non-transactional, yes-actually-of-age intercourse!

Firstly, can we take a moment to appreciate how much Sansa was slaying in her war ensemble? As others havepointed out in the past, Sansa has taken fashion cues from other queens as she's learning how to play The Game from them. Her Northern leather armor corset was reminiscent of Cersei's (Lena Headey) Southern metal armor bustier, particularly mirroring Cersei's gown from the Battle of Blackwater.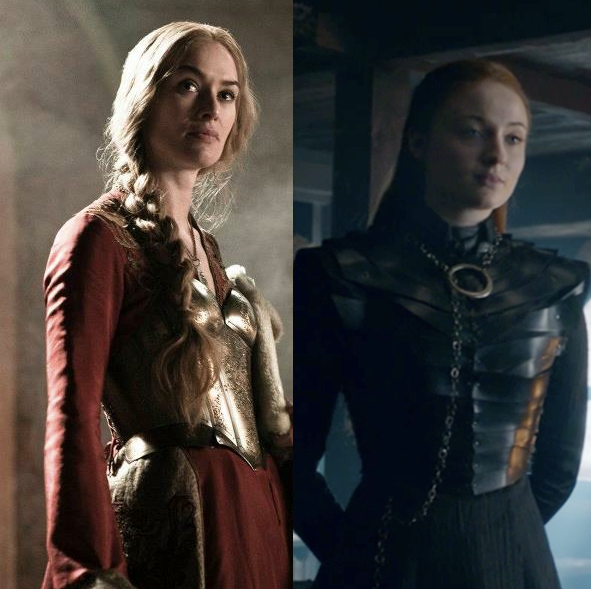 Speaking of slaying: The Great Hall has been such a breeding ground of shade this season, you'd think Melisandre (Carice van Houten) was plotting regicide. Feeling her power wane in Winterfell, Dany dissed Sansa by pulling an 'I'll ask dad instead' move and going over her head to Jon (Kit Harington) when she found no support for her condemnation of Jaime (Nikolaj Coster-Waldau).

Later in the Drunken Knights' Knitting Circle, Tormund (Kristofer Hivju) strolled in throwing all the shade at his recently-pardoned romantic rival. He squared up to Jaime with, "They call you King-Killer. They call me Giantsbane, want to know why?" and proceeded to regale them with an origin story no one wanted to hear while he off-puttingly guzzled a horn of milk (a film trope with rich symbolism among juveniles, villains and anti-heroes). Jaime, in turn, flexes on Tormund by giving Brienne the one thing she's been desiring and has been in denial about this whole time: The D– er, I mean, knighthood.

The battle for Brienne's heart aside, the Lannister brothers have been dodging major shade from all directions this episode. From Queen-of-Shade Bran's (Isaac Hempstead Wright) callback to "The things we do for love", to Grey Worm's (Jacob Anderson) terse stare as he handed Jaime back his weapons, to the Northmen spitting on the brothers as they spoke in the courtyard — which seems to foreshadow the looming confrontation with Bronn (Jerome Flynn) if either of them survive the battle for Winterfell.

Arya on her way to battle. #GameOfThrones pic.twitter.com/P7IAx2J0Xn

— Enoch (@brazokax) April 22, 2019
While Brienne was getting knighted by Jaime sword, Arya was also getting, ahem, "knighted" by Gendry's (Joe Dempsie) "sword". Jousting with his "pointy end", as it were. I can keep going, but I'll spare you. What? Everyone was cool with our li'l sis Arya being an adolescent assassin, but not when she decides to take her virginity into her own hands as an adult? Okay then. Arya's clearly had a lot of time to ruminate on the things she'd like to do when she got Gendry back to Winterfell and calling her, "M'lady". When she grilled Gendry on his number (three), homegirl was clearly putting out "DO YOU WANT A FOURTH???" vibes. But from the look on her face afterwards, it seems like she might have been better off seeking out The Legend of Pod's Rod™ instead. Either way, Arya doing the Walk of Shame into battle is my entire mood this week.
Things up North are still not looking good for Missandei (Nathalie Emmanuel) and Grey Worm. Not only did Grey Worm make the (soon-to-be-literally) grave mistake of actually expressing hope for the future, Missandei got curved by more Northern white children who, again, have never seen a POC before.
Missandei: Hello.

White Kids: *runs away*

Me at home:#DemThrones pic.twitter.com/lkG2ixmngP

— ED-weird (@MorningWeird) April 22, 2019
Jon Snow, Aegon Targaryen — whatever his name is — still clearly knows nothing if he thought that minutes before battle was the perfect time to reveal his lineage and greater claim to the throne to Dany. Now how are they going to be on point with their "Dracarys" game if Dany is distracted by the idea of having committed incest, all while trying to aim her dragon?

Queen Bran is still over here serving up Spoiler-Smugness when he asked Jaime "How do you know there is an afterwards?" because he already knows who's getting crossed off your Game of Thrones Death Pools next week.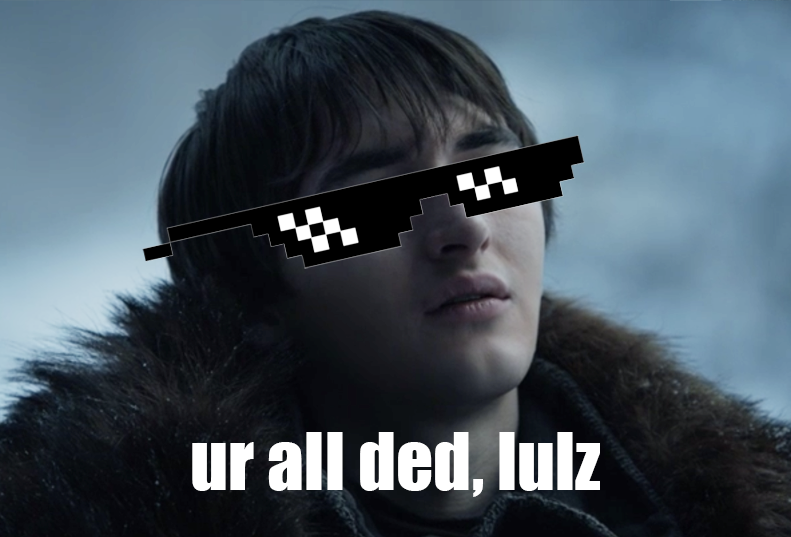 QUOTE OF THE NIGHT:
"We're all going to die. But at least we'll die together"


– Mr. Giantsbane (We are all Tormund right now)
—
Shady Predictions:
The pure joy that Brienne experienced from being knighted by Jaime is telling me that she won't survive next week — this show won't let goodness and happiness triumph for very long!
LOOK HOW HAPPY BRIENNE IS AFTER BECOMING A KNIGHT SHE DESERVES THIS SO MUCH #GAMEOFTHRONES pic.twitter.com/mZYpd0aOUB

— GOT SPOILERS ???? (@emiliacIarked) April 22, 2019
Theon (Alfie Allen) is also probably a goner. When Yara (Gemma Whelan) repeated the Drowned God's saying, "What is dead may never die" in the previous episode, it seemed to foreshadow the possibility of Theon following suit…by literally dying and coming back as a Wight. Now that he's volunteered to personally guard Bran from the Night King (Vladimir 'Furdo' Furdik), it's pretty much a guarantee that he'll end up sacrificing himself to protect the very same boy he attempted to murder and usurp in Season 2. Which is a shame, because I was really warming up to the idea of Theonsa. DON'T YOU DARE JUDGE ME.

During the war council we learned that on the Chessboard of Thrones, Bran is apparently the King the White Walkers need to capture to win the game. Which makes Dany the Queen and Jon the Pawn…who went to the other side and returned as another Queen. So does that make Theon the Rook who will end up Castling with Bran to take the hit when the White side comes to get him? [brought to you by: nerdy-chess-references]
Does anyone else get the feeling that having all the non-combatants hide in the Crypts — full of dead people that can be potentially re-animated — is kind of a very, very bad idea? I guess we'll find out next week!
—
---
Alice Meichi Li is an illustrator who's originally from Detroit and is now based in Jamaica, Queens. Please support her artwork by checking out her Game of Thrones-inspired merch here!