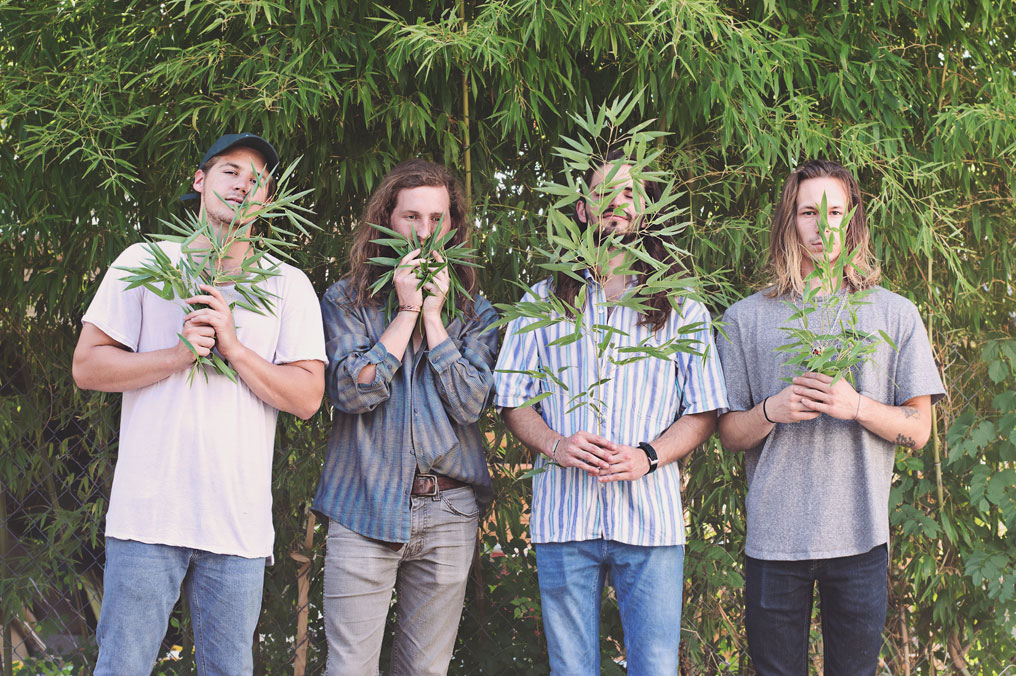 There's thought behind every note of Space4Lease's psychedelic songs. The band takes sound to the next level, pulling inspiration from life experience and infusing it into tracks that pull you into the waves of emotion and indie rock.
In the latest release from the Oklahoma City, OK band, you'll be "Drifting" from an intense love of the track to a deep reverie only music like this can inspire. Check out our exclusive premiere of the track below, as well as a statement from frontman Grayson Hamm.



"'Drifting' is a song speaking on the uncertainties and frustrations on what we perceive as love. More times then not, it amounts to heartbreak and disappointment. Ultimately, I believe it is wholly acceptable to experience these emotions because it shows that we are inherently sentient beings. We can only use each of these experiences as a lesson for the next relationship that one hopefully encounters. Above all else, we need to have the persistence to keep searching. This song has somewhat of a personal meaning behind it, stemming mostly from relationship experiences and heartbreaks in my life. Yet with that being said, I never wrote this song with someone else in mind; it was not written in reaction to a specific person. Instead, I feel the intentions of this song come from a place of trying to find yourself after a failed relationship, accepting it for what it is and moving on. It is partially a self reflection, but I feel like it has the capacity to speak to all listeners. Whether we like to admit it or not, we all experience these feelings of heartbreak and loneliness, right? One way I evaluate relationships and love in general is that it either works out and you are with this one person for the rest of your life, or you're not and someone ends up getting hurt. So every relationship you have throughout the course of your life's path will end in heartbreak except one… for those who are fortunate, at least. Sometimes you are left with a broken heart, at other moments you may be the one doing the breaking. We see this in all spectrums of life whether it is the simplicity of young love or the complicated, often messy process of two adults divorcing after years of marriage.
We tend to invest a degree of hope in our relationships, and when these expectations are not met it often leads to tremendous failure. This has been the case for me, and I wrote this song with confidence that someone else could relate as well. One thing you should know and what I hope to get across to listeners though is that 'Drifting' isn't intended to invoke feelings of depression. On the contrary, it is a song meant to establish a sense of familiarity with the audience. I believe it is essential for an audience to identify with the band they are listening to.
It is also meant to inspire the audience to hopefully move on. Maybe there is someone better for you out there, and holding onto your previous relationship is only preventing you from finding this person. I see this song as an opportunity to find yourself. Like many others, I am still trying to do so. The theme behind 'Drifting' that you're moving on from a past love and now you simply have yourself to rely on. At the end of the day, you're drifting all by yourself. Sometimes it is good to be a little selfish and focus on yourself, rather than a significant other. However, I'm not going to sit here and pretend that it's easy to let go of the past. I know it may hurt, but life moves on with or without you. The most important thing I can say in relation with 'Drifting' is that we have to be comfortable and confident in who we are individually before taking that next step of being with someone else. Often times, we rely far too much on our significant other to bring us happiness instead of depending on ourselves to bring that sense of self-happiness. So my friends, just keep 'Drifting' with no thoughts no concerns and remember to be happy with yourself. There is someone out there for all of us, we just have to keep searching and more importantly continue to grow as individuals.
The songwriting process of 'Drifting' was very simple. I wrote this song in a matter of a couple days before showing it to the band, and from that point we took it to a place I never thought it could reach. I write everything on piano, but I felt the need to temporarily step away from this process and incorporate relaxing, easy rhythms/textures that are intended to chill you out. In a sense, a sound that makes you feel that everything is going to be alright. This method definitely added an element that a normal piano could not provide. When it comes to the lyrics, however, I knew as soon as I was done writing that the words were set in stone. The band definitely agreed, and 'Drifting' came easily to us all." – Grayson Hamm