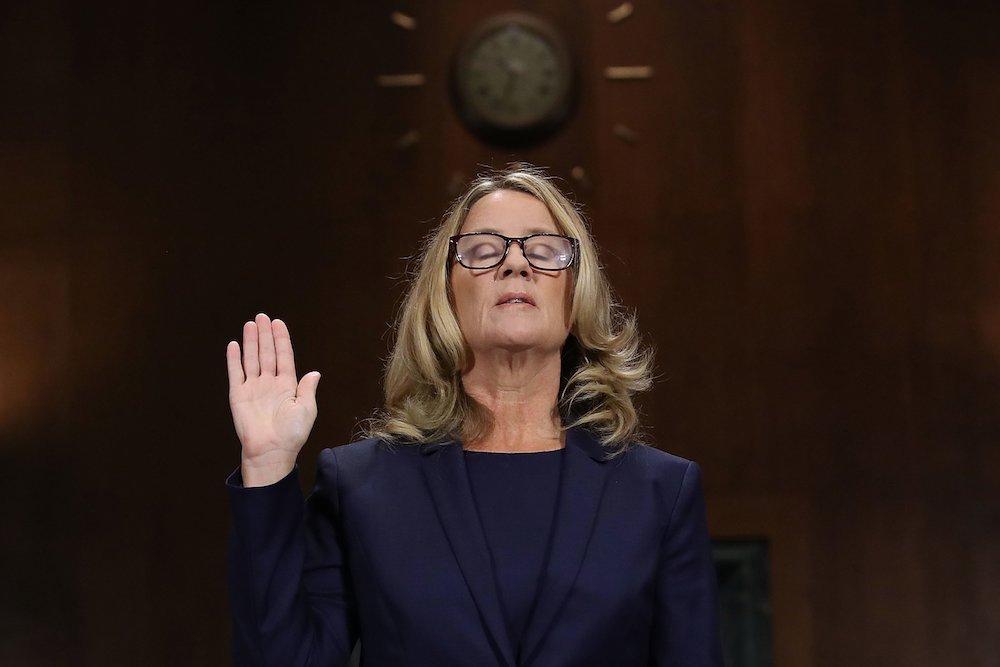 Photo: Win McNamee/Getty Images
Misogyny is very much a part of American politics and policy. For those of you who have been watching the news, or tormented by it (more likely), it is hard to miss the circus that is Congress. The end of this week and Saturday were the votes to move Brett Kavanaugh's nomination forward and vote him in as the next Supreme Court Justice. I believe Ford. I believe Ramirez. I believe Swetnick. And frankly his responses, obfuscations (and, basically, emotional temper tantrum while he was on the Hill) told me all I needed to know about Brett Kavanaugh. He isn't suited for the highest court in the land. And yet…
The arguments continue. The questions, the derision towards women who oppose Kavanaugh's appointment. The dismissal of survivors of sexual assault and organizations representing women and their very real concerns. More than that, I'm appalled at the unwillingness to look critically at an individual for a highly influential position.
And then I remembered. We all like to assume that fairness and logic and judgement are how decisions are made. That the best person will get the job. Or should get the job. But America isn't a meritocracy. Oh yes, we like to believe it is. Those with money and power and influence like to believe that they got where they are because they "worked their tail off" (to quote what looks to be our next Supreme). But…just like his admission to Yale… That's bullshit. His grandfather attended. Legacy makes a difference in college admissions. Having advantages, whether that is money, or family connections, going to a good school, or even just where you goddamn live gives you advantages. The systems we have, the institutions and organizations make it easier for some people than others.
This isn't about logic and who is best for the role. It is about power and how to keep it and who "fits in" with that system. Brett Kavanaugh is part of the system. The Republican Senate filled with old white men is part of the system.
The anger and derision that has been heaped upon women in general who are expressing concerns and sharing very personal and private violences that have been done to them is horrific. Why? Because it questions the way things are. The current power dynamics. The entire #MeToo movement says "This is wrong" and rather than recognize the inequity we see stories of men being "afraid" of being falsely accused rather than actually addressing what is WRONG! They make it about them.
"This isn't about logic and who is best for the role. It is about power and how to keep it and who 'fits in' with that system."
So when Ford spoke out and when all those women spoke up asking for an investigation. Asking to go slow and to examine the evidence and to fucking do their job of ensuring that the candidate truly was for the good of the people…they saw it, not as a questioning of Kavanaugh, but of their own judgement and ways of living. They made it about them.  And instead of concerned constituents they used terms like "special interest groups" and liberal protesters. Dear God, I cannot think of one sexual assault survivor who thinks that they're a "special interest group".
They made it about them because to acknowledge this as a problem is to start to pull away at the Jenga tower that is how we treat women. How we don't pay them the same as men. How we don't hire them for high level positions. How we don't give them autonomy over their own bodies or let them feel safe around any man without it somehow being her fault or at best…a misunderstanding.  How we don't believe them.
The moment we start to think that a woman may be right in her demands to be heard equally, then all of those questions arise.  For God's sake it took more than 60 women to come forward before we were willing to look at Bill Cosby as something other than a beloved television celebrity. This too is part of how the systems and institutions have crafted the narrative. One woman's word isn't enough. Two women's words isn't enough, three, four…
No matter what any politician says, this was never about critically looking at a candidate for the Supreme Court and examining credible sexual allegations (from more than one source) and making a decision. It was about supporting an existing power structure and an existing narrative which disenfranchised every single woman in this country.
Let me end with a quote from Simcha Fisher. It really struck me because this IS how we are always showing narratives about women and men when it comes to sexual allegations:
"When a woman says, 'This man raped me a long time ago,' we say, 'But that was in the past. He can't change the past.' When a girl says, 'This boy raped me last night,' we say, 'But his future! We can't wreck his future.' And there she stands, suspended between his past and his future, with no value of her own  except for how much she's worth to whichever political party is feeling desperate today."
–Simcha Fisher
—
The views and opinions expressed in this article are those of the author and do not necessarily reflect the official policy or position of any agency of the U.S. government.