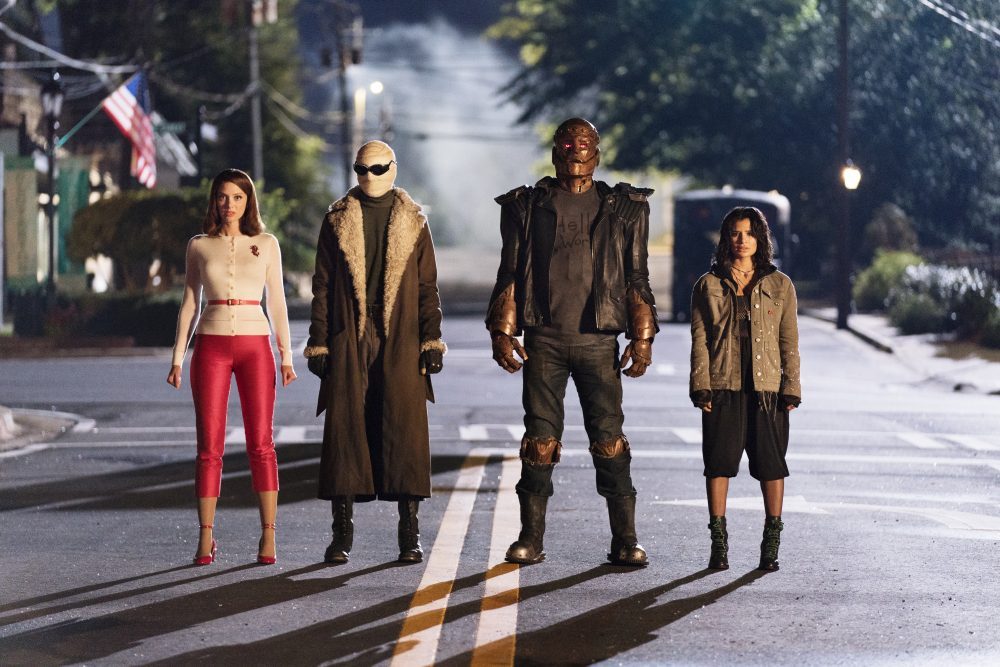 Photo Credit: Jace Downs / 2018 Warner Bros Entertainment Inc.  All Rights Reserved.

This is the true-ish story of five losers…picked to live in a house…who have nothing to gain and everything to lose…but have to save the world. This is what happens when they stop being polite and things start getting weird.
Doom Patrol is the hero story our society needs. It tells the world that just because you are broken doesn't mean you don't count. By societal standards, no character in this series deserves to be seen. In Doom Patrol they say: F! that. We are not perfect. We are flawed. And THAT is why we work.
Now pay attention…I'll spare you the origin story because the first episode takes care of that. That being said, introductions are in order. We begin with Robotman (Brendan Fraser), real name Cliff Steele, who is a robot. Next up is Negative Man (Mathew Zuk), real name Larry Trainor, who is actually a good time at parties. What happened to Larry, however, can only be described as: The. Worst. Workday. Ever. The brunette beauty of the group is Elasti-Girl (April Bowlby). In a former life she was Rita Farr – Superstar, now she fights to literally keep herself together. The fun one of the group is Crazy Jane or simply Jane (Diane Guerrero). Being in this place with the rest of the Doom Patrol means she is VERY broken. The upside is she is her own best friend…for all sixty-four of her superpowered personalities AKA dissociative identities.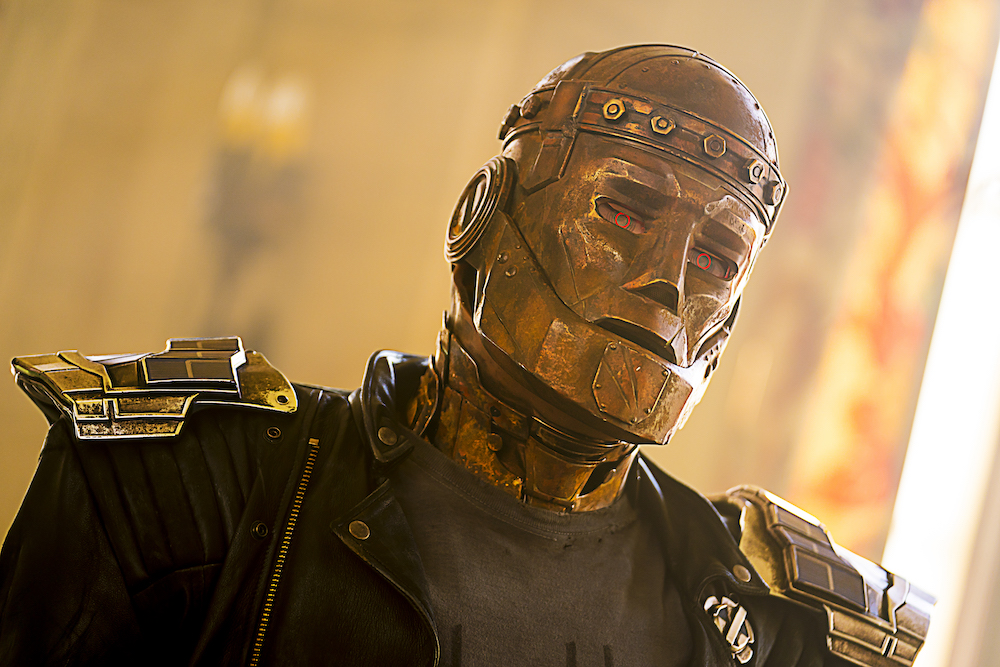 Photo Credit: Bob Mahoney / 2018 Warner Bros. Entertainment Inc. All Rights Reserved.
Doom Patrol has always been that weird cousin of the DC Comics universe, originally created by Arnold Drake and Bob Haney, and artist Bruno Premiani. This team exists in two worlds at once—the "hero" world and the world of WTF. Which is why, when the TV series was announced, I had no belief it could be pulled off. The BAM ZOPP BOFF worlds of Batman, Superman, Wonder Woman—even Aquaman—are understandable. Doom Patrol is not. These are not superheroes in the traditional sense. They are science's accidents of fate, thanks to the enigmatic Chief, Niles Caulder (Timothy Dalton), whose powers seem to be the ability to find people on the edge of death in need of a "miracle". The comic series prided itself on being the last line of defense against things askew and terrible…mostly terrible…well, completely terrible.

I was not just pleasantly surprised by the series adaptation—I was deliriously happy. The executive producers and writers capture everything the comic book series is and everything it is not. Doom Patrol was never a superhero tale. It's a tale of the super-weird fighting the super-weirder.
Brendan Fraser remains an unacknowledged BAMF (people still say that, right?). As Robotman, Fraser gives us the best and worst attributes of the old adage: With great power comes great responsibility. Robotman means well but he's in way over his head—not that it stops him. His actions are not pretty or graceful but neither is he and that very human desire makes him one of my favorites.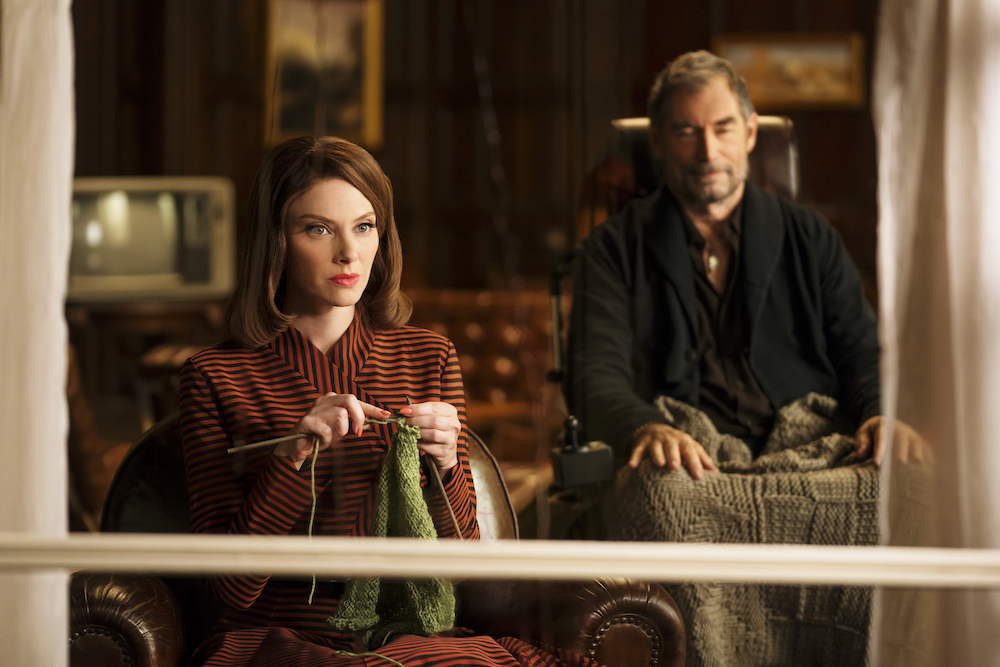 Photo Credit:  Bob Mahoney / 2018 Warner Bros. Entertainment Inc. All Rights Reserved.
Next comes Elasti-Girl, a star on the edge of never. She was just famous enough to be noticed but not enough for people to care. Her desire to be loved, be seen, and be pretty will immediately drive viewers insane but April Bowlby delivers a tortured debutante with more underneath her skin than you can imagine.
There are two standouts from the series. The first is Diane Guerrero, her Jane is a ray of acerbic sunshine that makes the rain run away in terror. Calling her a wildcard would be an understatement. As the team's "heart" to Cliff's "soul", Guerrero's character drops F-bombs as fast as the hard truths about life on the team. You could never bring her home to meet your mom but you'd want her with you in a fight.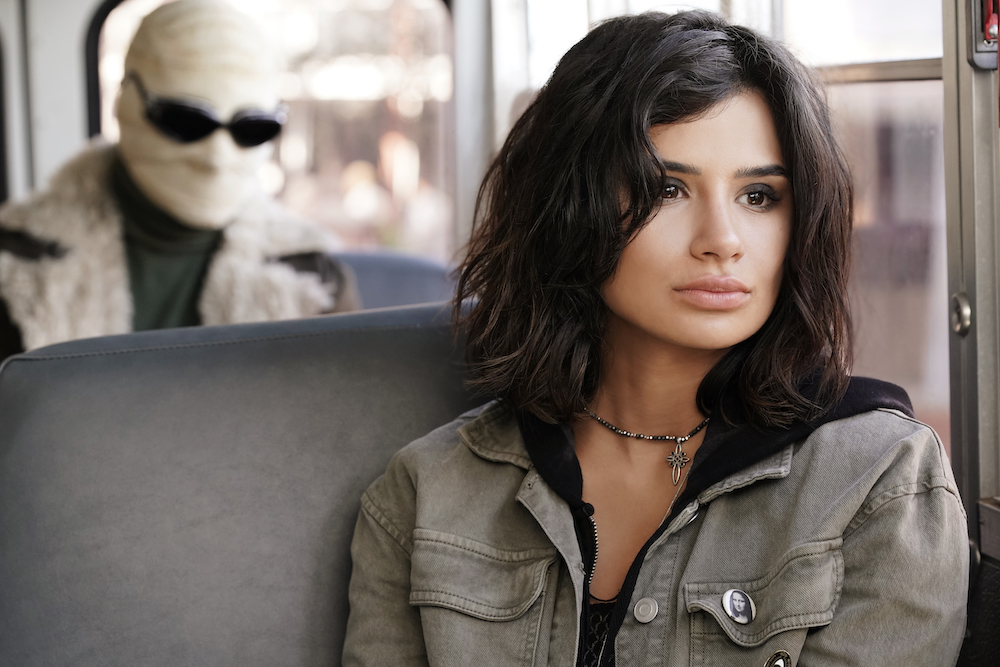 Photo Credit: Jace Downs / 2018 Warner Bros Entertainment Inc.  All Rights Reserved.
What's a story without the villain? Eric Morden / Mr. Nobody arrives as the DC Universe's most offbeat and disturbing character. Because who else could play a fractured shard of humanity with the power to drain people's sanity? If you've read this far you will notice I've been light on the details of the show itself—don't worry, Tudyk's Mr. Nowhere will tell you everything you need to know…not to mention things you don't. Like the Kool-Aid man (OH YEAH!), Tudyk smashes the fourth wall to set you up for a wild ride.
If you're looking for a story of cookie cutter heroes fighting a cookie cutter criminal in a cookie-cutter world, Doom Patrol is not for you. This crew of lambasted and ignored adventurers makes us all believe we can belong…and then there is that goddamn donkey.
Stream new episodes of Doom Patrol every Friday on DC Universe.