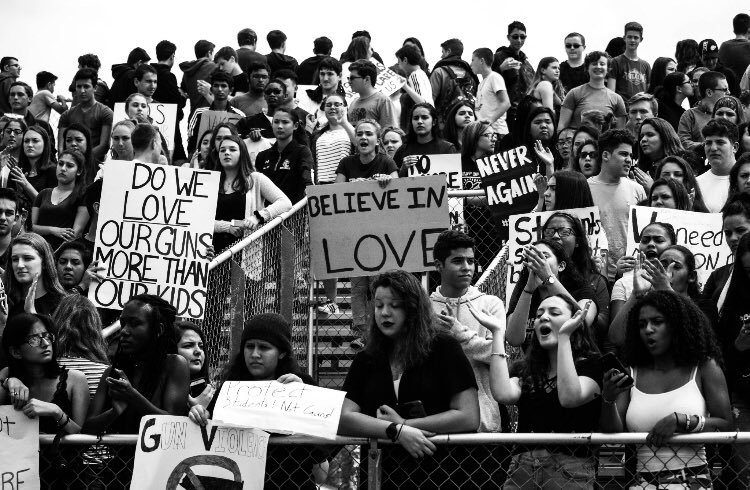 Photo: @lexi_lynn58 via @AMarch4OurLives

I must say, never did I expect yet another school shooting to create a huge movement. And it pains me, having to use the words 'another school shooting'. Never did I expect to see people my age so passionate for change after something absolutely wrecked their lives. Somehow high school students like me translated their pain and grief into activism. They took their voice to speak up and didn't just speak. They created a movement out there for change and showing that they are stronger than their fears. That's something I look up to.
As I was born and raised in a country with already existing gun laws, I can't imagine really, how it must be to see people carrying guns around everywhere. I do know one thing, and in no way would that make me feel any safer. It's bizarre to hear that students are taught two drills during their time at school and that one of those is for when an active shooter enters the premises.  That is something that isn't even mentioned here, because it just doesn't happen.
Why are we always told we shouldn't try to fight fire with fire but when it is about guns, that is literally what the president of the United States suggests: More guns.  How anyone who walks into a store can buy a firearm without any sort of background check is honestly beyond me.
All these things are happening on the other side of the world, yet they are so close. This is mostly because of social media. Immediately after something happens, it travels through twitter, Instagram and Facebook. It is incredible to see students turn this into a protest and that teenagers are finally getting heard. Inspiring is the right word to describe this situation. After so much tragedy, all the energy is put in a solution and these students refuse to be ignored any longer. Just because we can sometimes come off as rude or ignorant, that doesn't mean we don't care about our future. It's time to stop adults deciding for us, it's time to use our voices and speak up so loud they cannot choose to ignore us any longer.
The times where we didn't have a voice are over, it's time for change.
Fleur, 16, The Netherlands
——
Listen. idobi Network fully supports March For Our Lives and the kids who are making it happen. You can march with them on March 24th in Washington, DC or you can support them at marchforourlives.com. Please listen and please speak up!