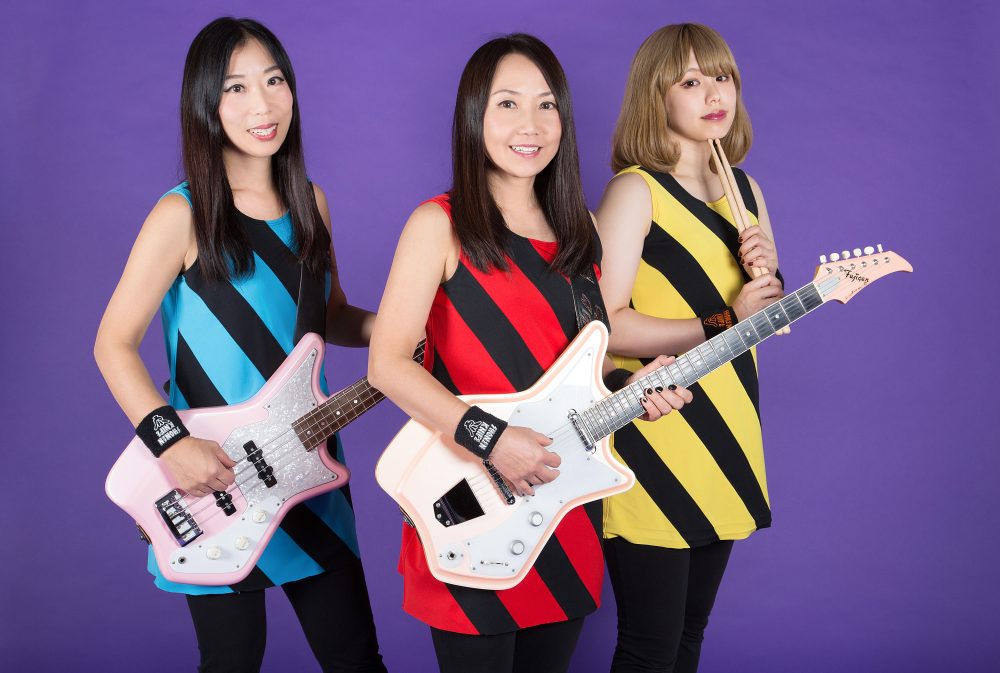 Photo: Tomoko Ota
I was fortunate to be able to catch Shonen Knife live in 2011 and it was one of the most memorable performances I have ever been to. When a band can get everyone from fifteen to fifty year olds into the mosh pit and singing along you know you are witnessing something special. Fast forward to 2018 and that same infectious energy is as strong as ever in Shonen Knife's new video for their song "Riding The Rocket". The all woman trio from Japan are unique, dynamic, and extremely talented. Their career spans over 37 years and includes releasing over 20 albums, opening for Nirvana on their UK tour (Kurt Cobain was a big fan and supporter) and playing with Sonic Youth and Fugazi. Their music has been featured on everything from Beavis and Butthead to The Powerpuff Girls to Gilmore Girls. Shonen Knife's eclectic sound takes their influences from bands like The Ramones and The Beatles but creates their own distinctive punk rock music, which they combine with light fun lyrics. See for yourself [below] in the new LIVE performance video for their song "Riding The Rocket" off their DVD Alive! in Osaka which will be released May 4th, 2018.
Frontwoman Naoko tells us more about the DVD:
"The stage at the venue, Juso Fandango, doesn't have enough height. Since we are short, we put plastic beer cases on stage and occasionally stepped on it and played. I made Shonen Knife Mondrian matryoshka for the show and decorated on my guitar amp. It was very special. I had some minor mistakes of singing lyrics. It must be interesting to find them. Ritsuko took a lead vocal for "Ramen Rock" song at recording but I sang it for this show. I requested the audience to shout loudly to make the listeners of Alive! in Osaka think Juso Fandango might be an arena. Actually Juso Fandango is a tiny venue, though. At the cover song, "Cruel to be Kind", which is not on DVD but CD, Ritsuko and Naru (Shonen Knife members) joined and did backing vocals."
—
Fun Fact from Naoko:
"When I was a child, I often played a Japanese card game "Karuta" in new year holidays. My Karuta was for children's learning. The theme of mine was "Space". Each card has sentences about space, like "I want to go to the moon" or "Saturn has a ring". I learned that Pluto is the most faraway planet. It isn't a planet anymore, though. Anyway, I was interested in Pluto and wanted to go there with my blue eyed cat."
Where to find Alive! in Osaka:
The DVD/CD package is available at goodcharamel.com, Amazon, your local indie record shop and all major online outlets. The audio will also be available for streaming and download.