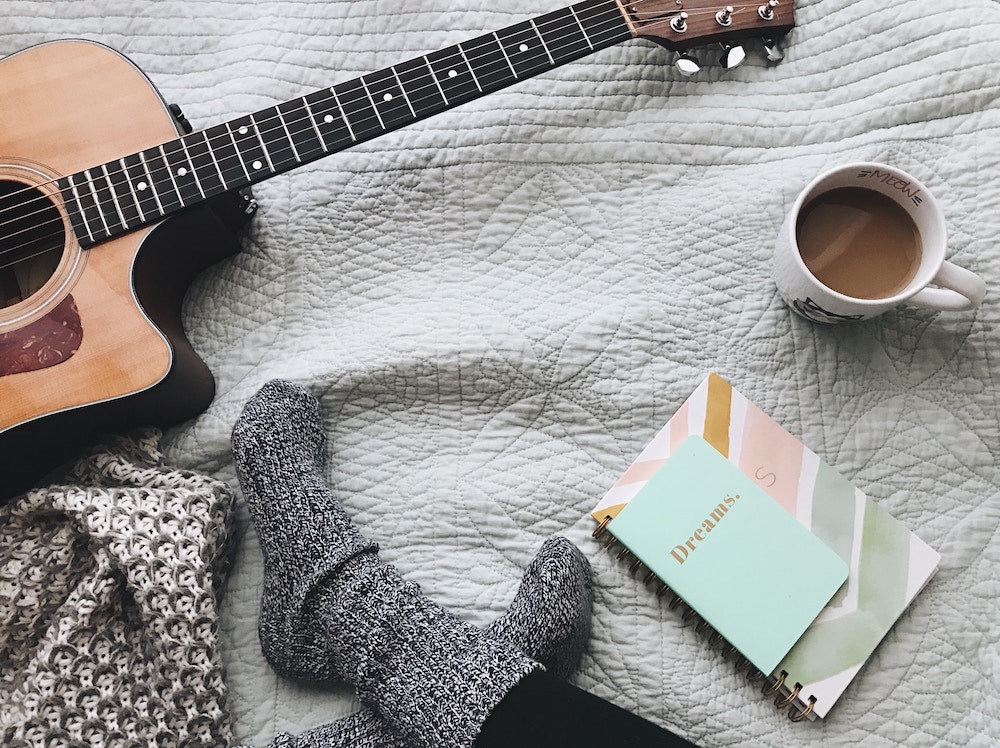 What better way to kick off a weekend than with new music? Fridays are always chock full of the latest songs and albums ready to be the soundtrack to everyone's antics, and here you'll find some of the week's standout releases. Whether you're ready to spin an anticipated song from a favorite artist or just taking a look at what's out there, there's a whole lot of tunes to dive right into. Who knows—maybe you'll find your next obsession.
All Time Low
"Some Kind of Disaster"
If an inherently pop-punk band still manages to keep you guessing when it comes to new music, they've already won. That's been the case for All Time Low for a number of album cycles now; they've continued to transform their sound from the ground
up—whether on full-blown radio pop for 2011's Dirty Work or the alt-rock Last Young Renegade.
For their new single "Some Kind of Disaster", the quartet finds a happy medium between old and new. The massive anthemic chorus is textbook All Time Low but that doesn't come at the price of clichéd lyrical content or predictable musicianship.
Hayley Williams
"Simmer"
A solo Hayley Williams has been something marring the existence of Paramore since the band's inception. Despite endless efforts to affirm that 'no, Paramore is not just Williams,' it was an idea that was hard to shake for fans—and perhaps for her as well. With her official debut single "Simmer", Williams creates a clear contrast between Paramore and her solo material right off the bat.
Interestingly enough, the song is written and produced with Paramore for the most part anyway, but it's not a case of "Paramore with a new sound". "Simmer" is Williams unchained and vulnerable with an Electronica edge that's hard to get enough of, and we'll see what else she has to offer when her record drops in May.
Billy Talent
"Reckless Paradise"
The beauty of Billy Talent is that the Canadian rock icons refuse to put out a bad album—you'd be hard pressed to even recall a time that they've put out a bad song. Their consistency is fueled by eccentric vocals and roaring riffs with sprinkled-in hooks that leave you wanting more; which is the perfect descriptor for their latest single "Reckless Paradise".
From the guitar lines that strike a nostalgic chord with their 2006 hit "Devil in a Midnight Mass", the new cut is a flashback to that era entirely. The experimentation that they typically dabble in is exchanged for their affinity for no-frills punk-rock.
Eve 6
"Open Road Song" (Live)
Few bands remain from the Golden age of pop-punk, when it wouldn't have been a surprise hearing it on Top 40 radio. Eve 6 are still going strong since their comeback in 2007 and, even if they aren't on the radio now, they're not ignoring where they came from. "Open Road Song", taken off their breakout debut from '98, gets a live rendition as part of a future live record that'll let you relive their (many) classics one more time.
Kygo
"Forever Yours"
(with Avicii and Sandro Cavazza)
Before Avicii's tragic passing fellow Swedish musician Sandro Cavazza crafted a collaboration with him that hasn't seen the light of day until now. Though initially unfinished, Cavazza tapped star DJ Kygo to help put the final touches on "Forever Yours", letting him fulfill a lifelong dream of being able to collaborate with the late producer. As a result, "Forever Yours" ends up being a beautiful tribute AND all proceeds from the song will be donated to the Tim Bergling Foundation.
Cash Cash
"Mean It" (feat. Wrabel)
Pop mercenary Wrabel may not have an album of his own yet but he's always fresh in the minds of listeners, thanks to his frequent guest appearances. You can find him next week on Kesha's new record, though, in the meantime, Cash Cash's latest single "Mean It" deserves all of your attention. The upbeat banger can make January feel like June with its unforgettable "Lo-love me like you mean it" hook.
The Word Alive
"No Way Out"
Prolific metalcore act The Word Alive has a new album on deck produced by Erik Ron—a guy who has had a hand in bringing out the best in similar bands like Motionless in White and I Prevail. Monomania will be their sixth full-length record and you can definitely sense the Ron magic in the songs released thus far. "No Way Out" brings powerful percussion to the forefront with an emphasis on melody.
Sparta
"Believe"
Former At the Drive-In member Jim Ward has officially brought back his acclaimed rock band Sparta. Trust the River (April 2020) arrives 14 years after Threes, their last effort, and they introduce the next chapter with the alt-folk styled "Believe". It's a change of pace for them but fans of Ward will notice the track shares qualities with his country side-project Sleepercar.
Other new releases:
Waterparks – 1 (A COLLECTION OF UNRELEASED HOME DEMOS, THIS IS NOT G, OR EVEN AN ALBUM, SHUT UP ENJOY)
Twin Atlantic – Power
Awolnation – "Mayday!!! Fiesta Fever"
Breaking Benjamin – Aurora
Pearl Jam – "Dance of the Clairvoyants"
Ezra Furman – Sex Education Original Soundtrack
Cage the Elephant – "Broken Boy (feat. Iggy Pop)"
Camden Welles – Cold Blue Light – EP
Jessie Reyez – "LOVE IN THE DARK"
Colony House – Leave What's Lost Behind
Depeche Mode – Mode
Megan Thee Stallion – "B.I.T.C.H."
Sheppard – "Phoenix"
Galantis – "Faith (with Dolly Parton)"
Mitski – "Cop Car"
Chromatics – "Toy"
R3HAB – "More Than OK (with Clara Mae)"
Kiana Lede – "Mad At Me."
ROSALIA – "Juro Que"
Wiz Khalifa – "Speed Me Up (with Ty Dolla $ign, Lil Yatchy, Sueco the Child)"
Prince Royce – "Cita"
Ricky Martin – "Tiburones"