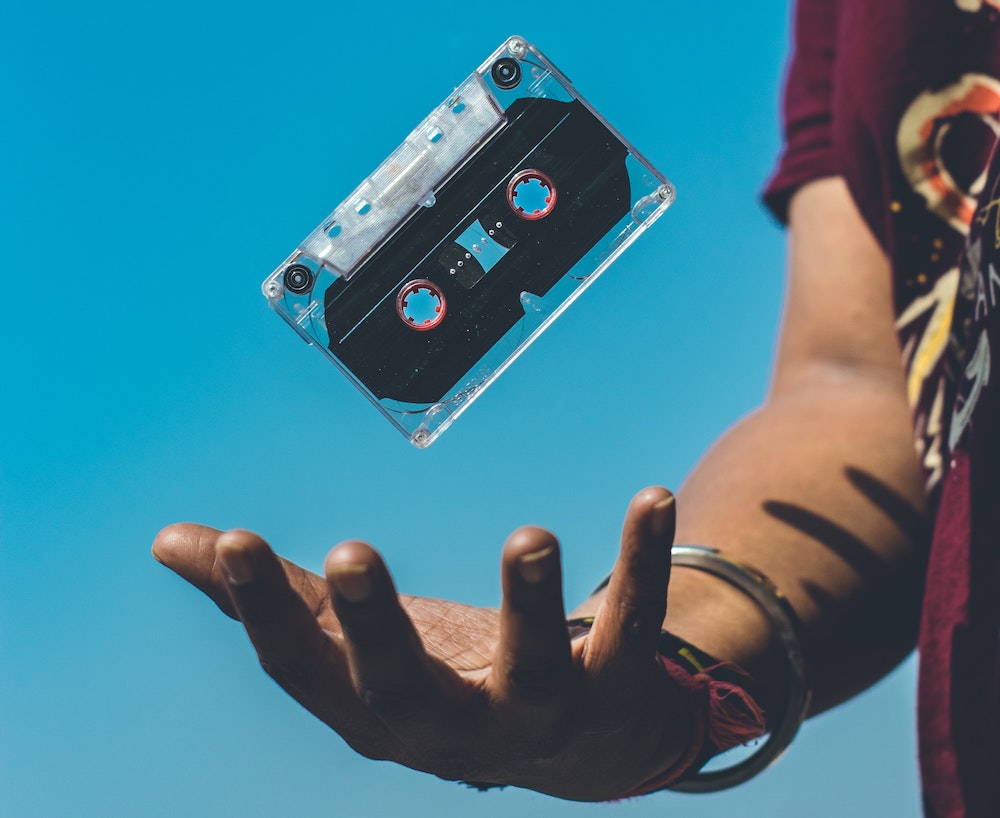 What better way to kick off a weekend than with new music? Fridays are always chock full of the latest songs and albums ready to be the soundtrack to everyone's antics, and here you'll find some of the week's standout releases. Whether you're ready to spin an anticipated song from a favorite artist or just taking a look at what's out there, there's a whole lot of tunes to dive right into. Who knows—maybe you'll find your next obsession.
The 1975
"Me & You Together Song"
The new The 1975 album is getting pushed back a bit and frontman Matt Healy is basically saying it doesn't matter at the end of the day. When you hear their new single, you know what he means. "Me & You Together Song" can easily hold fans over 'til April—the dreamy, borderline pop-punk, track is a clash between energetic guitars and Healy's smooth melodic vocals. It's the kind of song you wish would play forever; the repeat button isn't good enough.
Four Year Strong
"Talking Myself in Circles" / "Brain Pain"
Four Year Strong are back with a vengeance as they gear up to release their fifth record, Brain Pain, in February. It's been nearly five years since their last LP and the new songs prove the band is revitalized to a point where it feels like it's 2007 all over again. While "Talking Myself in Circles" sports a huge catchy chorus, the title track kicks it back to the band's hardcore roots.
Green Day
"Oh Yeah!"
At this point Green Day is essentially the crazy grandpa who speaks too much at dinner. You just kinda roll your eyes, go "Whatever you say, grandpa", and get back to eating your meatloaf. But we still love grandpa…right? Green Day's upcoming Father of All is shaping up to be a mid-life crisis—more so than their trilogy records back in 2012. "Oh Yeah!", to be fair, is the most sensical song off the LP, so far, but it's got that same radio-rock feel that isn't exactly Green Day but isn't exactly a reinvention either.
BTS
"Black Swan"
K-pop phenoms BTS are unveiling the next chapter of their career with "Black Swan"—a track that could be their biggest yet. Slowly inching away from the standard definition of K-pop, "Black Swan" is almost a crossover between trap and pop. They've always had rap elements, sure, but this single is far more blatant with its hip-hop styling and it pays off.
Derek Sanders
"A Praise Chorus"
The inviting vocals of Derek Sanders are welcome whether they're attached to the Mayday Parade moniker or not. The band's frontman dips his feet into solo material for the first time for an upcoming EP—one that's a bold move with its track listing made up of covers of the likes of Something Corporate and Jimmy Eat World. The latter's classic "A Praise Chorus" plays to Sanders' strengths with the decision to go acoustic, which allows his voice to truly flourish.
Anti-Flag
20/20 Vision
Anti-Flag's nature is to rebel, protest, and ignite conversation on the issues that matter most to them; no album of theirs has spoken louder than 20/20 Vision. Refusing to shy away from admitting the record is largely about the Trump administration, other topics include violence and racism wrapped in a smart and concise punk-rock package.
Halsey
Manic
Halsey bleeds emotion and self-preservation on her new album Manic—an aptly record that goes through a gauntlet of styles and sounds that are different for the pop star (but clearly in her DNA). Whether delving into sweet country-tinged tracks or rocky heavy numbers you'll find everything here—from BTS collaborations to song credits including Ed Sheeran and Nate Ruess. When it comes to pop music, Manic is an experience like few others and Halsey is the perfect one to present it to us.
Jonas Brothers
"What a Man Gotta Do"
Jonas Brothers prove their hot streak wasn't just a stroke of good luck with a brand new single only months after their comeback album. "What a Man Gotta Do" is a more focused radio smash for the trio—even more so than their hit "Sucker"—with loud and impactful drums and a swagger that would make Bruno Mars jealous. You can thank Ryan Tedder for that one, the OneRepublic frontman helped craft this very likely #1 single.
Eminem
Music to Be Murdered By
Surprise Eminem albums are hardly even a surprise anymore, and Music to Be Murdered By's subject matter isn't a surprise either. It's yet another response to critics who claim the legendary rapper is washed up with nothing to say; the 20-track album says otherwise (even though you've probably already heard from him plenty of times before).
Mac Miller
Circles
Circles, the posthumous record from Mac Miller, resonates differently from other posthumous records we've heard from rappers over the past couple of years. Instead of scraping together remnants and pieces of songs or rough cuts to craft an patchwork album, Miller's companion record to the critically-acclaimed Swimming has a clear focus, brought to the surface in an honorable and respectful way.
Other new releases:
Lauv – "Tattoos Together"
Steve Aoki, Maluma – "Maldad"
Meghan Trainor – "Blink"
Louis Tomlinson – "Walls"
Krewella – "Greenlights"
Mest – Masquerade
blackbear – "Me and ur Ghost"
American Authors – "Microphone"
Chelsea Cutler – How To Be Human
Fickle Friends – "Pretty Great" / "Amateurs"
COIN – "Youuu"
TOMORROW X TOGETHER – Magic Hour
Hayley Kiyoko – I'm Too Sensitive for This Shit EP
Tove Lo – "Bikini Porn" / "Passion and Pain Taste the Same When I'm Weak"
Bombay Bicycle Club – Everything Else Has Gone Wrong
The Naked and Famous – "Bury Us"
Soccer Mommy – "Circle the Drain"
Alec Benjamin – "Demons"
Dreamville – "BUSSIT (with Ari Lennox)"
070 Shake – Modus Vivendi
Mura Masa – R.Y.C
Shakira, Anuel AA – "Me Gusto"
Raekwon – The Appetition
KALEO – "I Want More" / "Break My Baby"
BAYNK, Golden Vessel, Akurei – "DOWN"
Black Caviar – "Mr. Vain"
Avenged Sevenfold – "Set Me Free"
2 Chainz & Future – "Dead Man Walking"
Galantis – "We Are Born to Play (feat. Charli XCX)"
Mandy Moore – "Save a Little For Yourself"
Vanessa Carlton – "The Only Way to Love"