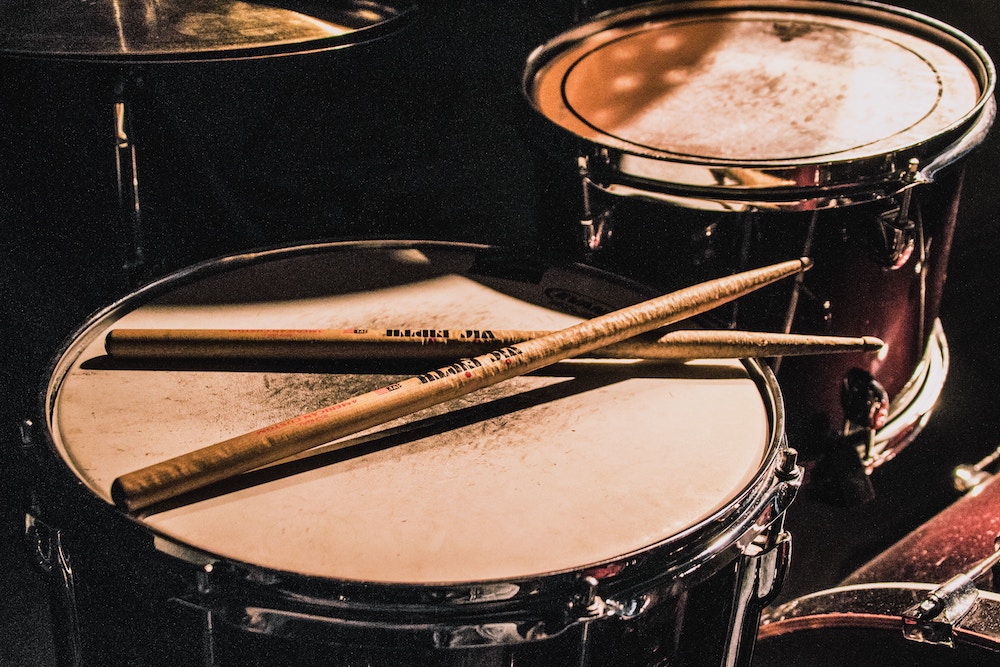 What better way to kick off a weekend than with new music? Fridays are always chock full of the latest songs and albums ready to be the soundtrack to everyone's antics, and here you'll find some of the week's standout releases. Whether you're ready to spin an anticipated song from a favorite artist or just taking a look at what's out there, there's a whole lot of tunes to dive right into. Who knows—maybe you'll find your next obsession.
The 1975
"Frail State of Mind"
After channeling the likes of Refused on the hard-hitting "People", The 1975 float back into familiar territory with "Frail State of Mind". It's got that signature atmospheric pop tone that ran rampant on last year's A Brief Inquiry Into Online Relationships, but it doesn't strike with nearly as big of a hook as the band is
capable of. Still, there's confidence that "Frail" could just be a chaser that follows a mega banger.
We the Kings
"Turn It Up"
We the Kings turn back the clocks on the bouncy, nostalgic "Turn It Up". A song that could have been included on their debut record alongside cuts like "Skyway Avenue", the new single sounds like anything but a grasp at their heyday. Instead, the track is a natural display of the band's pop-rock roots that they hopefully build on from here.
Selena Gomez
"Lose You to Love Me" / "Look at Her Now"
The double-song release from Selena Gomez gives good reason as to why everyone
is anticipating a new album. Both "Lose You to Love Me" and "Look at Her Now"
are sonic leaps for the artist that are unique in their respective ways, the latter featuring a more traditional club feel. Both written with singer Julia Michaels, the additional production from Billie Eilish's brother Finneas on "Lose You" makes it all the more unique.
PVRIS
Hallucinations
Hallucinations is a larger than life offering from alt-pop-rock act PVRIS—a band that seems like they're no longer searching for their sound. While their past efforts were solid and undoubtedly showed their potential, their new EP is a blueprint for success on the massive tracks like "Nightmare" and the title song. It's a big enough switch in accessibility to draw in an entirely new audience without making fans feel like PVRIS has changed.
Silverstein
"Disarm"
You could basically make a Songs That Saved My Life compilation entirely dedicated to Silverstein but, for now, the influential post-hardcore act contributes to the tribute with a cover of The Smashing Pumpkins' "Disarm" . Silverstein's rendition doesn't deviate much from the original but vocalist Shane Told is much easier on the ears than raspy Billy Corgan.
Coldplay
"Orphans" / "Arabesque"
Coldplay are gearing up for their brand new album, Everyday Life, and it's coming in an ambitious package that you'd expect from the group. The record will be split into two (Sunrise and Sunset) and this double song release may be showing off what each half has in store. "Orphans" is likely the actual single, while the near six minute "Arabesque" excels in its usage of horns.
Lizzo
"Good as Hell" (feat. Ariana Grande)
It seems like every week, Lizzo is doing something to break down barriers to become an even bigger star than she was days before. Between setting Billboard records to having a social media persona that belongs on prime time TV, the world can't get enough of her—especially Ariana Grande. The pop singer hops on Lizzo's track "Good As Hell" and fits surprisingly well, even if the song is a little more enthusiastic than what Grande is usually a part of.
Louis Tomlinson
"We Made It"
The wait for Louis Tomlinson's debut full-length is almost reaching its end, and it's been an interesting journey to witness from a listener's perspective. Collaborations with Steve Aoki and Bebe Rexha found Tomlinson desperately searching for his niche but he's seemed to nail it on the rock-inspired tunes that will actually make it onto his record. "We Made It" is one of them—it comes off as practically an Oasis cover with its lone guitar strums and builds into an instantly memorable chorus.
Kesha
"Raising Hell"
Kesha's 2017 comeback record, Rainbow, was a departure from her norm but it was a necessary shift in sound that put her career back on its rightful track, and her new song, "Raising Hell", is her taking it to the next level. Off her upcoming album, the single sports a rap-sing style that she made famous a decade ago but the music to go along with it is uplifting on this P!nk-esque anthem that has Kesha shooting for the top of the charts.
Other new releases:
MisterWives – the end…why why why
VÉRITÉ – new skin
Why Don't We – "Mad at You"
DAY6 – The Book of Us: Entropy
TOMORROW X TOGETHER – The Dream Chapter: Magic
AJR – "Dear Winter 2.0"
Prettymuch & CNCO – "Me Necesita"
Dillon Francis – "DFR"
Editors – Black Gold
Stereophonics – Kind
The Knocks – "Luck Me (feat. Great Good Fine Ok)"
Mumford and Sons – "Blind Leading the Blind"
Major Lazer – "Trigger"
Galantis – "Faith (feat. Dolly Parton)"
Armin Van Buuren – Balance
Jojo – "Sabotage"
Frank Ocean – "DHL"
Lady Antebellum – "What I'm Leaving For"
Zella Day – "You Sexy Thing"
Gallant – Sweet Insomnia
Tyga, YG, Santana – "MAMACITA"
Logic – "OCD (ft Dwn2earth)"
King Princess – Cheap Queen
Megan Thee Stallion – "Ride of Die"