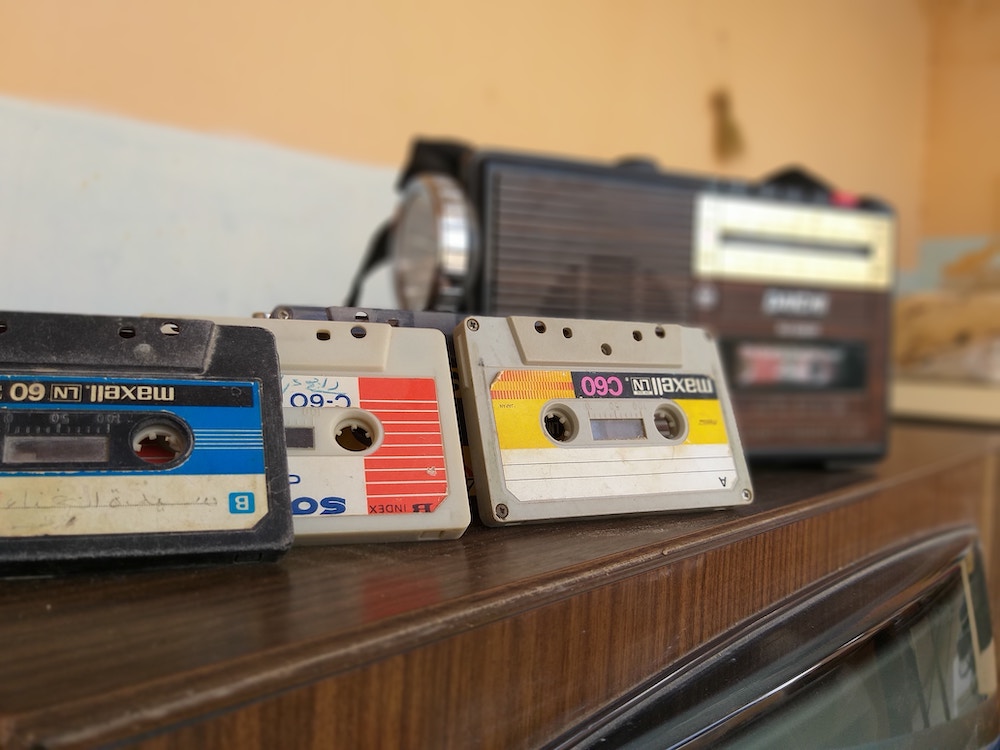 What better way to kick off a weekend than with new music? Fridays are always chock full of the latest songs and albums ready to be the soundtrack to everyone's antics, and here you'll find some of the week's standout releases. Whether you're ready to spin an anticipated song from a favorite artist or just taking a look at what's out there, there's a whole lot of tunes to dive right into. Who knows—maybe you'll find your next obsession.
Jimmy Eat World
Surviving
Jimmy Eat World, a band synonymous with nostalgia, is also a band that keeps raising the bar for themselves with each new record—thereby creating new nostalgia along the way. Surviving finds the quartet in an energetic frame of mind compared to 2016's Integrity Blues. Most songs here will have you wondering if you flipped on Bleed American instead.
Katy Perry
"Harleys in Hawaii"
Continuing the departure from her "woke-pop" era, Katy Perry delivers another smash in "Harleys in Hawaii". It's the third track from her this year and it's also one of the more promising. "Harleys in Hawaii" provides that edgy aggressiveness you'd find on a track like "Dark Horse" but a feature isn't needed this time around for it to hit on all cylinders.
WhoHurtYou
"Not the One"
Now three songs into their fast-moving career, WhoHurtYou prove their best asset is the vocals. "Not the One" follows in its predecessors' footsteps with another break-up cut, and you could probably consider it the band's first ballad. Still, it's strong in its chorus—the pipes from Kevin Fisher work beautifully supported by minimalist instrumentation.
Twenty One Pilots
"The Hype (Berlin)"
Even though they put out one of the finest records of last year, the real reason to get excited over Twenty One Pilots is all because of their ongoing stripped-down series where they take tracks and record them in a live setting. The tracks used to be titled with GPS coordinates but the band saves us all a Google search this time by letting us know that this rendition of "The Hype" was done in Berlin. The new version takes the album cut and flips it on its head, exchanging its high energy for piano and softer drum beats.
Sainte
Bad Summer
Tay Jardine, otherwise known as SAINTE, has made a remarkable shift from leading pop-rock powerhouse We Are The In Crowd to mastering the solo game with her electro-pop project. Although SAINTE has been a thing for a couple of years, Bad Summer is the release where Jardine really hones in on her sound most effectively. While 2017's Smile, and Wave still had strings of WATIC DNA in it, Bad Summer leaves the Warped Tour days behind completely.
FRND
Adventures of the FRNDship:
Issue One (Acoustic)
If The Friday Night Boys was a staple of your high school days (or even still is—we understand), the obsession can continue with frontman Andrew Goldstein's electronic project FRND. He's always pulled off the EDM aspect to his music well, but this acoustic edition of his recent EP is an unintentional love letter to his pop-rock days. Devoid of electro elements, the simple guitar strums let Goldstein's vocals spill out emotion from his honest lyricism.
Hey Violet
"Clean"
"Clean" is Hey Violet's way of showing that they can grow without abandoning who they were. Songs from the trio this year have come in a variety of sounds but their latest comes off as a more-polished version of something you would have found on their 2017 debut. Their future seems to be heading in a direction that will continue to expand their skillset as a band even if "Clean" is a fun detour.
Cody Simpson
"Golden Thing"
You can thank Miley Cyrus for Cody Simpson's new song "Golden Thing". Her and the Australian crooner are now a ~thing~ and "Golden Thing" is a super sweet tune about Cyrus that she urged him to drop. It's a cute track…but you can't help but be distracted by the prospect of the two doing a joint song together in the future.
BTS
"Make It Right" (feat. Lauv)
Did you really think you'd stop hearing about BTS just because they decided to take a little break? They may not be releasing brand new music but it won't stop the remixes from coming in hot: "Make it Right" featuring Lauv is now available for party playlists. The singer/songwriter fits so well on the Western-styled K-pop track that it almost sounds like it's a Lauv song first and BTS are the featured act—but that's just a testament to how easy it is for BTS to mesh with other artists no matter which country they're from.
Madeon
"Be Fine"
Madeon's latest single takes pointers from his breakout single—and arguably one
of the greatest EDM tracks of all-time—"Shelter". Of course, Porter Robinson isn't
on this new cut like he was on "Shelter" but the incredibly infectious pop tune mirrors the previous single in its accessibility and charm. Like all of Madeon's
recent songs, the production here is top notch with piercing synths that help elevate its danceability.
Other new releases:
YUNGBLUD – The Underrated Youth
New Politics – "Ozone"
Matt and Kim – "Money"
Foals – Everything Not Saved Will Be Lost – Part 2
Perfume Genius – "Pop Song"
Twin Atlantic – "Novocaine"
Beck – "Hyperlife" / "Uneventful Days"
Alter Bridge – Walk the Sky
Like Moths to Flames – "Smoke and Mirrors"
Refused – War Music
G-Eazy – Scary Nights – EP
Jungle – Back to Mine
PJ Harvey – All About Eve
Third Eye Blind – Screamer
Allie X – "Rings a Bell"
AJ Mitchell – "Like Strangers Do"
Armin Van Buuren – "Unlove You" (feat. Ne-Yo)
James Arthur – You