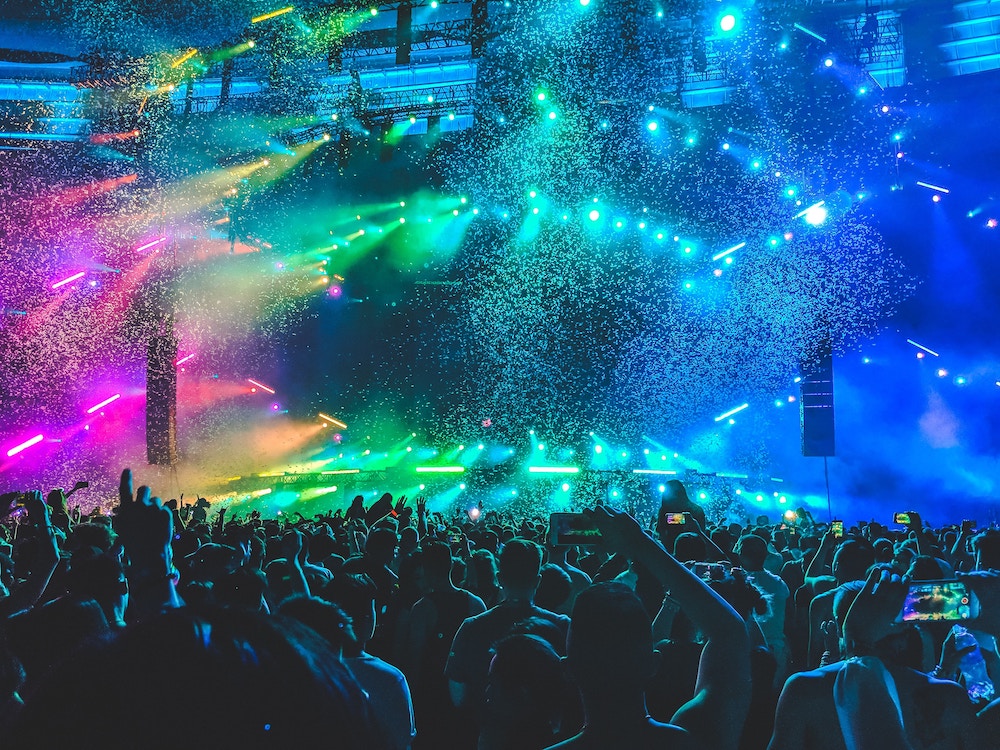 What better way to kick off a weekend than with new music? Fridays are always chock full of the latest songs and albums ready to be the soundtrack to everyone's antics, and here you'll find some of the week's standout releases. Whether you're ready to spin an anticipated song from a favorite artist or just taking a look at what's out there, there's a whole lot of tunes to dive right into. Who knows—maybe you'll find your next obsession.
Kim Petras
Turn Off the Light
Spooky season has indeed arrived and it's all thanks to Kim Petras. The German pop sensation unveils the sequel to last year's Halloween-themed EP Turn Off the Light, but this time it's Frankenstein'd into a full-length record. Including a mix of the previous EP and brand new songs, that turn the project into major Halloween party fodder with instrumentals sprinkled throughout.
CHVRCHES
"Death Stranding"
The highly anticipated action video game, Death Stranding, will feature synth-pop group CHVRCHES as the ones providing its main theme. The track, named after the game, is a glitchy pop tune with a rather large chorus that builds throughout its five minute runtime—it's as ambitious for CHVRCHES' discography as the game is for the gaming industry.
Bayside
Interrobang
To save yourself a Google search, an interrobang is a cute little symbol that looks like an exclamation point had a baby with a question mark. It's a great representation of Bayside's new album of the same name, which finds the band in unique territory. Interrobang excels with its focus on bringing out the harder side of Bayside with "Numb" and "Prayers" being the clear standouts.
Halsey
"Clementine"
With Halsey's Manic arriving in January, we're getting a taste of another song from its 16-track length. "Clementine" is actually the second song on the record, which is an odd decision considering how stripped down and mellowed-out it is—it's normally something you'd find midway through. "Clementine" is far from anything that'll top the charts but the barebones approach lets Halsey's voice take point as light piano lingers in the background.
Scary Kids Scaring Kids
"Loved Forever"
Post-hardcore act Scary Kids Scaring Kids return for a new song to honor the life of late vocalist Tyson Stevens. Stevens, who passed away in 2014, fronted the band with an admirable level of passion and energy. He helped craft one of *those* records—the 2005 The City Sleeps in Flames that you could consider a genre staple. The tribute track "Loved Forever" is dedicated to the singer on what would have been his 34th birthday.
Travis Scott
"Highest in the Room"
Last time Travis Scott dropped a lead single it flipped the industry upside-down. "Sicko Mode" had endearing qualities from beginning to end: a legendary synth line, beat switches, and a killer Drake feature to boot. New track "Highest in the Room" doesn't exactly check all of those boxes but it's a solid start for an apparent new era.
Dan + Shay
"10,000 Hours" (feat. Justin Bieber)
Country-pop duo Dan + Shay strike gold with their new single "10,000 Hours" featuring a top-tier guest spot by Justin Bieber. The track could have gone in
plenty of weird directions but Dan + Shay stay true to themselves with a radio-ready genre crossover that Bieber sounds right at home in. Future congrats on the number one single.
Camila Cabello
"Cry for Me"
"Cry for Me" is the latest breakup tune from vocal powerhouse Camila Cabello. Detailing an ex who moved on to soon, the music itself doesn't dwell on the past and instead offers up a rhythmic beat that takes after Halsey in terms of melody and vocal delivery. The change is a welcome one, putting her desire to push herself creatively on full display.
Niall Horan
"Nice to Meet Ya"
Former One Directioner, Niall Horan kicked off his solo career with the okay-to-decent Flicker LP. The full-length proved he had potential to flourish as a solo artist even if the record came across mostly as 1D b-sides. "Nice to Meet Ya" is seemingly a shift from the safe folk-pop and a move toward a riskier pop-rock vibe that's far more intriguing, and it'll be interesting to see how this cut transitions into additional new music.
Other new releases:
The Who – "All This Music Must Fade"
Monsta X – "Someone's Someone" 
BANNERS – Where The Shadows End
Breathe Carolina – "Like This" 
Gnash – "Forgive" 
Lauv – ~how i'm feeling~ / "Sims"
FINNEAS – Blood Harmony
bülow – The Contender
Turnover – "Parties"
The Menzingers – Hello Exile
Steve Aoki – "Send It" 
Charlie Puth – "Cheating on You" 
Sleater-Kinney – "Animal"
Summer Walker – Over It / "Come Thru (with Usher)"
SuperM – SuperM – The 1st Mini Album
Sabrina Claudio – Truth Is / "Rumors (feat ZAYN)"
King Princess – Hit Me Back
88Rising, Rich Brian, CHUNG HA – "These Nights"
Wale – "Love & Loyalty (feat. Mannywellz)"
Jessie Reyez – "Far Away"
David Guetta, GLOWINTHEDARK – "Jump"
Wilco – "Everyone Hides"
Third Eye Blind – "The Kids Are Coming (To Take You Down)"
Mike Posner, Talib Kweli – "Legacy"
Dido – "Just Because"
Big Thief – "Forgotten Eyes"
Black Eyed Pease & Anitta – "Explosion"
Dillon Francis – Magic Is Real (Part 1) – EP
Mumford & Sons – Sigh No More Sessions – EP
Angel Olsen – All Mirrors
City and Colour – A Pill For Loneliness
The Darkness – Easter is Cancelled
The Sherlocks – Under Your Sky