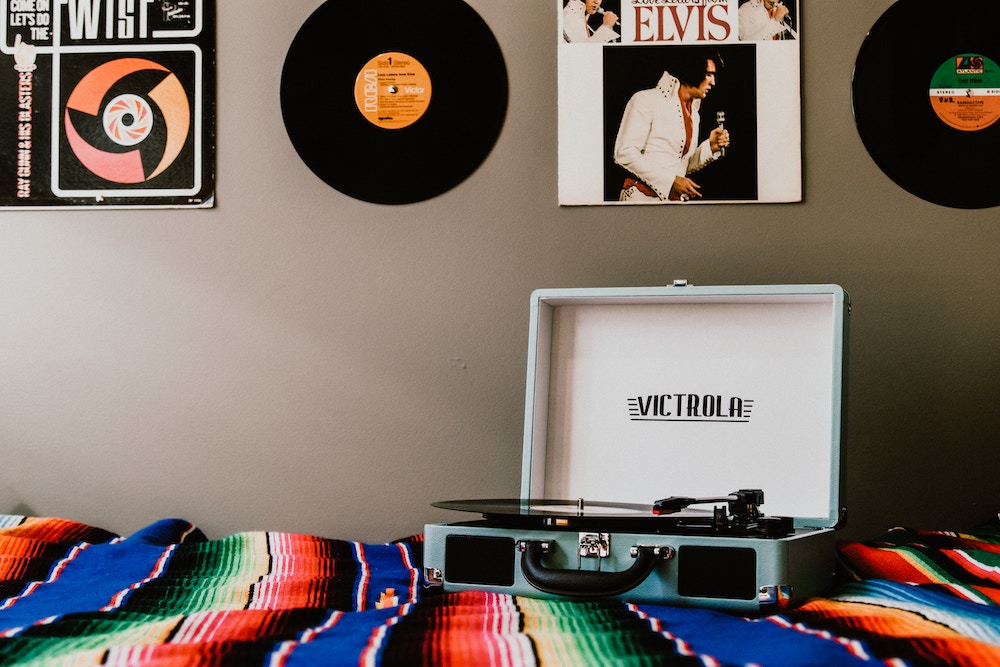 What better way to kick off a weekend than with new music? Fridays are always chock full of the latest songs and albums ready to be the soundtrack to everyone's antics, and here you'll find some of the week's standout releases. Whether you're ready to spin an anticipated song from a favorite artist or just taking a look at what's out there, there's a whole lot of tunes to dive right into. Who knows—maybe you'll find your next obsession.
Jimmy Eat World
"All the Way (Stay)" / "Love Never"
With their upcoming tenth LP, it feels like Jimmy Eat World is set on creating new classics for a new generation. A duo of singles call back to their "The Middle" days in a genuine fashion, with "All the Way (Stay)" being one of their strongest singles maybe ever. To top it off, the track features vocals from musician Rachel Haden—a longtime collaborator with the band—who appeared on Bleed American.
The Early November
Lilac
The Early November frontman Ace Enders has always excelled at creating imagery as much as he creates great songs—the band's new album, Lilac, is the best of both of those worlds. Beautifully melodic and loaded with some of their most personal lyrics to date, Lilac lets the band flourish like the flower it's named after.
Tegan and Sara
Hey, I'm Just Like You
While some artists are embarrassed (and sometimes even mortified) over their older material, Tegan and Sara embrace it. Their latest offering, Hey, I'm Just Like You, is a unique trip down memory lane as the duo re-work some old demos they wrote as teenagers. The result is quite a contrast from what T&S eventually molded their sound into, but listening to it just makes you appreciate how much they've grown.
State Champs
"Real World"
The ambitious Songs That Saved My Life compilation is back for round 2 with a new batch of cover tracks to dig into. This, of course, is not your standard cover series: The concept behind it asks bands to take on songs that mean the most to them, which tends to provide a new level of emotion than you would typically expect. Pop-punk heavyweights State Champs step outside their genre for a rendition of Matchbox Twenty's alt-rock hit "Real World" and do it justice, largely staying true to the original.
Waterparks
"High Definition"
Waterparks turn down the tempo for "High Definition"—another solid offering from their new record, Fandom. A mix of AJR and early Hellogoodbye, this change of pace is a far cry from their Twenty One Pilots-on-steroids vibe we've gotten from previous cuts off the LP. Sure, we're making a lot of comparisons with these guys, but the fact that Waterparks can mesh all these remnants of other bands together and not sound like the musical equivalent of combining every soda at the drink fountain…that's pretty impressive.
The Almost
"Chokehold"
Aaron Gillespie may be best known for all he's done for metal act Underøath, but the multi-instrumentalist is just as prolific with his side project The Almost. It's practically a disservice to call it a side project—Gillespie has been fronting the rock project for nearly a decade and a half—and their upcoming album, Fear Caller, is aiming to be their best yet. First single "Chokehold" is a dark and moody cut, setting the stage for something special.
Diplo
"Lonely" (feat. Jonas Brothers)
Diplo gets back on his horse for another cut from his country moniker Thomas Wesley and the Jonas Brothers come along for the ride. Much like the producer's previous "country"-esque singles, he somehow feels like any sort of guitar strum constitutes as country when it's really just a simpler Diplo pop song. Either way, nobody is complaining about more Jonas Brothers, even if the track comes off as cheap streaming fodder with a runtime of barely over two minutes.
Nothing,nowhere.
Bloodlust
Travis Barker is all over his collaborative EP with singer/songwriter nothing,nowhere. While both NN and Barker have hip-hop backgrounds, Barker's touch sways the EP to his Blink-182 territory, incorporating a pop-punk flair throughout. Given nothing,nowhere.'s passionate vocal style, a lot of this EP comes off as if it was entirely influenced by Brand New's Your Favorite Weapon.
Echosmith
"Lonely Generation"
If it were 2004, you'd probably have the new Echosmith song in your instant messenger profile. Instead you'll just have to settle for streaming it on repeat. "Lonely Generation" is begging to become an anthem with its top-tier chorus and hazy instrumentation. It's been nearly six years since the record that put them on the map and, even though they haven't dropped a full-length since, they're clearly picking up right where they left off.
—
The Devil Wears Prada
"Chemical"
"Chemical" takes The Devil Wears Prada into a surprising new direction that finds the metalcore outfit delving into their softer side. Off their new album, The Act, "Chemical" disregards any heaviness for an overtly melodic tone that eventually builds into harsher vocals and bigger guitars.
Other new releases:
Issues – "Flexin"
Of Mice & Men – EARTHANDSKY
We Came As Romans – "From the First Note" / "Carry the Weight"
Foals – "Into the Surf"
The Japanese House – "Something Has to Change"
Adam Lambert – Velvet: Side A – EP
Allie X – "Fresh Laundry"
Zedd & Kehlani – "Good Thing"
Noel Gallagher's High Flying Birds – This is the Place – EP
Dragonforce – Extreme Power Metal
Steel Panther – Heavy Metal Rules
Galantis – "Holy Water"
DaBaby – Kirk
Meghan Trainor – "Wave"
Armin Van Buuren & James Newman – "High on Your Love"
Christina Aguilera – "Haunted Heart"
James Arthur – "Finally Feel Good"
Lukas Graham – "Lie"
Mike Posner – "Nothing is Wrong"
Noah Cyrus – "Lonely"