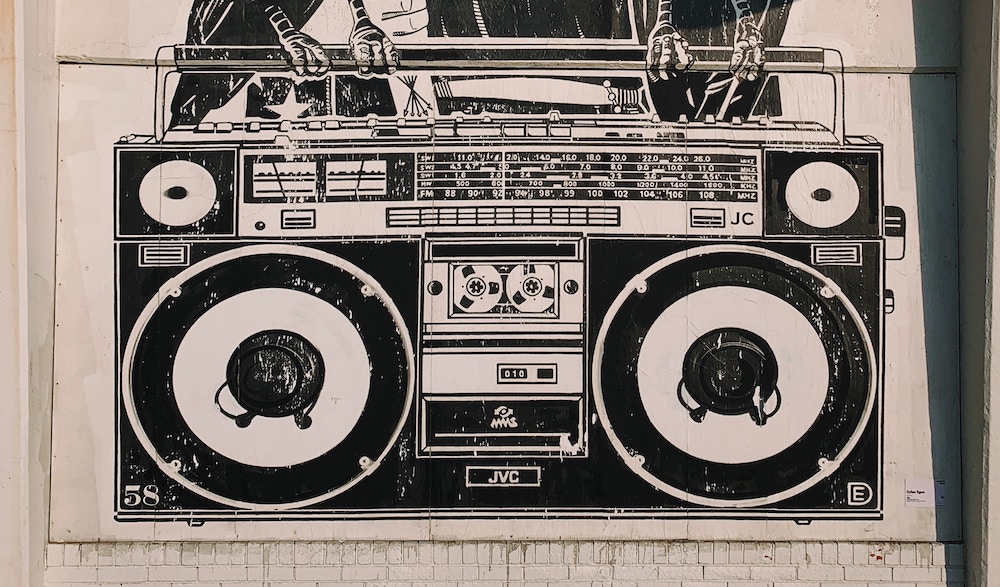 What better way to kick off a weekend than with new music? Fridays are always chock full of the latest songs and albums ready to be the soundtrack to everyone's antics, and here you'll find some of the week's standout releases. Whether you're ready to spin an anticipated song from a favorite artist or just taking a look at what's out there, there's a whole lot of tunes to dive right into. Who knows—maybe you'll find your next obsession.
Blink-182
Nine
The title for Blink-182's newest album signifies the ninth record in their discography, but the music signifies identity and a sense of cohesion that has arguably never been in the band before. Now two albums deep, with Alkaline Trio frontman Matt Skiba completing the trio, Nine utilizes Skiba's vocal abilities to the max, as he single-handedly brings songs to life. The production personnel hasn't changed drastically from 2016's California, but the lack of joke tracks and a fine-tuned balance between pop and rock makes it unquestionably Blink's best to date.
Maroon 5
"Memories"
Let's be real: Maroon 5 could have ridden 2017's Red Pill Blues until the end of time. Spawning a number of hit singles, the LP definitely had a couple more in the tank, but new music so soon (by their standards) is a sign that they aren't in the mood to slow down—but is the music good enough for fans to want to keep up? "Memories" is a nostalgic yet minimalist cut for the group—a track that doesn't really care if it ends up on radio or not. Interestingly, collaborators include Jon Bellion and The Monsterz & Strangers, and it ultimately sounds like something out of left field for all those involved.
Our Last Night
"The Beaten Path"
It's sometimes easy to forget that Our Last Night are more than a cover band (which is really just a compliment to how well they pull off their renditions) but tracks like the new "The Beaten Path" quickly remind you of their roots. While it could use a little more aggression, frontman Trevor Wentworth's clean vocals get better every time he steps behind a mic.
The Number Twelve Looks Like You
Wild Gods
After 10 years, post-hardcore heavyweights The Number Twelve Looks Like You head back into the game, and it's like they never left. Wild Gods has the potential to be that gateway record for heavy music that their debut was for so many back in the day—as the dynamics from tranquil to all-out musical warfare are something to marvel at.
Monsta X
"Love U"
BTS might be taking a break but there's definitely not a void left in the k-pop world. Monsta X has been inching their way into U.S. stardom for the entirety of 2019, with a strong future ahead if their new single is a sign of things to come. The English-language "Love U" is a hip-hop boyband-pop hybrid that hits on all cylinders to become a fan favorite…and maybe even a radio favorite, too.
Stand Atlantic
"Hate Me (Sometimes)"
From the opening notes of "Hate Me (Sometimes)" you can sense there's a certain bite to Stand Atlantic that last year's solid debut was missing. That said, the catchy single isn't a departure from the band's winning formula but rather an extension of what makes them so appealing in the first place.
Tove Lo
Sunshine Kitty
It felt like Swedish pop star Tove Lo was on top of the world for a good while with her debut LP in 2014 and although she hasn't exactly held that level of success since, her music, fortunately, hasn't suffered. Sunshine Kitty puts Tove Lo right up there with Charli XCX for some of the most underappreciated pop singers of today—the wonderfully structured "Glad He's Gone" proves it immensely.
The Script
"The Last Time"
After all of these years, The Script are still churning out tunes that are best experienced in a summer amphitheater. "The Last Time" is chock full of vast instrumentation, from keys to booming drum beats, that fill the entirety of the space. Of course, there's still room for Danny O'Donoghue's powerful vocals—they're fully put on display so that the track can reach its full potential.
—
BAND TO WATCH:
Belmont
"By My Side"
Rising pop-punk act Belmont turned heads with last year's self-titled record, but their new material has them set on ripping heads straight off. "By My Side" falls on the harder side of the spectrum for the band, even though it's a comfortable territory that the quintet thrive in. While album plans haven't been unveiled just yet, you'd be hard pressed to find a future release in the genre that's more promising.
Other new releases:
LIGHTS – "Long Live (feat. Travis Barker)"
Jake Miller – SUMMER 19 – EP
Tegan and Sara – "Don't Believe the Things They Tell You (They Lie)"
Lauv – "Feelings"
Liam Payne – "Stack it Up"
Hailee Steinfeld – "Afterlife (Dickinson)"
Stereophonics – "Bust This Town"
Keane – Cause and Effect
Liam Gallagher – Why Me? Why Not.
Zac Brown Band – The Owl
Mike Posner – "Slow It Down"
Sammy Adams – "Talking to Myself"
Alicia Keys – "Show Me Love (feat. Miguel)"
Bebe Rexha – "You Can't Stop the Girl"
Mandy Moore – "When I Wasn't Watching"
James Arthur – "Treehouse (feat. Sofia Reyes)"
Celine Dion – "Courage" / "Imperfections" / "Lying Down"
M83 – "Feelings"
Mariah Carey – "In the Mix"