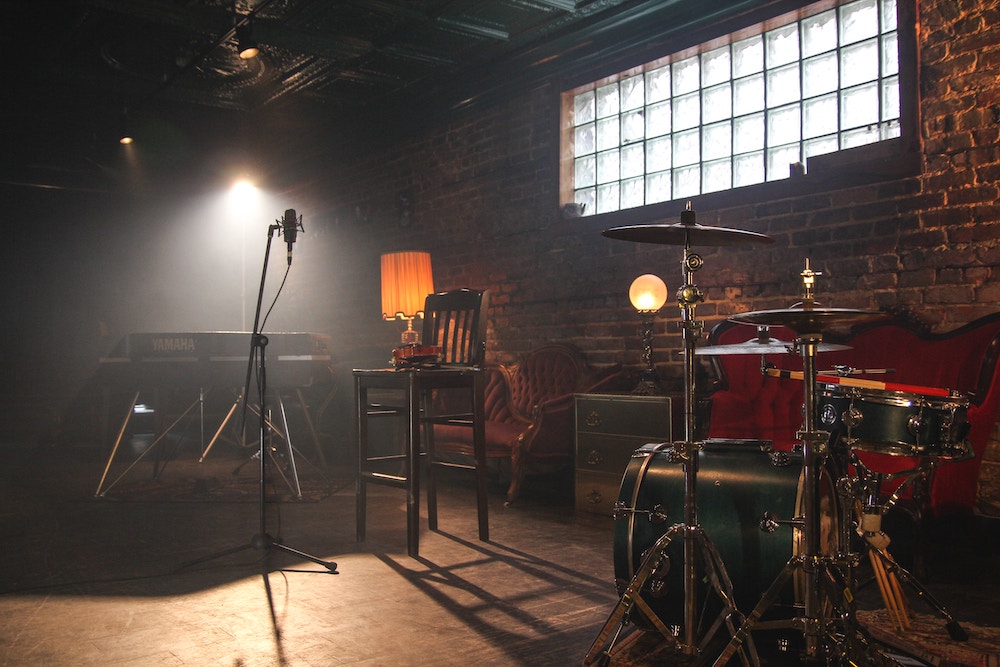 What better way to kick off a weekend than with new music? Fridays are always chock full of the latest songs and albums ready to be the soundtrack to everyone's antics, and here you'll find some of the week's standout releases. Whether you're ready to spin an anticipated song from a favorite artist or just taking a look at what's out there, there's a whole lot of tunes to dive right into. Who knows—maybe you'll find your next obsession.
Fall Out Boy
"Dear Future Self (Hands Up)"
Fall Out Boy fans have bad memories with Believers Never Die. The band's first greatest hits record arrived innocently enough in 2009 before a hiatus announcement followed shortly after, so you can't blame folks for getting a little nervous now that Believers Never Die Part 2 is on deck. Fortunately, another hiatus isn't likely—the band is gearing up for a massive stadium tour for 2020 with Green Day and Weezer, and this compilation can only supplement their efforts to be one of the biggest rock bands on the planet. Before its release, we're getting a taste of the future with their new track, "Dear Future Self (Hands Up)". A continuation of the wackiness from Mania, the single blasts through speakers with an urgency, and probably more so in a stadium.
Green Day
"Father of All…"
Revolution Radio marked a return-to-form for Green Day, who had become a shell of themselves after the three-album saga Uno, Dos, and Tre from 2012. Their upcoming full-length, Father of All…, seems to be taking their sound to another level, if only to stick it to their label in typical punk-rock fashion. The Butch Walker-assisted title-track is barely recognizable as a Green Day song and so is the album: it's 10 songs, 26 minutes, and likely full of high-octane, screw-mainstream-radio-rock jams.
Weezer
"The End of the Game"
Weezer might not be reinventing the wheel these days but they make it a point to never create the same album twice. That's how Van Weezer is shaping up after the release of "The End of the Game". The album's title (yes, that is its actual title) implies an homage to the legendary rock gods, and the single does feature some fun and rocking guitar riffs. It also packs some incredible hooks, too.
Sleep on It
Pride & Disaster
If early Mayday Parade chugged a few extra Red Bulls, they'd be Sleep on It. Pride & Disaster is the follow-up to 2017's excellent LP Overexposed, and what the band accomplishes this time around is them zeroing in on nostalgia with a new coat of paint. Album standout "Logan Square" belongs on one of those 2002-era pop-punk compilations filled with bands you'd eventually fall in love with—but the modern vocals are there to remind you that it's 2019 and Sleep on It are killing it.
Halsey
"Graveyard"
Halsey tones things down a bit on her latest single compared to her last few song drops. Between the number one hit "Without Me" to the rocker "Nightmare", "Graveyard" strays from the path and almost has a bright, tropical feel to it; Halsey's emotive vocals keep things from sounding too optimistic.
Waterparks
"[Reboot]"
Consistency is the name of the game for Waterparks and their new record, Fandom. With our fourth taste of the LP in the form of the glitchy-pop "[Reboot]", they're practically eliminating any remnants of their pop-punk stylings of yesteryear for Twenty One Pilots-esque rap vocals and melodies. It doesn't come off as a rip-off though—vocalist Awsten Knight is one-of-a-kind in the industry, setting up his band's new identity to stand alongside those juggernauts like Pilots and The Chainsmokers instead of merely just sounding alike.
Ariana Grande, Miley Cyrus, Lana Del Rey
"Don't Call Me Angel"
The theme song from the upcoming Charlie's Angels sequel is brought to you by none other than three of the most powerful women in pop music right now: Ariana Grande, Miley Cyrus, and Lana Del Rey. They obviously all have their own distinct sound individually, and it kind of seems like they tried bringing exactly that to the table for "Don't Call Me Angel"—the result is underwhelming. While Lana's bridge is great and Cyrus fits the tune well, the focus on Grande makes it feel like her solo song with a couple features rather than the proper power anthem it could be.
Mest
"The Upside Down"
Old-school pop-punk with new-school pop-culture references will never not be awesome. After returning with a new single back in July, Mest drop what is likely a Stranger Things-inspired track in "The Upside Down", bringing a huge and upbeat rock flair to some dark imagery in the lyrics.
WSTR
"Filthy"
Despite an album last year, UK powerhouses WSTR are back already with a brand new single, and it's instantly the best thing they've ever made. "Filthy" builds on WSTR's efforts to separate themselves from the sound of fellow pop-punk bands
like Neck Deep, but they make sure they keep their hook-laden bouncy DNA
intact. If anything, it sounds like early All-American Rejects on steroids…with English accents.
Nothing,nowhere.
"True Love"
Nothing,nowhere.'s collaborative EP with Travis Barker got off to an epic start with the release of "Destruction" a few weeks back. On "True Love", the latest cut, there's less of an emphasis on Barker's drumming and more on what sounds like a drum machine, but the tune matches its predecessor with its hook-heavy chorus supplemented by vocals drenched in vocoder.
Other new releases:
Grandson – A Modern Tragedy Vol. 3
Third Eye Blind – "Walk Like Kings"
Charli XCX – Charli
Charlie Puth – "Mother"
Meghan Trainor – "Genetics"
Korn – The Nothing
VÉRITÉ – "good for it"
The Lumineers – III
Onerepublic – "Somebody to Love"
Major Lazer – "Que Calor (feat. J. Blavin & El Alfa)"
FKA Twigs, Future – "holy terrain"
French Montana – "Suicide Doors (feat gunna)"
A Boogie Wit da Hoodie – "Mood Swings"
Julia Michaels – "If You Need Me"
Snoop Dogg, KAROL G, Rock Mafia – "My Family (feat. Migos)" [from "The Addams Family"]
bülow – "Boys Will Be Boys"
Big Boi, CeeLo Green, Sleepy Brown – "Intentions"
Emeli Sande – REAL LIFE
The Goo Goo Dolls – Miracle Pill
Alice Cooper – Breadcrumbs – EP
The Knocks – "Exit Sign (feat. Gallant)"
Belle & Sebastian – Days of the Bagnold Summer
Metronomy – Metronomy Forever