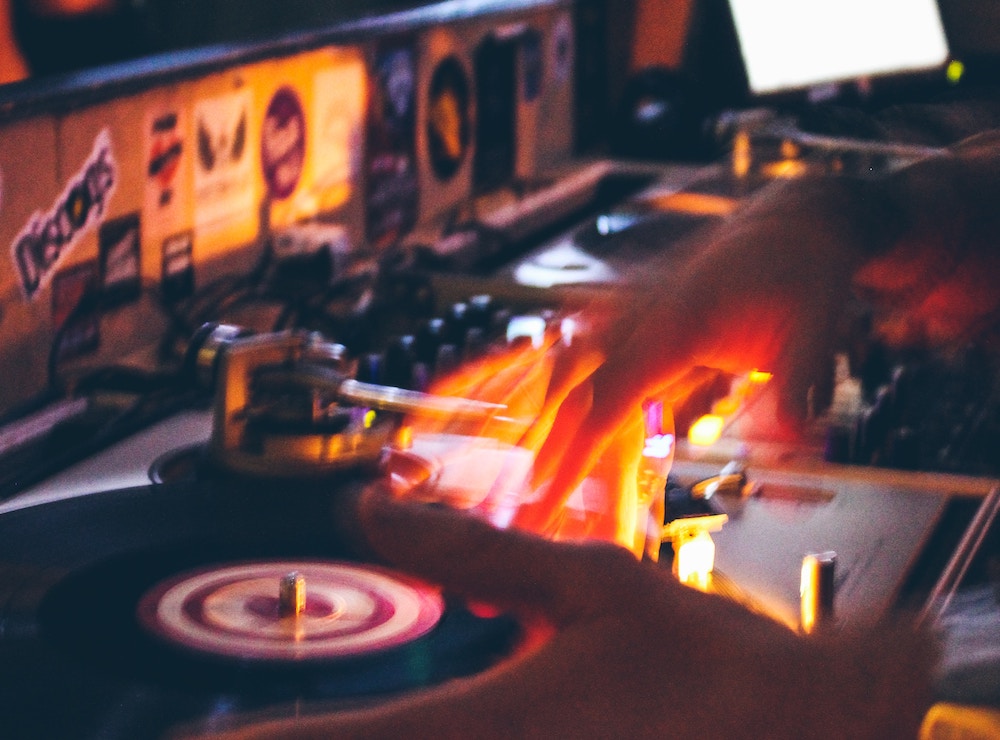 What better way to kick off a weekend than with new music? Fridays are always chock full of the latest songs and albums ready to be the soundtrack to everyone's antics, and here you'll find some of the week's standout releases. Whether you're ready to spin an anticipated song from a favorite artist or just taking a look at what's out there, there's a whole lot of tunes to dive right into. Who knows—maybe you'll find your next obsession.
Blink-182
"I Really Wish I Hated You"
On Nine, more than ever before, Blink-182 is opening their songwriting doors for collaborators to step in. That, coupled with the fact that producer John Feldmann is once again basically an unofficial Blink member, means that their pop prowess is standing out insanely. "I Really Wish I Hated You" gets assistance from Ali Tamposi and Andrew Watt—two songwriters who have written for the likes of The Chainsmokers and 5 Seconds of Summer—and it's displayed in the form of an ultra-catchy track that may be the band's poppiest yet. Mediocre lyrics aside, the dual-vocals from Mark Hoppus and Matt Skiba never get old.
Post Malone
Hollywood's Bleeding
Off-seasons don't exist in the world of Post Malone. He's one of the few artists out there right now who can claim ownership of having the "best year" three years in a row. His third full-length Hollywood's Bleeding is a testament to how he can remain in the spotlight while still improving on his craft. Melodramatic album art and title aside, the LP is loaded with previously-released hits, like "Sunflower" and "Wow", but surefire smash "A Thousand Bad Times" proves why he's on top of the game.
Senses Fail
From the Depths of Dreams
Senses Fail fans, both old and new, will appreciate From the Depths of Dreams. Heading back into the studio to re-do their first-ever EP, the band puts a much-needed fresh coat of paint on some 2004-relics. Those familiar with the original EP will be pleased to know the band stayed true to the source material fairly well—it's the cleaned-up recordings and slight lyric changes that make it worth the listen.
Camila Cabello
"Liar" / "Shameless"
In a weird but admirable move, Camila Cabello drops two new songs in the wake of her mega-hit collab with Shawn Mendes, "Senorita". The track, having dropped to number two on the charts, will still be hanging around for a good while—and these two new cuts will definitely be joining it. Off her upcoming album Romance, the Latin-infused "Liar" and the dark/moody "Shameless" introduce a new era marvelously.
Sleeping with Sirens
How It Feels to Be Lost
How It Feels to Be Lost comes at a time when Sleeping With Sirens seem to finally be finding themselves again. Following their poppier major-label release Gossip, the band went into a turmoil of sorts but things are definitely back on track. How It Feels… is not only a deviation from the sound of Gossip but it's something entirely new for the band as they go bigger than ever with their heavy tendencies.
Flor
Ley Lines
Fueled By Ramen hidden gem Flor's new album Ley Lines intends on making the band as well known as some of their larger labelmates. The sophomore full-length from the indie-rock quartet expands on their dreamy tranquil pop with more of that familiar sound showcased in a way that unquestionably makes them a top band to watch.
Lindsey Stirling
Artemis
Multi-genre violinist Lindsey Stirling has been making the violin look badass for years (no offense to Sean Mackin from Yellowcard). Mixing rock, pop, and EDM throughout her career has allowed Stirling to appeal to every kind of audience—and now she's tapping into the concept side of things with Artemis. The titular character is portrayed on the cover art in anime fashion, brought to life throughout the LP with irresistible melodies.
Louis Tomlinson
"Kill My Mind"
Practically four years since debuting as a solo artist, there's still no sign of an album from UK crooner Louis Tomlinson. Maybe that's because "Kill My Mind" is him still trying to find his sound. The good news? He may have just found it. Separating himself from the dance pop he made with previously released singles, the new cut brings Tomlinson in the world of a bold pop-rock sound, which is something that will definitely give him more of an identity going forward.
The Early November
"Ave Maria"
Lilac, the upcoming album from The Early November, shows frontman Ace Enders at his most vulnerable both lyrically and musically. What also stands out from their new music is how comfortable Enders appears in the writing process. He goes full-throttle when it comes to making soaring hooks and melodies. Look no further than "Ave Maria" for proof.
John Mayer
"Carry Me Away"
The three singles John Mayer has released since his 2017 LP have all been vastly different from each other but the quality gets better with each new release. "Carry Me Away" contains his patented adult-contemporary guitar strums but it's the vocal melody that can place him at the top of the charts.
Other new releases:
Grayscale – Nella Vita
Roam – Smile Wide
Jake Miller – "15 Minutes"
Tegan and Sara – "Hey, I'm Just Like You"
Foals – "The Runner"
MAX – "Love Me Less (feat. Kim Petras)"
Foster the People – "Pick U Up"
Death Cab for Cutie – The Blue EP
Grandson – "Oh No!!!"
FRND – Adventures of the FRNDship: Issue One
Prophets of Rage – "Pop Goes the Weapon"
Adam Lambert – "Superpower"
Onerepublic – "Wanted"
Charli XCX – "Feb-17 (feat. Clairo & Yaeji)"
Steve Aoki – "Let it Be Me (feat. Backstreet Boys)"
Alessia Cara – This Summer – EP
M83 – "Temple of Sorrow"
Metronomy – "Wedding Bells"
Cashmere Cat – "For Your Eyes Only"
Grimes & I_O – "Violence"
James Arthur – "Treehouse (feat. Ty Dolla $ign & Shotty Horroh)"
Jonas Blue & HRVY – "Younger"
Kiiara – "Bipolar"
Iggy Pop – Free
Jax Jones – SnacksMelanie Martinez – K-12