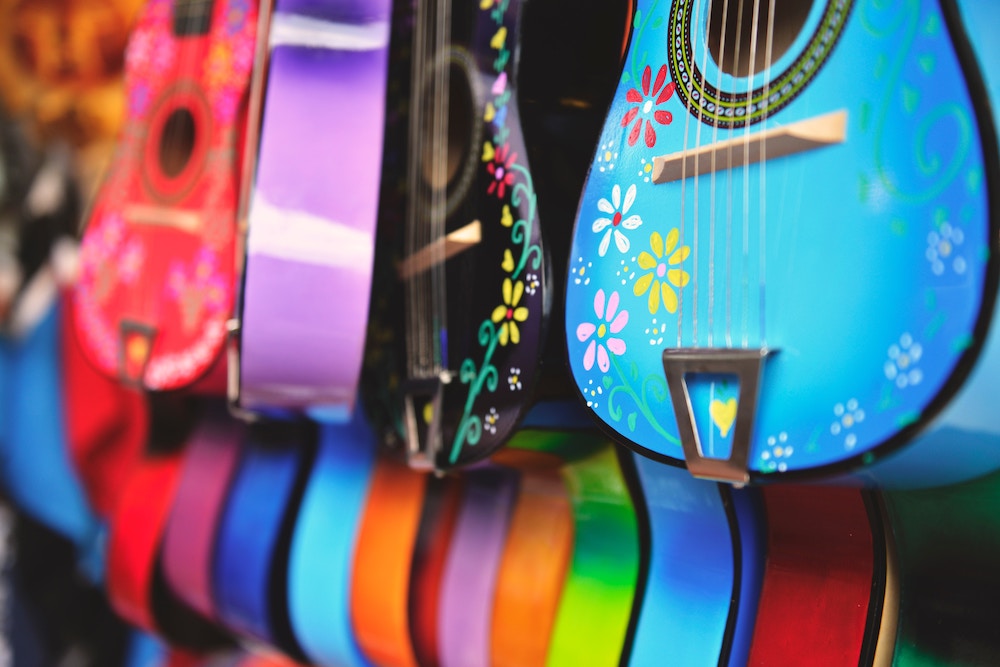 What better way to kick off a weekend than with new music? Fridays are always chock full of the latest songs and albums ready to be the soundtrack to everyone's antics, and here you'll find some of the week's standout releases. Whether you're ready to spin an anticipated song from a favorite artist or just taking a look at what's out there, there's a whole lot of tunes to dive right into. Who knows—maybe you'll find your next obsession.
Angels & Airwaves
"Kiss & Tell"
After introducing the world to a new era with the anthemic "Rebel Girl", you couldn't expect Angels & Airwaves to shy away from huge-sounding, arena-made rock jams going forward. After all, that's what frontman Tom DeLonge set out for with AvA to begin with—but their new track "Kiss & Tell" strikes a slightly different chord. DeLonge is (no alien pun intended here) almost down-to-earth in his music, delivering full-blown rock powerhouse jams instead of trying to weasel his way onto a Spotify "space rock" playlist. It's the best DeLonge has ever sounded, and there's probably much more where that came from.
Post Malone
"Circles"
On any given song release, Post Malone can shift between rapper, singer/songwriter, and all-out pop superstar. With "Circles", he pretty much combines all three archetypes for something great. Off his upcoming album, due out in September, the instrumentation of "Circles" is largely reliant on an alt-rock groove—something that meshes well with his ability to craft masterful hooks in his choruses.
Senses Fail
"Bastard Son"
Plenty of bands who have been around as long as Senses Fail would probably like to pretend their first batch of songs never existed. Meanwhile, the New Jersey rock veterans revive their first EP, 2004's From the Depths of Dreams, in re-recorded fashion, bringing a newfound level of maturity to the tracks and probably better recording quality. While the newly-released "Bastard Son" is largely unchanged, the highlight is the decision to rework its lyrics to replace "b*tch"—a commendable act that represents who they are as people 15 years later.
Avril Lavigne
"Head Above Water" (feat. We the Kings)
Adding We the Kings to your song is like eating unseasoned chicken. It's fine. You kind of wish you had some pepper at least. But hey, it's still chicken and it's not the worst thing in the world. Avril Lavigne tacks the pop band onto her album track "Head Above Water" and the result is, well, Travis Clark singing a pop song. His voice goes hand in hand with ballads—and even more so on duets—so Lavigne didn't go wrong on this one. It's just a matter of if you'll care enough to remember it exists once it's done.
Skrillex
"Midnight Hour"
Skrillex unveils his first proper single in years as he pushes the envelope with the electric "Midnight Hour". The track isn't your standard EDM—German DJ Boys Noize helps give it a gritty house feel, while the inclusion of Ty Dolla $ign turns it into a solid house-R&B hybrid.
This Wild Life
"You Changed Everything"
Known for heartfelt and sometimes heartbreaking acoustic jams, This Wild Life's "You Changed Everything" keeps the band at their roots but doesn't hinder their creativity. While it starts off with plain guitar, it evolves into an array of keys and saxophone to make for a tune for all occasions—whether you're in love or recovering from the loss of it.
Simple Creatures
"Thanks, I Hate It"
The joint project of Blink-182's Mark Hoppus and All Time Low's Alex Gaskarth keeps getting better, and the best part is that they refuse to make any of their Simple Creatures songs take after their main projects. What we get on "Thanks, I Hate It" is still a display of both of their songwriting tendencies; it's loaded with a catchy chorus guised in crunchy, garage-rock style guitars.
Benny Blanco
"Graduation" (feat. Juice WRLD)
Maybe Benny Blanco forgot he made this track, because it's releasing at a weird time. The prolific producer/songwriter taps pop-rap sensation Juice WRLD for this new single, "Graduation", which is—you guessed it—definitely related to the Vitamin C classic from 2000. Set on top of a simple beat, Juice interpolates the original song in the chorus to make you want to go through high school all over again. Ok, not really.
Charli XCX
"Warm" (feat. HAIM)
Charli XCX's recent run of album tracks have been nothing short of spectacular, living up to the hype she's created for herself on an LP that was subject to a million different delays. Many of the songs released thus far prominently feature women artists alongside Charli, and "Warm" with HAIM may be one of her best yet. The track takes the indie-pop trio into a world of bubbly electronic-pop, and their voices are an excellent accompaniment to Charli's vocoded robot-pipes.
Other new releases:
American Authors – "Champion (feat. Beau Young Prince)"
Lights – Lost Girls (Remixes)
TWIN XL – "Good – stripped"
KONGOS – "Push"
Circa Waves – "Something More"
Bombay Bicycle Club – "Eat, Sleep, Wake (Nothing But You)"
Dillon Francis – "Go Off (Nuthin' 2 It)"
Lindsey Stirling – "Artemis"
Tool – Fear Inoculum
Lana Del Rey – Norman F*cking Rockwell
Bebe Rexha – "Not 20 Anymore"
Jason Derulo – "Too Hot"
Emeli Sande – "You Are Not Alone"