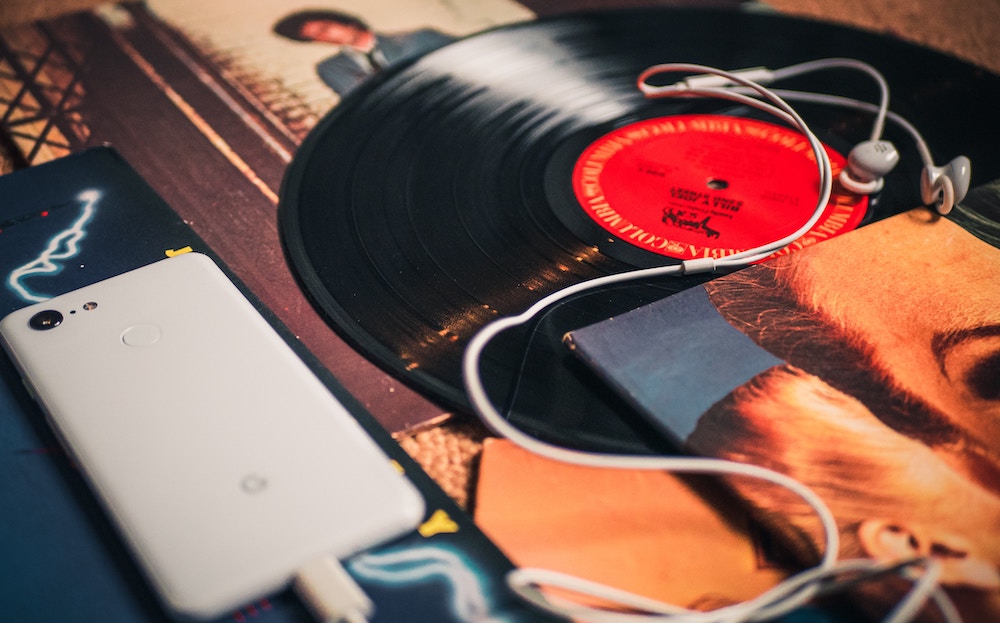 What better way to kick off a weekend than with new music? Fridays are always chock full of the latest songs and albums ready to be the soundtrack to everyone's antics, and here you'll find some of the week's standout releases. Whether you're ready to spin an anticipated song from a favorite artist or just taking a look at what's out there, there's a whole lot of tunes to dive right into. Who knows—maybe you'll find your next obsession.
Nothing,nowhere.
"Destruction"
Rapper/singer-songwriter nothing,nowhere. has always weaved rock into his music, and blink-182's Travis Barker has always had an affinity for rap. With the two joining forces for a new EP, it's the best of both worlds. Each artist gets to mix their flavors into a pot of fresh ideas. "Destruction" takes what is nearly a pop-punk route but, coupled with nothing,nowhere.'s flow, could make the likes of Machine Gun Kelly and YUNGBLUD consider early retirement.
The Early November
"I Dissolve"
Ace Enders has a knack for not only being an incredible singer but a storyteller, too. On "I Dissolve", the band's latest cut off their new album, the frontman's vocal dynamics help bring the track to life to accentuate the meaning behind it. With lyrical content on the subject of depression, the song's acoustic guitar strums provide a backbone for the purpose behind the words.
Katy Perry
"Small Talk"
Charlie Puth gets in on the action on new Katy Perry music, as the singer-songwriter lends a writing hand to her new single "Small Talk". Following up the smash "Never Really Over", her latest continues down that breezy pop route with a simplistic break-up tune without a huge dramatic chorus. It may not top the charts online but it'll probably top the charts in fans' hearts.
Zebrahead
Brain Invaders (Deluxe Edition)
Punk-rock veterans Zebrahead are still going strong after years of metal-inspired riffs and catchy hooks, and they've also got their recent album, Brain Invaders, to show for it. Still one of the genre's best of the year, the deluxe edition tacks on some extra goodies at the end (a new track and some acoustic versions) so we don't miss them too badly.
Against the Current
"Almost Forgot" (Ryan Riback Remix)
Not that Against the Current needs a remix for their songs to pop but the mix by Ryan Riback on their track "Almost Forgot" basically pumps it with musical steroids. The Australian-based DJ/producer revamps the band's cut in a natural yet unique way, upping the tempo but forgoing any unnecessary electronic elements that would distract from a song that is otherwise pretty darn perfect.
Sleeping With Sirens
"Agree to Disagree"
Sleeping With Sirens are bringing the heat with their upcoming album, and the third track released thus far is further proof that they're straying away from the sound on their Gossip LP as much as possible. "Agree to Disagree" is packed with sludgey guitars to give it a post-hardcore feel, especially in its brutal bridge, but the chorus is catchy enough to make it a mainstay on rock radio.
Illenium and Jon Bellion
"Good Things Fall Apart" (Stripped)
A man of many talents, Jon Bellion straight up turns whatever he touches to gold. His vocal duties on Illenium's song of the summer, "Good Things Fall Apart", is even up there alongside his solo material, but the stripped down version takes it even further. Naturally, the acoustic rendition eliminates EDM from the equation, taking an incredibly produced cut and giving it the same kind of passion we'd hear from Bellion's early material.
The Maine
Live at the Orpheum Theatre
Coming off the heels of one of their best albums to date, The Maine are presenting some songs from You Are Ok in a different fashion on the Live at the Orpheum Theatre EP. The five-track offering should have been much longer, but what's provided borders on haunting territory as the theatre makes each song larger than life, adding a new element to songs that were done so well on their LP counterparts.
Slipknot
We Are Not Your Kind
Legendary rock band Slipknot takes their new album We Are Not Your Kind into uncharted territory, meshing together styles that result in one of the most experimental offerings. Singles "Unsainted" and "Solway Firth" do little to convince you otherwise, but inventive tracks like "Spiders" truly show the band's growth. Interludes sprinkled throughout the record give off the vibe of entering a haunted theme park, which is fitting considering the rollercoaster-like feel that the LP
takes after.
Bowling for Soup
"Let Your Love Flow"
Bowling for Soup could take a gregorian chant and make it sound modern. Ok, maybe "Let Your Love Flow" by The Bellamy Brothers isn't *that* old but the band does a great job adding their spin to the 1976 hit. The cover is part of their ongoing series of covering a song every month for a year (because what else do you do when you've been a band for nearly 30 years?) and, after all this time, they still find ways to get fans excited.
Other new releases:
Patent Pending – "Punk Rock Songs"
Jake Miller, Tomos – "Nervous"
Bon Iver – i,i
Rick Ross – Port of Miami 2
Megan Thee Stallion – "Hot Girl Summer"
Alessia Cara – "Rooting for You"
Lady Antebellum – "Pictures"
Mike Posner – "Prince Akeem (feat. Wiz Khalifa)"
KONGOS – "Nothing of My Own"
The Knocks – "Colors"
Bazzi – Soul Searching
Labrinth, Zendaya – "All For Us"
SiR – "Hair Down (feat. Kendrick Lamar)"
TOOL – "Fear Inoculum"
BROCKHAMPTON – "IF YOUR PRAY RIGHT"
Miranda Lambert – "Mess With My Head"
Lana Del Rey – "Looking for America"
DRAM – "The Lay Down (feat. H.E.R. & watt)"
Tori Kelly – Inspired By True Events
Mallrat – "Charlie"
YEBBA – "Where Do You Go"
Mary J. Blige – "Know"
Bas – Spilled Milk 1
Eladio Carrion, Bad Bunny – "Kemba Walker"
AJ Mitchell, Ava Max – "Slow Dance"
T-Pain, G-Eazy – "Girlfriend"
The Regrettes – How Do You Love?
Phantogram – "Mister Impossible"
Lady Antebellum – "Pictures"
Snoop Dogg – "Let Bygones Be Bygones"
Elle Eyre, Banx & Ranx – "Mama (feat. Kiana Lede)"
Pixies – "Catfish Kate"
Skylar Gray – "New Kind of Love (from Four Weddings and a Funeral)"
Keane – "Love Too Much"
Kristen Chenoweth, Dolly Parton – "I Will Always Love You"
Barns Courtney – "Hollow"
Goo Goo Dolls – "Indestructible"
Feeder – Tallulah