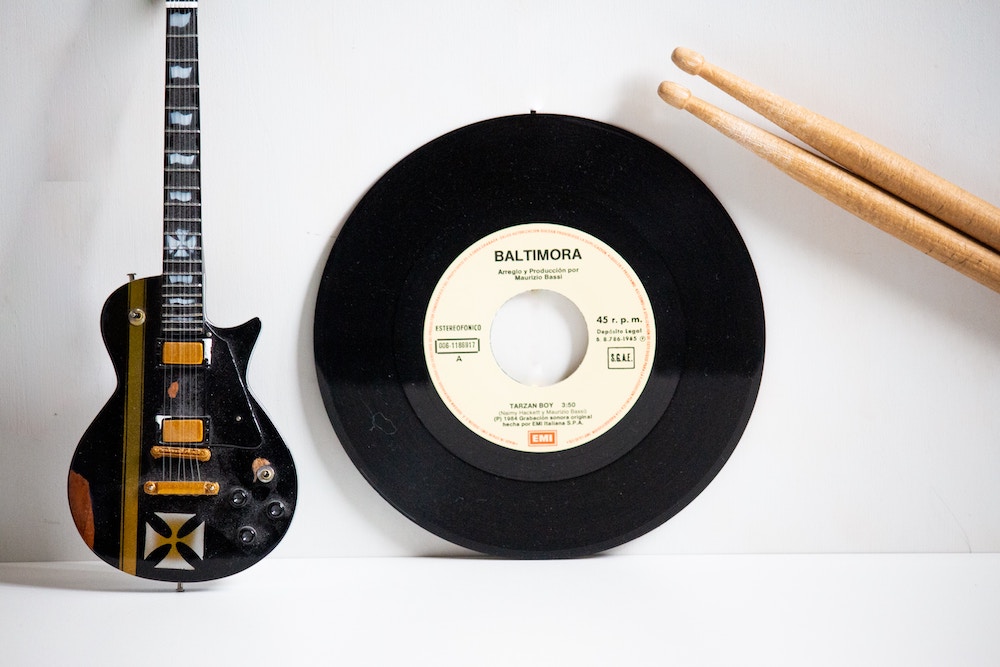 What better way to kick off a weekend than with new music? Fridays are always chock full of the latest songs and albums ready to be the soundtrack to everyone's antics, and here you'll find some of the week's standout releases. Whether you're ready to spin an anticipated song from a favorite artist or just taking a look at what's out there, there's a whole lot of tunes to dive right into. Who knows—maybe you'll find your next obsession.
Death Cab for Cutie
"Kids in '99"
Ben Gibbard has had a pretty solid few weeks. After an unexpected, and excellent, feature on the new Chance the Rapper album, the Death Cab for Cutie frontman is debuting a single for his band's upcoming EP. "Kids in '99" honors the three children who died in the Olympic Pipeline explosion 20 years ago, and Gibbard says that he felt the event deserved its own song. The guitar-driven, spacey-rock track is featured on their EP out next month.
Haim
"Summer Girl"
Haim, best known for crafting summertime pop-rock, offers a dose of something different for "Summer Girl", but it's a welcome addition to their growing discography. The laidback cut is undoubtedly jazz-influenced, equipped with copious amounts of saxophone and a tranquil "doo-doo-doo" vocal line.
—
Underøath
Erase Me (Deluxe Edition)
Erase Me is arguably one of Underøath's best records among their illustrious history, full-on embracing the arena-rock tendencies that they've showcased throughout their careers. The deluxe edition, arriving nearly a year and a half after the original, is packed with extras for fans and casuals alike. The two previously-unreleased tracks, "Loneliness" and "Another Life", are an extension of that radio-rock DNA, while a remix of the Grammy-nominated "On My Teeth" shows the affinity the band has for collaborating with other artists.
MisterWives
"whywhywhy"
Indie-pop outfit MisterWives may finally get the needed push they deserve after inking a deal with legendary record label Fueled By Ramen. The band's label debut, "whywhywhy", is a perfect example for why they're the best fit, as a bouncy piano leads into an explosive array of instrumentation in the chorus. The production is akin to something we'd hear from fun., but frontwoman Mandy Lee is the reason the song is taken to the next level.
Flor
"Money"
"money" by flor starts strong and ends even stronger. The new track from the Oregon quartet lives and dies by its distorted guitar and airy vocals, shying away from the band's poppier side in exchange for an in-your-face rock cut. The fifth track released thus far from their upcoming album, ley lines, "money" puts their songwriting on display with their unique take on the genre.
Gryffin
"OMG" (feat. Carly Rae Jepsen)
"Pure fun" is what DJ/producer Gryffin said he was going for with his new single "OMG" featuring Carly Rae Jepsen, and they accomplished that like nobody's business. Jepsen hops on what would otherwise be a run-of-the-mill EDM pop track, but where these kinds of songs succeed is vocal performance and how well the hook is pulled off. Enlisting someone like Jepsen, who generally takes a more sophisticated approach to her songs, allows "OMG" to breakfree from the rules to deliver an unapologetic smash.
Drake
Care Package
If the track listing for Drake'sCare Package looks familiar, it's because you've probably heard them before. For Drake superfans, you might even have the songs already in your media library, but the difference now is that you no longer have to settle for a poor quality version, as the rapper bundles a bunch of songs together for a new official compilation. It's the perfect way to hop back into his older stuff and realize some of his best never even made his albums.
Ariana Grande
"Boyfriend" (feat. Social House)
Pop duo Social House were behind the scenes for Ariana Grande'sthank u, next record, where the two co-wrote its huge title track. This time around, their new collaboration with Grande puts them in the vocal booth with her on the chilled-out "Boyfriend". It's doubtful any real album is on the horizon but this gives us another taste of what it sounds like having Grande sharing the spotlight.
Zebrahead
"If You're Looking for Your Knife…
I Think My Back Found It"
Zebrahead's Brain Invaders stills holds the title as one of the best pop-punk LPs of the year, so new music will always be welcomed with open ears. "If You're Looking for Your Knife… I Think My Back Found It" sits on the harder and aggressive side of the band with an emphasis on intricate guitar work. It's just one of the two new songs featured on their upcoming deluxe edition, out later this month.
Other new releases:
Hoodie Allen – "Hell of a Time"
Yungblud – "Hope for the Underrated Youth"
Foals – "Black Bull"
The Lumineers – "Leader of the Landslide"
Lauv – "fuck, i'm lonely (with Anne-Marie)"
Lindsey Stirling – "The Upside"
KORN – "Cold" / "You'll Never Find Me"
Illenium – "Blood"
Basement – "Goodnight"
Tove Lo, ALMA – "Bad as the Boys"
Angel Olsen – "All Mirrors"
Elbow – "Dexter & Sinister"
The Knocks – "New York Luau" / "No Requests"
Sleater-Kinney – "Can I Go On"
Ty Segall – First Taste
Noah Cyrus – "July"
Sabrina Claudio – "Holding the Gun"
Teyana Taylor, King Combs – "How You Want It?"
R3HAB, Vini Vici, DEGO, Pangea – "Alive"
Rapheal Sadiq – "So Ready"
Ghostface Killah – "Party Over Here"
Vic Mensa, Jesse – "Let U Know"
Cassie – "Teach Me"
Snoop Dogg – "Countdown (feat. Swizz Beats)"
Pitbull – "3 to Tango"
Emeli Sande – "For Once In My Life"