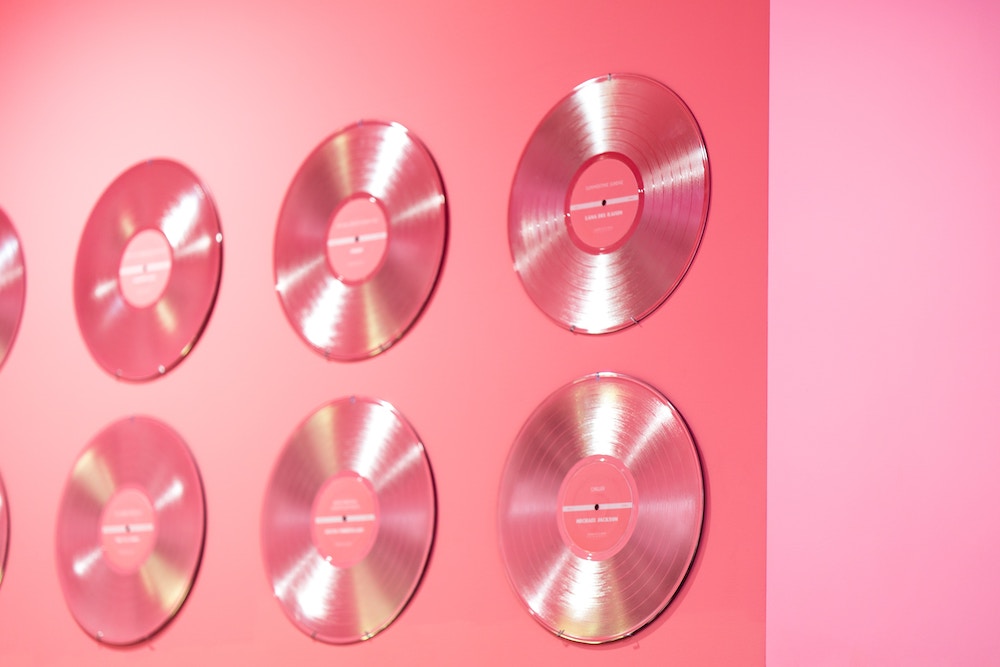 What better way to kick off a weekend than with new music? Fridays are always chock full of the latest songs and albums ready to be the soundtrack to everyone's antics, and here you'll find some of the week's standout releases. Whether you're ready to spin an anticipated song from a favorite artist or just taking a look at what's out there, there's a whole lot of tunes to dive right into. Who knows—maybe you'll find your next obsession.
Blink-182
"Darkside" 
blink-182 drops what may be their most radio-friendly song in years, on the bouncy new cut "Darkside", off their new album Nine. Along with its huge chorus, the standout part of the track is the fact that vocals from Mark Hoppus are barely there, leaving Matt Skiba to run the show. The result only brings light to the fact that Skiba should be front and center more often, even if the dual-vocals are a thing of beauty.
Taylor Swift
"The Archer" 
Those who weren't so nuts about Taylor Swift's first two songs off her upcoming LP Lover ("ME!", "You Need to Calm Down") may have their hope restored with the vulnerable "The Archer". It's another collaboration with Bleachers' Jack Antonoff and, much like their past songs together, this track stays true to his signature 80s pop flare.
The 1975
"The 1975"
A social media blackout?A song called "The 1975"? You've heard it all before. But not quite like this. After shutting down their socials for a third album cycle in a row, the band unveils their fourth self-titled track that will likely be the opener to their forthcoming record Notes on a Conditional Form. Clocking in at nearly five minutes in length, the spoken word monologue performed by Swedish activist Greta Thunberg raises awareness for the ongoing climate crisis, on top of an ethereal instrumental. The concept is a stark contrast from their usual lovelorn tracks but this teaser strikes a different chord that can't be ignored.
Lil Nas X
"Seoul Town Road" (feat. RM of BTS) 
Gunning for that Hot 100 record, Lil Nas X goes for the jugular on yet another "Old Town Road" remix, bringing along BTS frontman RM for the ride. No, this track doesn't get any k-pop fused into it but RM flexes his flow during a verse that'll lift both artists up the chart immortality.
Various Artists
Punk Goes Acoustic Vol. 3
The Punk Goes series is more than just a simple compilation album, as its long history was responsible for bringing exposure to new bands and hearing a new side of current favorites. It became almost a musical holiday when a release was imminent, whether the theme was covering 80s songs or hip-hop. Always a fan favorite with these albums was when punk went acoustic, which first occurred nearly 16 years ago. The third iteration, Punk Goes Acoustic Vol. 3 brings back a similar magic you didn't think was likely. What makes the album such a success is that it brings in artists who aren't exactly the unit-movers they once were (Dashboard Confessional, Underøath, Taking Back Sunday), but the effort they put into reimagining their classics is a testament to why they're still around today. 
The Chainsmokers
"Takeaway"
(feat. Illenium and Lennon Stella)
Even though The Chainsmokers are perfectly capable of writing a good song themselves, bringing someone into the mix who's of a bit higher caliber brings out the best results. DJ/producer Illenium struts his stuff on the atmospheric "Takeaway", featuring dual vocals from The 'Smokers Drew Taggart and "Polaroid" singer Lennon Stella. Stella's voice is a marvel throughout, and even Taggart has shown his improvement over the group's World War Joy cycle.
Tegan and Sara
"I'll Be Back Someday"
Like most artists, Tegan and Sara have a slew of unheard tracks and demos that we'll never get to hear—it's just what happens when you've been in the game for two decades. Fortunately, T&S are going to let us in on their archives for their upcoming album, which takes old demos stemming from their high school days and puts a fresh coat of paint on them. "I'll Be Back Someday" shows off the sisters' affinity for punk back in the day as the guitars have a hint of garage rock to them, and it's super fun to hear how their songwriting has evolved over the years.
The Early November
"Hit by a Car (In Euphoria)" 
You know that game, "you're stuck on an island and can only bring one band's discography…"The Early November has been a frontrunner in it for years. Since the band came back from hiatus in 2012, each album has been carefully crafted to make sure they're better than the one before and it doesn't seem like it's going to be any different for the forthcoming Lilac. "Hit by a Car (In Euphoria)" is a rousing introduction to their next album cycle featuring timeless vocals from main man Ace Enders.
Other new releases:
Monsta X – "Breathe for You"
The Faim – "Human"
Jake Miller – "Ocean Away"
Roam – "Piranha" 
Cheat Codes – Level 2 – EP
Emotional Oranges – "Don't Be Lazy"
Slipknot – "Solway Firth"
Of Monsters and Men – Fever Dream
Pabllo Vittar, Charlie XCX – "Flash Pose"
Future – "Undefeated" 
Big Sean – "Single Again"
Andy Grammer – Naive
Alessia Cara – "Ready"
Bishop Briggs – "Tattooed on My Heart"
David Guetta & Morten – "Never Be Alone" (feat. Aloe Blacc)
Liam Gallagher – "Once"
Metronomy – "Walking in the Dark"
Sub Focus – "Siren" / "Solar System"