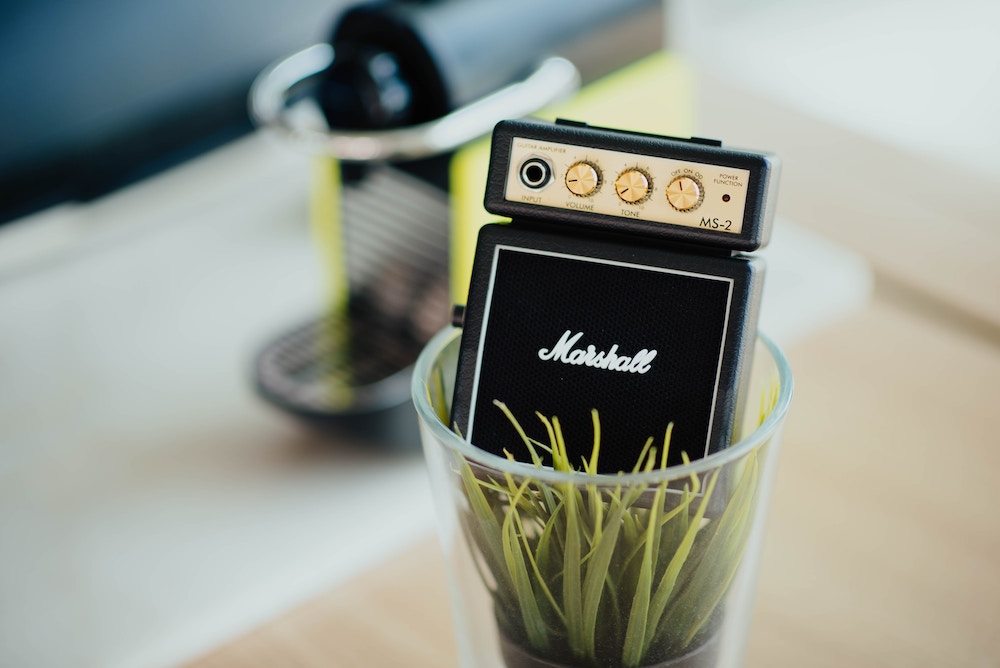 What better way to kick off a weekend than with new music? Fridays are always chock full of the latest songs and albums ready to be the soundtrack to everyone's antics, and here you'll find some of the week's standout releases. Whether you're ready to spin an anticipated song from a favorite artist or just taking a look at what's out there, there's a whole lot of tunes to dive right into. Who knows—maybe you'll find your next obsession.
The All-American Rejects
Send Her to Heaven
The All-American Rejects have been on the release cycle of 'we'll release stuff when we want to'—and that isn't exactly a bad thing. With only a handful of tracks dropped since their 2012 LP, every time they decide to bless our ears with something new, it's the best surprise. The band's latest, a three song EP, was crafted with each song sporting a different producer, so no song sounds the same. Enlisting pop producer Justin Raisen (Charli XCX, Sky Ferreira), "Demons", for example, fleshes out the hooks that the band is known so well for.
Hawthorne Heights
Dads of Sad
The Godfathers of emo-rock—or Dads of Sad as they like to apparently call themselves—are branching out with a couple of cover songs, which is something we've seldom seen from Hawthorne Heights over their career. The two tracks are refreshing choices: "Butterflies" by Kacey Musgraves and Billie Eilish's "8." Even though the original cuts have their own level of melancholy to them, the band doubles down on it to deliver haunting renditions.
Sleeping with Sirens
"Break Me Down"
"Break Me Down" doesn't waste any time getting straight to the point. Sleeping with Sirens' newest single opens things up with pounding drums that lead into exploding guitars, all capped off with a solid mix of clean and screaming vocals to satisfy all kinds of SWS fans. "Break Me Down" straddles the line between their pop and post-hardcore tendencies, and the band is strongest when blending genres like that so effortlessly.
Dance Gavin Dance
"Story of My Bros" (Acoustic)
Punk Goes Acoustic 3's latest offering is a different one, and it shows just how much a song in an acoustic setting can totally change its tune. Dance Gavin Dance gives one of their best tracks, "Story of My Bros", the stripped-down treatment, allowing the ultra-catchy guitar riff to take precedence. It also manages to cut out the screaming vocals and that was definitely a smart decision for this one.
The Number Twelve Looks Like You
"Ruin the Smile"
When The Number Twelve Looks Like You releases their upcoming album it'll be nearly ten and a half years since we last got an LP from the influential mathcore band. The good news? They sound like they never left. "Ruin the Smile" comes in at a blistering pace with frantic instrumentation throughout and, even though a thrilling solo is a highlight, the sludgy-to-screeching vocals is what truly says that the band is back.
MEST
"Masquerade"
MEST might not be the ultimate iconic pop-punk band in people's minds but they deserve to be pretty dang close. Granted, their last "real" record came out in 2005 but better late than never, right? With their upcoming album backed by lead single "Masquerade", the original lineup responsible for their early success reunites with 2005 in mind: "Masquerade" is a throwback but at the same time sounds completely genuine right now.
Sleep on It
"Under the Moment"
It's only one song but Sleep on It's "Under the Moment" makes a good case for why they won't be victims of a sophomore slump. The pop-punk act made waves with their debut full-length in 2017, and the new single is ultimately a dressed-up version of their previous material. Better production takes their anthemic jam to new heights by amplifying its foot-stomping chorus.
Sum 41
Order in Decline
While many bands tend to age like old milk, Sum 41 are simply only getting better. Order in Decline finds the rock act calling back to their Chuck days with tracks heavily influenced by their metal DNA, but that's not to say that they've completely left their pop-punk identity behind—"The New Sensation" gives off major Underclass Hero vibes with chants and youthful energy.
Beyoncé
The Lion King: The Gift
Critic reviews be damned: Beyoncé is treating The Lion King remake like it's the only thing that your eyes should be allowed to see. It's hard to resist with her newly curated soundtrack for the film, titled The Gift. What can only be compared to the likes of Kendrick Lamar and his Black Panther effort, The Gift is an ambitious project packed with soundbites from the film as well as new original music from Beyoncé herself.
Charli XCX
"Gone" (with Christine and the Queens)
Something about collaborating with others on a song brings out the best in Charli XCX—she's shown it off in excess on tracks "Blame It On Your Love" featuring Lizzo and the party-smash "1999" with Troye Sivan. She brings the heat yet again on "Gone"—this time with Christine and the Queens—taking things back in time with a bop that screams the 80s.
Other new releases:
Max – "Acid Dreams" 
Monsta X – "X Phenomenon" 
Crown the Empire – Sudden Sky
VÉRITÉ – "youth"
KONGOS – "Tomorrow"
The Lumineers – "If Wasn't Easy to Be Happy For You"
Hayley Kiyoko – "I Wish"
Skrillex – Show Tracks
Hey Violet – "Queen of the Night" 
Iggy Azalea – In My Defense
Sam Smith – "How Do You Sleep?" 
NCT 127 – "Highway to Heaven (English Version)"
Killswitch Engage – "I Am Broken Too"
Amber Run – "Neon Circus"
Nas – The Lost Tapes 2
Willow – WILLOW
Alec Benjamin – "Jesus in LA"
Bazzi – "I.F.L.Y"
King Princess – "Prophet"
Billy Ray Cyrus, Johnny McGuire – "Chevy and Fords"
Lil Pump – "Pose To Do (feat. French Montana & Quavo)"
Miranda Lambert – "It Comes Out in the Wash"
Brittany Howard – "Stay High"
Bishop Briggs – "Champion"
Wilco – "Love Is Everywhere (Beware)"
The Goo Goo Dolls – "Fame, Money & Fortune" / "Miracle Pill"
PRETTYMUCH – "Lying (feat. Lil Tjay)"
Jonas Blue – "I Wanna Dance"
Martin Garrix – "These Are the Times (feat. JRM)"
Pentatonix – "Can You Feel the Love Tonight"