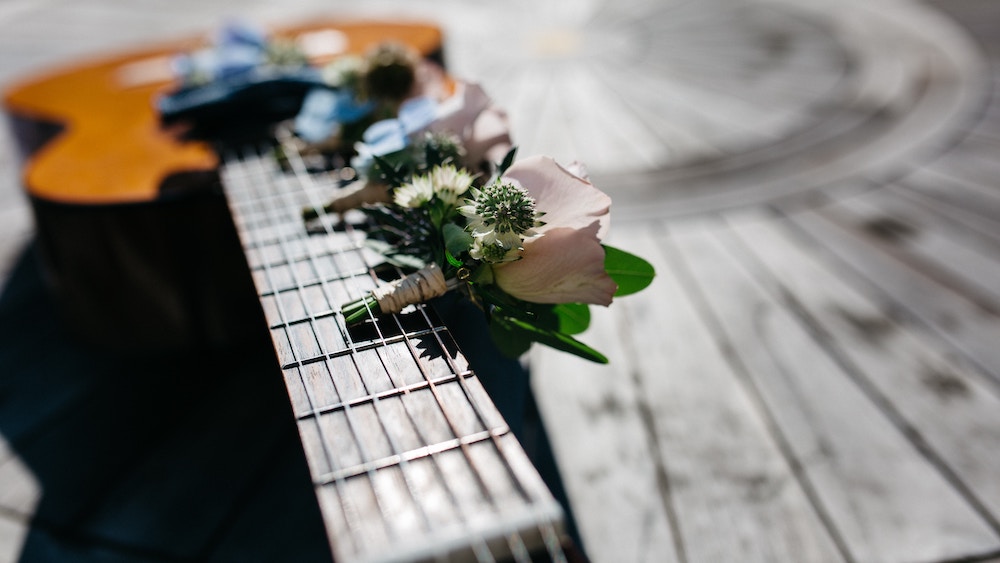 What better way to kick off a weekend than with new music? Fridays are always chock full of the latest songs and albums ready to be the soundtrack to everyone's antics, and here you'll find some of the week's standout releases. Whether you're ready to spin an anticipated song from a favorite artist or just taking a look at what's out there, there's a whole lot of tunes to dive right into. Who knows—maybe you'll find your next obsession.
Neck Deep
"She's a God"
Neck Deep will be kicking off the biggest tour of their lives equipped with a brand new single. Only days away from hitting the road with Blink-182 and Lil Wayne, "She's a God" will become an easy fan favorite if it's added onto their setlist. The poppy tune is a tribute to a significant other, but the song is pretty godly itself, too. It's not completely pop-punk and it's not completely radio fodder either—the healthy combo leaves the door wide open for what we can expect from an eventual new album.
Taking Back Sunday
"A Decade Under the Influence" (Acoustic)
Fearless Records had every reason in the world to make Punk Goes Pop Vol. 8 the next installment in their long running compilation series, but they deserve a ton of credit for finally putting Punk Goes Acoustic 3 in motion. Out in July, the album features a big time classic in Taking Back Sunday's "A Decade Under the Influence", which sounds just as masterful in its acoustic setting as the full-band version did fifteen years ago.
Set It Off
"Wolf in Sheep's Clothing" (Acoustic)
Punk Goes Acoustic 3 gives us another taste of what to expect from the compilation with Set It Off's theatrical pop jam "Wolf in Sheep's Clothing". Naturally, getting stripped down is going to take away key components of the track but, even with the horn section removed, frontman Cody Carson's personality brings life to it like it's a whole new song.
Silverstein
"Burn It Down" (feat. Caleb Shomo)
Silverstein throw it back to their early days with a new single loaded with nostalgia. "Burn It Down" is carried by its catchy chorus and heavy guitar riffs, but the highlight is the feature from Beartooth vocalist Caleb Shomo, whose gravely screams make it a treat for those more into the harder side of the band.
Kayzo
"Night Terror" (feat. Of Mice and Men)
Kayzo's style of 'sceneDM' has been intriguing, to say the least, as the producer has linked up with a number of bands to intertwine with his electronic flair. Of Mice & Men join in on the fun with "Night Terror", which is yet another example of Kayzo taking two unlikely genres and meshing them together like they should never be apart.
Kim Petras
Clarity
Kim Petras doesn't give her new album Clarity enough credit. After a rollout strategy that included releasing 9 of the 12 songs before the LP's release date, Petras says Clarity isn't even considered an album to her. That being said, the songs on Clarity certainly standalone very well, thanks to the radio-first mentality of producer Dr. Luke, but the record should also be marveled for being one of the best debuts of the year. Petras walks the line between bubblegum to R&B-infused pop to make for a full-length that hits on all cylinders.
Ed Sheeran
"Beautiful People" (feat. Khalid)
The upcoming Collaborations project from Ed Sheeran doesn't seem to have any cohesive direction but that probably suits the record best in the first place. The tracks released thus far have all taken a road of their own without committing to any specific style and "Beautiful People" is yet another shining example. Khalid and Sheeran combine for an ultra smooth vocal performance on the laid back but exciting pop smash.
Digital Farm Animals
"Without You Now" (feat. AJ Mitchell)
Rising star AJ Mitchell collaborates with prolific DJ Digital Farm Animals on the minimalistic cut "Without You Now", but that's not to say the track isn't a banger in its own right. The production is subtle and not at all flashy, which leads to the vocals getting a major boost in the mixing. Mitchell makes the production choice worthwhile with a chorus—in his upper-register—that could put listeners in a trance.
Bring Me the Horizon
"Drone Bomb Me"
As part of their recently recorded live sessions, Bring Me the Horizon take on a cover of ANOHNI's "Drone Bomb Me" as well as a reworking of their own track "Mother Tongue". The band's latest record Amo saw BMTH venture into new territory, dipping their feet into EDM and embracing full on radio rock. Their choice in covering "Drone Bomb Me" makes perfect sense as it's their chance to commit fully to a dancey electronic number—now all they have to do is use that energy for their next album, too.
Other new releases:
Chase Atlantic – Phases
SAINTE – "Everything Makes Me Sad"
Thom Yorke – ANIMA
Ellie Goulding – "Hate Me" (feat. Juice WRLD)
Meghan Trainor – "Hurt Me"
Why Don't We – "Come to Brazil"
Kygo – "Higher Love" (feat. Whitney Houston)
Adam Lambert – "Comin' in Hot"
K.Flay – "Not in California"
Chris Lane – "Big Big Plans"
Marshmello – "Room to Fall"
A Great Big World – "Boys in the Street"
Andy Grammer – "Some Girl"
LSD – Labrinth, Sia & Diplo Present…LSD
Red Hot Chilli Peppers – "Fresh Air"
Ingrid Michaelson – Stranger Songs
Korn – "You'll Never Find Me"
Eden – "So Lucky"
Friendly Fires – "Silhouettes"
G-Eazy – B-Sides – EP
Iggy Azalea – "Just Wanna"
Liam Gallagher – "The River"
Black Keys – "Let's Rock"Julia Michaels – Inner Monologue – Part 2