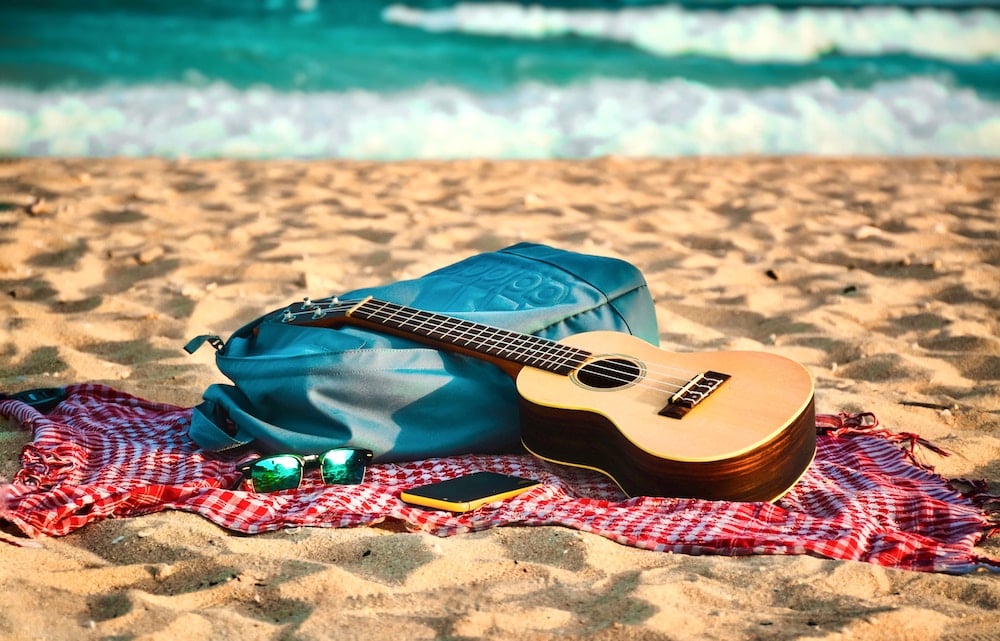 What better way to kick off a weekend than with new music? Fridays are always chock full of the latest songs and albums ready to be the soundtrack to everyone's antics, and here you'll find some of the week's standout releases. Whether you're ready to spin an anticipated song from a favorite artist or just taking a look at what's out there, there's a whole lot of tunes to dive right into. Who knows—maybe you'll find your next obsession.
5 Seconds of Summer
"Easier"
5 Seconds of Summer's progression throughout their young career has been nothing short of remarkable. Once touted as the boyband that would help bring guitars back to Top 40, they've certainly done so, but maybe not in that pop-punk style they started off with. In their first track since their breakout Youngblood LP, 5SOS turn up the pop notch on "Easier", a track ruled by falsetto and a piercing beat.

Ed Sheeran
"Cross Me"
(feat. PnB Rock and Chance the Rapper)
Before Ed Sheeran became one of the most massive musicians in the world he did a collection of EPs that were made in hopes of nabbing a record deal. This July, he's finally continuing the series with Collaborations number six and you can expect a much bigger guest feature list (and tracklist length) than he had nearly ten years ago. "Cross Me" is a triple threat track with rappers Chance the Rapper and PnB Rock, fleshing out the hip-hop side of Sheeran that hasn't been shown in his solo music quite like this before. PnB delivers a powerful hook that keeps the track from being anything close to cheesy, setting the stage for what might be one of Sheeran's biggest albums to date.
Smallpools
"SYCS"
Best known for crafting irresistible indie-pop jams, Smallpools' latest single takes a slight detour down an electro-pop route that can best be described as early-The Killers on steroids. "SYCS" (an acronym for 'someone you can't save') presents an exuberant array of 80s-era instrumentation that brings the band's creativity to new heights.
Our Last Night
"I Don't Care"
If the recent Justin Bieber/Ed Sheeran collab "I Don't Care" was a little too sweet for your tastes, look no further than Our Last Night's intense rendition. The rock act flips the summery, breezy pop tune upside down, incorporating their signature growls on top of crunchy guitar riffs. Of course, a key to Our Last Night's success is their clean-to-screams vocal dynamic which shines in the chorus thanks to frontman Trevor Wentworth.
As It Is
Anger: Reimagined
Anger: Reimagined continues As It Is' EP series where they take their latest LP and re-work the tracks into something totally different. Featuring another three songs off The Great Depression, "The Stigma (Boys Don't Cry)" turns the My Chemical Romance-esque track into an 80s synth-pop dream. Meanwhile, "The Handwritten Letter" gets the acoustic treatment and "The Question, The Answer" goes from a ballad to full-on post-hardcore—you have to hear it to believe it.
Hey Violet
"Close My Eyes"
Now a trio, pop-rock band Hey Violet are overcoming adversity with ease. "Close My Eyes" is the first track released since the departure of guitarist Iain Shipp, but it doesn't seem like anything can stop the group's hot streak. The song follows up the previously-released "Better By Myself" in a similar low-key style. Stripping away the radio-pop characteristics from their marquee tracks like "Hoodie" or "Guys My Age", "Close My Eyes" is a tranquil number that puts the lovely vocals of Rena Lovelis on full display.
Waterparks
"Turbulent"
New record label, new single, new sound; everything is changing with pop-punk outfit Waterparks as they slide into a new era with serious style. "Turbulent" is a milkshake of sounds for the eclectic trio who just inked a deal with Hopeless Records for their upcoming album. It's the perfect home that can help take them to another level. Ultimately, the electronic-tinged, expletive-filled "Turbulent" is the perfect teaser to have you craving for more.
NCT 127
NCT #127 We Are Superhuman
– The 4th Mini Album
NCT 127 can't be stopped—they're already in the midst of taking over the United States, too. We Are Superhuman marks the first major release from K-Pop stars NCT 127 that is getting heavily promoted in the U.S. and with TV performances, a nationwide tour, and addictive songs, they're the perfect recipe for America's new obsession. Led by single "Highway to Heaven", "Superhuman" and "Fool" show just how well NCT 127 can adapt to the stateside competitive mainstream.
Louis Tomlinson
"Two of Us" (Acoustic)
As if Louis Tomlinson's "Two of Us" couldn't get any more heartbreaking, the singer unveils an emotional acoustic rendition of the track that is dedicated to his late mother. With the original already having some ballad tendencies, the acoustic version really helps flesh the track out to its full potential, resulting in a beautiful tribute and a career-defining track for someone's solo career that's just getting started.
The Dangerous Summer
"Bring Me Back to Life"
Tracks off The Dangerous Summer's upcoming album, Mother Nature, have bled emotion thus far. "Bring Me Back to Life" is no different. The major difference this time around comes in the form of subtle melodic synth that adds a whole deal of atmosphere as it opens and closes the song. Couple that with vocalist AJ Perdomo's gravely yet inviting vocals makes The Dangerous Summer 3 for 3 on their new tunes.
Other new releases:
Chase Atlantic – "STUCKINMYBRAIN"
PRETTYMUCH – Phases
Echosmith, Audien – Favorite Sound (Remixes)
Kygo – "Not Ok"
Death Cab For Cutie – "I Dreamt We Spoke Again (Louis the Child Remix)"
Why Don't We – "Unbelievable"
Two Door Cinema Club – "Dirty Air"
Yungblud – "Parents"
Thomas Rhett – "Center Point Road"
Ty Dolla $ign – "Purple Emoji"
Emery – "The Noose"
Emeli Sande – "Extraordinary Being"
Jess Glynne & Jax Jones – "One Touch"