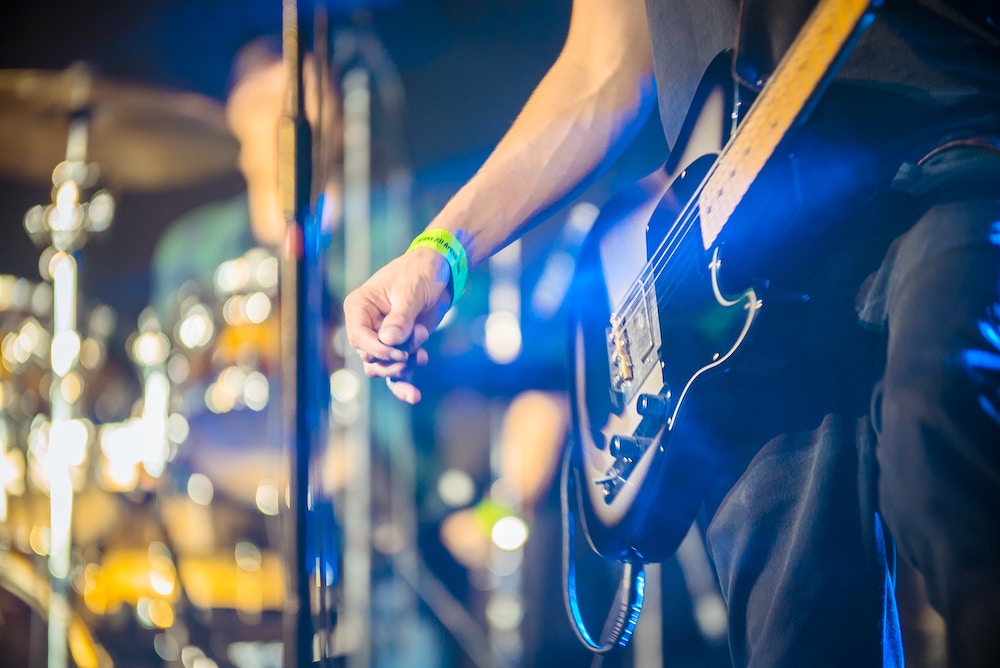 What better way to kick off a weekend than with new music? Fridays are always chock full of the latest songs and albums ready to be the soundtrack to everyone's antics, and here you'll find some of the week's standout releases. Whether you're ready to spin an anticipated song from a favorite artist or just taking a look at what's out there, there's a whole lot of tunes to dive right into. Who knows—maybe you'll find your next obsession.
New Found Glory
From the Screen to Your Stereo Part 3
Seasoned New Found Glory fans know that covers are kind of the band's calling card, but it's their movie-cover series where they really get their "two thumbs up". Closing out their From the Screen to Your Stereo trilogy, which is nearly 20 years in the making, Part 3 is a testament to how doing what you love is the key to longevity. The band takes on classic hits, both old and new, making each one their own as if they originally wrote it first. To top it off, the bonus track, "Puzzles", is a new original (demo) track that shows the direction the band will be heading in, showing that NFG's end-credits won't be rolling anytime soon.
—
Shawn Mendes
"If I Can't Have You"
Shawn Mendes delivers another single that you won't be able to escape with the bouncy "If I Can't Have You". Tranquil guitar strums underline the verses, but the chorus nearly goes full dance-pop to bring Mendes' catchiness to another level.
Madonna
"I Rise"
The introduction to Madonna's new era was puzzling to say the least, leading off with the Maluma-assisted latin-pop single "Medellín". "I Rise" gears more toward contemporary radio pop, and actually ends up being a better single than the lead. Madonna's vocals transition in and out of vocoder in an addictive hook with a message about powering through adversity.
Of Mice & Men
"Mushroom Cloud"
With their new song "Mushroom Cloud", the second track released this year since their 2018 LP, you've got to figure another Of Mice & Men record is coming sooner than you think. The new cut speaks on mental health issues while ferocious growls and hammering drums make up the meat of the song. It's ultimately a sound that suits the concept of "Mushroom Cloud" perfectly.
Diplo
Higher Ground
If you weren't feeling Diplo's transformation to country with his latest single, have no fear his new EP, Higher Ground, places the DJ back into familiar territory. The four track collection is a house music heavy that ends far too soon. With a standout Tove Lo collaboration "Win Win", this is by far one of Diplo's most satisfying offerings recently.
Logic
"Homicide" (feat. Eminem)
Logic took a detour from his upcoming LP with the alt-rock stylings of Supermarket, a soundtrack coinciding with his new book. Things get back on track in a major way on his new cut "Homicide" featuring Eminem. The track is rapid-fire with technical variety of flow in both Logic and Em throughout but it's latter's lengthy verse that puts the venom in where it's needed.
Bad Books
"I Love You, I'm Sorry, Please Help Me,
Thank You" / "Lake House"
The marvelous indie rock supergroup Bad Books, featuring Kevin Devine and members of Manchester Orchestra, end the year long wait for new material with a dose of two new singles. "Lake House" manages to pack an emotional punch despite barren instrumentation, while "I Love You, I'm Sorry, Please Help Me, Thank You" is the polar opposite with bright vocals and acoustic guitar.
Our Last Night
"Sucker"
No matter the genre, everyone is pumped the Jonas Brothers are back. Cover aficionados Our Last Night whipped up a rendition of the group's new single "Sucker" to honor the comeback, and despite the poppy nature of the original, the band does a solid job converting it to rock while the vocals maintain its accessibility. Of course, the highlight is the screaming breakdown, which fits a JoBros song way better than it should.
Angels & Airwaves
"Rebel Girl"
Despite Angels & Airwaves never becoming the biggest band in the world like Tom DeLonge probably expected, the rock act has remained incredibly consistent since their inception in 2005, even if it's been years since a proper AVA single. With the wheels in gear once again, DeLonge returns with a purpose as bellowing vocals dance across a new wave pop soundscape. It's the strongest the band has been, and the indie-pop vibe a la Walk the Moon's "Shut Up and Dance" makes DeLonge's 'biggest band' aspirations much more believable.
Bad Religion
Age of Unreason
Outspoken punk-rock mainstays Bad Religion are now 17 (!!!) albums deep with their new record Age of Unreason, and it's coming at a time when we need their kind of voice more than ever. Filled with politically-charged themes in songs like the title track and "Candidate", the record teeters back and forth with incredibly melodic cuts mixed with some that have some pissed-off attitude to it.
Lil Nas X
"Old Town Road" (Diplo Remix)
"I'm gonna take my hit to the old town road, I'm gonna ride it 'til it don't chart no more"

Those aren't the lyrics to the latest remix of Lil Nas X's smash hit but they could be. Who would blame him? After enlisting country king Billy Ray Cyrus on a version of "Old Town Road", the track gets an EDM spin from Diplo, who is also trying his hand at some country-influenced tracks of his own. Overall, the remix doesn't overdo things with any crazy drops, but it's enough variety to make the hit stick around for a little while longer.
Other new releases:
BANKS – "GIMME"
Bastille – "Joy"
Real Friends – "From the Outside" (Acoustic)
Vampire Weekend – Father Of The Bride
Bleached – "Hard to Kill"
FINNEAS – "I Lost A Friend"
K.Flay – "This Baby Don't Cry"
The Black Keys – "Eagle Birds"
The National – "Hairpin Turns"
Ari Lennox – "Up Late"
Megan and Liz – "Good"
Noel Gallagher's High Flying Birds – "Black Star Dancing"
Nick Jonas – "The Ugly Truth"
The Color Fred – "Don't Give up on Me"
Kim Petras – "Got My Number"
Christina Perri – "Tiny Victories"
Kim Petras – "Got My Number"
Iggy Azalea – "Started"
Kylie Minogue – "New York City"
Ashley Tisdale – Symptoms
Big Thief – U.F.O.F.
Frank Carter and The Rattlesnakes – End of Suffering
L7 – Scatter the Rats
Passenger – Sometimes It's Something, Sometimes It's Nothing At All
The Wildhearts – Renaissance Men
Judah & The Lion – "Alright (frick it!)"
BURNS – "Energy (with A$AP Rocky & Sabrina Claudio)"