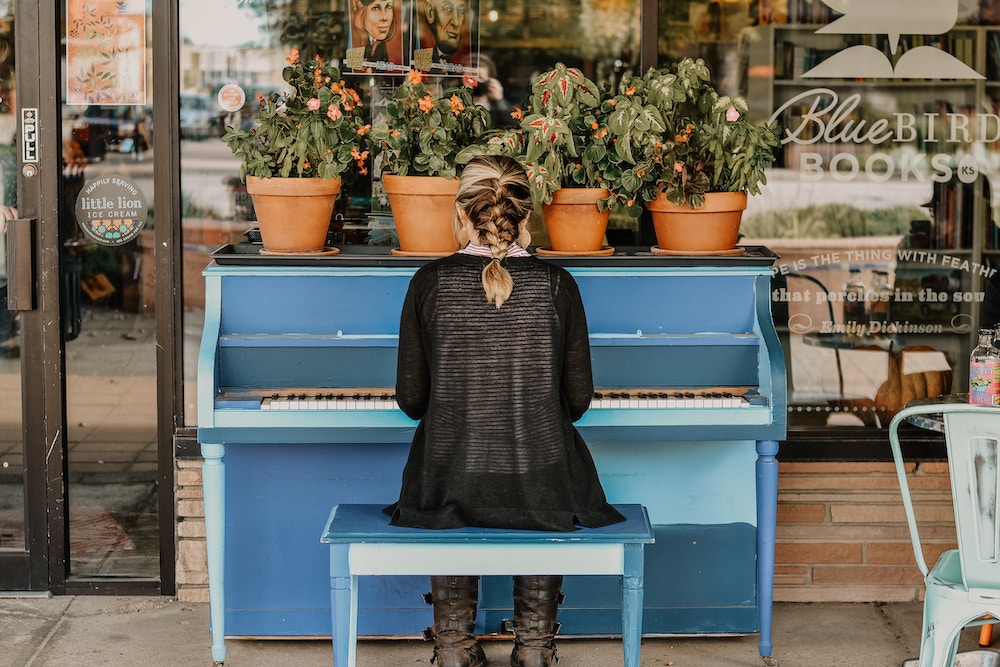 What better way to kick off a weekend than with new music? Fridays are always chock full of the latest songs and albums ready to be the soundtrack to everyone's antics, and here you'll find some of the week's standout releases. Whether you're ready to spin an anticipated song from a favorite artist or just taking a look at what's out there, there's a whole lot of tunes to dive right into. Who knows—maybe you'll find your next obsession.
Madonna
"Medellín" (feat. Maluma)
At this point in her career, it might feel like Madonna is the musical version of the "how do you do, fellow kids?" meme. Collaborations with Nicki Minaj and Avicii over the past few years make you do a double-take when you see she's 60 years old on Wikipedia. But it's at sixty when she takes her biggest and most creative leap yet: The new, Latin-pop flavored comeback single, "Medellín". Featuring Colombian singing sensation Maluma, the two unearth a sexy, sultry bedtime banger, even if its five-minute runtime is a bit too long.
The Dangerous Summer
"Way Down"
Despite a five-year hiatus—ending with last year's self-titled full-length—The Dangerous Summer lives up to the task of being incredibly consistent, as the record easily continued the band's textbook stylings of heavy instrumentation and emotive vocals. Now, a calendar year later, the group is gearing up for yet another record: Mother Nature (out later this June). Until then, the new single "Way Down" shows it's more of the same quality from the rock trio whose gravelly vox get better with age.
Carly Rae Jepsen
"Julien"
The funky "Julien" shows off the diversity of Carly Rae Jepsen's upcoming full-length, Dedicated, before its release next month. Now having released four songs off the record, Dedicated might very well do the unthinkable and surpass 2015's instant classic Emotion. It's a tough feat but the breathy vocals of "Julien" turn the track into a subtle banger that doesn't try too hard to create the next dance floor anthem; it's just Jepsen sounding like herself.
Beyoncé
Homecoming: The Live Album
In celebration of Coachella season and her new Netflix documentary, Beyoncé adds another highlight to her discography with the surprise live album Homecoming. Packed with 40 tracks and nearly two hours of music, Beyoncé's live LP chronicles the legendary performances that spanned across two weekends at last year's Coachella, where Bey made history as the first black woman to headline the festival. As the experience rolls through the speaker, the listener is reminded that there are few performers who can match up to Beyoncé's talent and charisma.
Jon Bellion
"Adult Swim" / "Heart Is Full"
You take Jon Bellion any which way you get him but there's something about his live performances that take it above all the rest. Bellion is giving fans a double-dose of live goodness with a recording of the hip-hop centric "Adult Swim" and Miike Snow cover, "Heart Is Full." While "Adult Swim" lives up to the LP version, an extra freestyle-esque verse is tacked onto the end to make it really worth the listen. Meanwhile, Bellion takes Miike Snow's bouncy track and brings it back to basics with nothing more than an acoustic guitar to make the magic happen.
Stand Atlantic
"MakeDamnSure"
Australian pop-punk outfit Stand Atlantic turn the blistering Taking Back Sunday rock anthem "MakeDamnSure" into an addictive pop delight. Their rendition practically sounds effortless as they ramp up the tempo but tone down the aggressiveness, molding the track to fit their DNA like they wrote it themselves.
Lil Dicky
"Earth"
Rapper Lil Dicky enlists the Avengers of music on his newest single, "Earth". It features Justin Bieber, Ariana Grande, Halsey, Zac Brown, Brendon Urie, Hailee Steinfeld, Wiz Khalifa, Snoop Dogg, Kevin Hart, Adam Levine, Shawn Mendes, Charlie Puth, Sia, Miley Cyrus, Lil Jon, Rita Ora, Miguel, Katy Perry, Lil Yachty, Ed Sheeran, Meghan Trainor, Joel Embiid, Tory Lanez, John Legend, Backstreet Boys, Bad Bunny, Psy, and Kris Wu … you just … have to listen for yourself.
—
No Rome
"Cashmoney"
It's hard to follow-up a song like the dreamy pop-wonder "Narcissist", a track that The 1975 features so well on, but No Rome's latest single has him going in a strong direction. "Cashmoney" takes more of an R&B route with a hand-clap laden beat but his voice is still molded for pure pop smashes like we found on his last EP. It's the combination of the two that makes "Cashmoney" irresistible and No Rome impossible to ignore.
Aaron West and the Roaring Twenties
"Just Sign the Papers"
Dan Campbell of The Wonder Years uses his Aaron West and the Roaring Twenties project to convey imagery and a message that simply doesn't work with The Wonder Years' sound (despite how much the pop-punk band evolves album to album). Now half a decade into his career as West, his tunes have gone from melancholy acoustic cuts to folk-rock gems—the latter of which you'll find on his new song "Just Sign the Papers". With a gloomy concept of divorce, the track finds its light with optimistic horns in a loud explosive chorus.
Seaway
Fresh Produce
Rarities and b-sides albums are a staple in the rock genre but they're not utilized nearly as much as they should be. Australian pop-punk outfit Seaway are doing things right by dropping a rarities album that will, seemingly, bridge the gap between proper LPs. But Fresh Produce is far from filler. Between alternate versions of fan favorites, covers, and some never-before-heard songs from the vault, Seaway prove that an artist's best material is sometimes the tracks they keep under wraps.
SZA
"Power Is Power"
(feat. The Weeknd and Travis Scott)
The Game of Thrones soundtrack is the gift that keeps on giving. The latest track off it comes from SZA, The Weeknd, and Travis Scott with their joint track "Power Is Power". Sounding like more of a sole Weeknd song, he kills it with his hook and gives his best appearance in recent memory on top of grimey, almost industrial-like instrumentation. Meanwhile, SZA's voice plays off Abel's in gorgeous fashion, but Scott's delivery, while not horrible, doesn't seem all that necessary.
Other new releases:
New Politics – "Comeback Kid"
X Ambassadors – "HEY CHILD"
Cage the Elephant – Social Cues
Why Don't We – "Don't Change"
Beck – "Saw Lightning"
Steve Aoki – "Do It Again"
Motionless In White – "Brand New Dumb" / "Disguise"
Thomas Rhett – "Remember You Young"
Megan and Liz – "Who Are You"
Kygo, Rita Ora – "Carry On"
The Vamps – Missing You EP
Olivia O'Brien – Just A Boy
French Montana – "Slide" (feat. Blueface & Lil Tijay)
Lizzo – Cuz I Love You
Jaden – ERYS IS COMING
Tycho – "Easy"
Modest Mouse – "I'm Still Here"
Tech N9ne – N9NA
SMYL – Bed EP
Sheryl Crow, Johnny Cash – "Redemption Day"
I.M x ELHAE – "HORIZON"
Santana – "Breaking Down the Door" (feat. Buika)
NCT 127 – Awaken