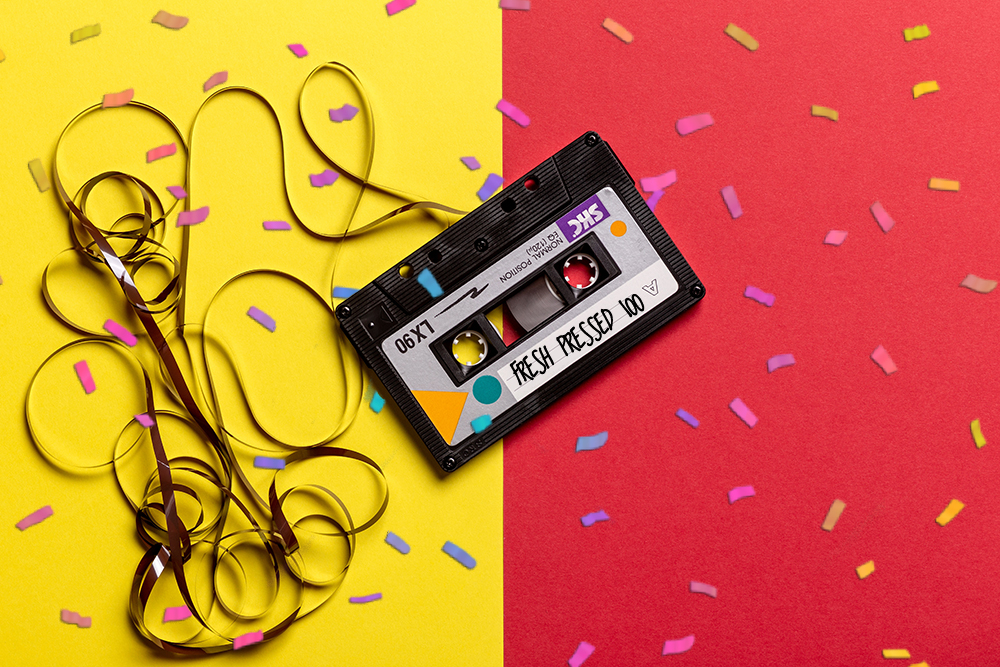 What better way to kick off a weekend than with new music? Fridays are always chock full of the latest songs and albums ready to be the soundtrack to everyone's antics, and here you'll find some of the week's standout releases. Whether you're ready to spin an anticipated song from a favorite artist or just taking a look at what's out there, there's a whole lot of tunes to dive right into. Who knows—maybe you'll find your next obsession.
Silverstein
Redux: The First 10 Years
You can call Redux a Greatest Hits and you wouldn't be wrong, but what's notable is that the best of the first ten years of Silverstein is entirely re-done for this collection. If you haven't heard the oldies in a while, it might seem like nothing changed at all, and that's because Silverstein did a great job staying true to the originals. However, hearing the old and new back-to-back is almost jarring; you can hear the clearer instrumentation and the slight alterations of singer Shane Told's diction. It's a must-have for veteran Silverstein fans, but new listeners might just have a new favorite if Redux is their introduction.
New Found Glory
"Eye of the Tiger"
New Found Glory's electric brand of pop-punk goes hand-in-hand with punching stuff, so taking on the classic "Eye of the Tiger" anthem for their upcoming covers record is a perfect fit. Believe it or not, the music video isn't even the first time the band has found themselves in a ring but whether it's boxing or MMA (like in 2009's "Listen to Your Friends"), you can always count on these legends to deliver a knockout jam.
—
Avicii
"SOS" (feat. Aloe Blacc)
Coming up on the one-year anniversary of Avicii's untimely passing, we're finally getting a look into what the storied DJ had in the works. The new track "SOS" features vocals from Aloe Blacc, the man who helped Avicii reach superstar status in the U.S. with 2013's "Wake Me Up". Blacc takes a different approach this time around, giving a less soulful and more pop performance on top of summery instrumentals.
LSD
Labrinth, Sia & Diplo Present… LSD
With their eccentric outfits and trippy visuals, LSD seems like more of a circus act than a band, but that's until you listen. A supergroup featuring artists Labrinth, Sia, and Diplo, their debut record is surprisingly not as strange as their persona would lead you to believe. While both vocalists sound incredible whether alone or singing together, Diplo's production isn't quite as inventive as his own solo work from his February Europa EP. The LP's standout cut is, ironically, a Lil Wayne-assisted remix of their song "Genius", which is the rare occasion of LSD embracing their abnormalities.
Pink
"Can We Pretend" (feat. Cash Cash)
P!nk embraces full-on EDM-pop on the dreamy (lyrically and musically) "Can We Pretend". The electronic elements are all thanks to Cash Cash, while the hooks could most likely be attributed to track co-writer Ryan Tedder. It's a serviceable, catchy number that might pale in comparison to the rest of the songs off her new record. Even though it's not as anthemic as the lead single, "Walk Me Home", it's far from forgettable filler with how well P!nk adapts to a new musical soundscape.
Seaway
"Something Wonderful" (Alternate Version)
Seaway's "Something Wonderful" is the musical definition of what summer should sound like. So, does an 'alternate version' water its impact down at all? 'Alternate' can mean practically anything when it comes to music but, in this case, it's basically just an acoustic rendition with a few effects thrown in to keep things interesting. Luckily, the song itself stands on its own whether it's electric or acoustic, because the energy here isn't lost a bit—it's even ramped up a bit with its emphasis on a slower vocal tempo.
Ellie Goulding
"Sixteen"
"Close to You", the pop smash from Ellie Goulding in 2018, is not an outlier when it comes to new music from the UK songwriter. Her new cut "Sixteen" follows in its footsteps marvelously, but this time there's no need for Diplo to flesh out the production or Swae Lee to command a hook. Goulding's vocal melodies are the best we've seen from her on this relatively simple pop track, but the passion and intensity delivering those melodies can make any beat jump out of a stereo.
Charly Bliss
"Hard to Believe"
The sickly sweet power-pop from Charly Bliss is easier to swallow with the garage-punk tint that comes across so well in their production, but it's the combination of the two that makes them one of the most essential rock bands of 2019. "Hard to Believe" is the latest cut from their upcoming LP, bolstering their signature raspy, high-pitched vocals crooning about the painful end of a relationship.
Hey Violet
"Better By Myself"
Hey Violet made waves with their debut full-length a few years back because they were a super accessible pop-rock band, and their use of electronics, plus an unconventional attitude lyrically, was a recipe for success. With their new track "Better By Myself" the band is entering into a new era in more ways than one. It's the first tune since the departure of guitarist Miranda Miller, and you aren't going to find any remnants of pop-punk/rock here. A groovy bass line sticks out immediately, while a chorus full of percussion shows the gains they've made with songwriting.
Maren Morris
"Kingdom of One"
Queen of Dragons … Queen of Charts … same thing, right? While Maren Morris is still in the midst of dominating with her new record Girl, she's dropping something a little extra that fans will definitely appreciate—especially if they're into Game of Thrones. Gearing up for the season premiere this weekend, Morris' track, "Kingdom of One", is among the first songs we get to hear from the show's upcoming soundtrack. The somber, melancholy acoustic track barely switches up from its steady acoustic strumming, but as the opening number to the soundtrack, it's the perfect introduction for what's surely going to be an epic ride.
BTS
"Boy With Luv" (feat. Halsey)
Just when you think BTS can't get any bigger, they go and pull something like this: The worldwide K-pop stars have been slowly rising the ranks when it comes to U.S. collaborators, from Desiigner to Steve Aoki to The Chainsmokers, but their latest definitely sets the bar for future collabs to come. Enlisting Halsey on their lead single "Boy With Luv" makes, by far, their biggest sounding track to date—incorporating classic BTS elements like rap, pop, and dance. Halsey is the blender that helps mash it all up, as her brain-infesting hook is enough to keep you up at night.
Other new releases:
Andy Black – The Ghost of Ohio
Cage the Elephant – "Goodbye"
Local Natives – "Tap Dancer"
Dan + Shay – "Keeping Score" (Acoustic)
Hey Violet – "Better By Myself"
Prince – "The Greatest Romance Ever Sold (feat. Q-Tip) [Neptunes Remix Edit]"
Blackbear – "DEAD TO ME"
Band of Skulls – Love is All You Love
Mark Ronson – "Late Night Feelings (feat. Lykke Li)
Falling in Reverse – "Drugs"
Marshmello – "Roll the Dice"
The Lumineers – "Nightshade"
The Chemical Brothers – No Geography
Jesse – GarageB&
Lil Uzi Vert – "That's A Rack"
Anderson .Paak – Ventura
KAYTRANADA – "DYSFUNCTIONAL"
Jessie Reyez – "Imported (with 6LACK)"
Anitta – "Ugly"
Benzi, Bhad Bhabi – "Whatchu Gon Do (feat. Rich The Kid & 24hrs)"
Seeb, Highasakite – "Free To Go"
PJ Harvey – All About Eve (Original Music)
Rob Thomas – Timeless EP
Norah Jones – Begin Again