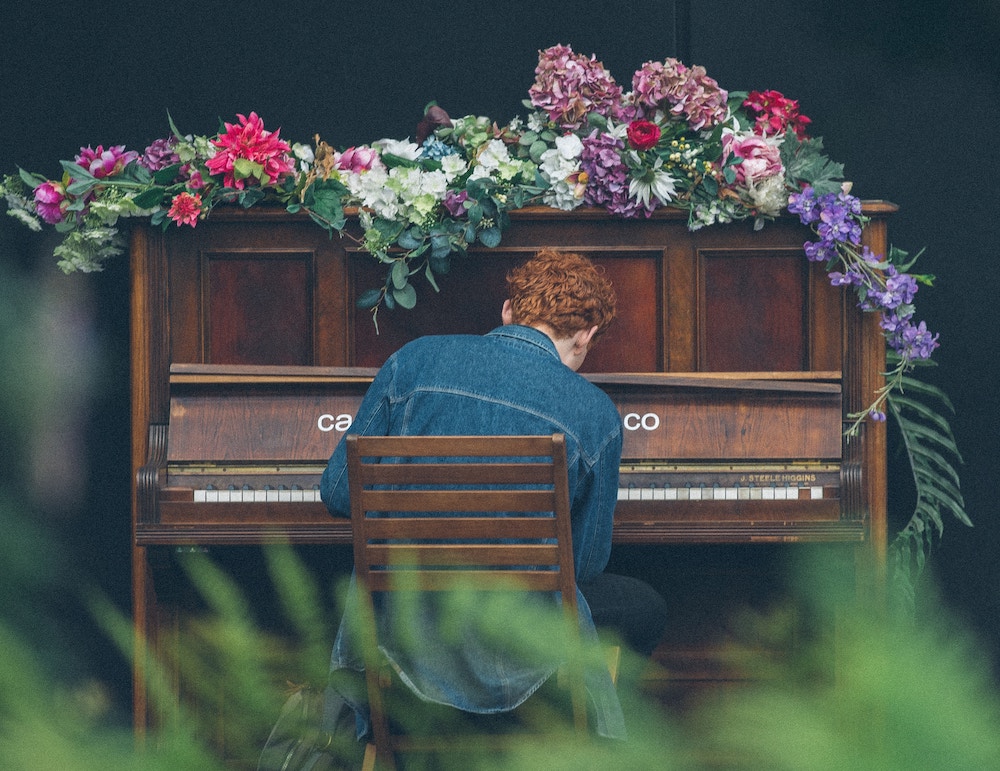 What better way to kick off a weekend than with new music? Fridays are always chock full of the latest songs and albums ready to be the soundtrack to everyone's antics, and here you'll find some of the week's standout releases. Whether you're ready to spin an anticipated song from a favorite artist or just taking a look at what's out there, there's a whole lot of tunes to dive right into. Who knows—maybe you'll find your next obsession.
The Maine
You Are Ok
The Maine haven't just been consistent over the past decade, they've been consistently bold, unique, and they've redefined what it means to be a pop band. It comes as no surprise that the band's latest full-length, You Are Ok, is an essential listen from top to bottom. It takes pieces from all their strong suits and mashes them together effortlessly. You Are Ok excels when the band go in, virtually, any direction—from the smooth acoustic track "Forevermore" to the theatrical "Numb Without You".
Read our full review of You Are Okay here.
Simple Creatures
Strange Love
Simple Creatures is a supergroup you'd think you'd only be able to construct in "Create-A-Band" mode in some The Sims-esque band-edition game, but it's real and it's spectacular. All Time Low's Alex Gaskarth and Blink-182's Mark Hoppus seem to be using Creatures as a bit of a bridge between their bands' respective next albums, but what you're getting here is far from what you'd expect from their usual music. Their debut EP, Strange Love, is surprisingly cohesive for something that appears so random, the fluidity between the mid-tempo tunes like "How to Live" to the energetic "Adrenaline" shows the band's potential longevity if they plan to keep things going.
Logic
Supermarket
In no way should an artist's versatility in their music act as an automatic shield from criticism, but you can't help but be immediately engaged when a musician flips styles on a dime, even if it's the equivalent of watching a car burst into flames (a.k.a Lil Wayne's Rebirth). But sometimes artists nail it when shifting their sound. That's where Logic comes in. The hip-hop star sheds the hip-hop for his latest release, Supermarket, a soundtrack that coincides with his newly-released novel. Though it's got its hip-hop moments, what takes precedence is the heavy use of guitar, singing vocals, and general alt-rock flair—that makes it a Logic release unlike any other, but one worth more than just a curiosity-listen.
The Chainsmokers
"Kills You Slowly"
"Who Do You Love" has become somewhat of an unlikely hit for The Chainsmokers. Sure, you're combining two powerhouse artists in the EDM duo and 5 Seconds of Summer but the track isn't necessarily a summer smash. It hones in on folk-y stylings instead. Regardless, it's nice to see the 'Smokers branching out, and they keep that going with their latest new song "Kills You Slowly". Taking the route of pure pop, Andrew Taggart's vocals shine on the relatively safe track completely devoid of any EDM elements at all.
Kelly Clarkson
"Broken & Beautiful"
The latest Kelly Clarkson tune may be for a soundtrack, but it's one of her best produced tracks in a while. Featured in the upcoming movie Uglydolls, which you're not expected to know anything about if you're over the age of seven, the song is hardly made to cater to a younger demographic. The dreamy pop track is brought to life by its all-star cast of collaborators: A co-write from P!nk and Steve Mac, and a rare production credit from Marshmello that doesn't have him attached as a feature. Marshmello's work here isn't overbearing, as his tropical-pop signature sound accentuates obvious P!nk-inspired vocal melodies. It's different from Clarkson, but it totally works.
NAV
Bad Habits (Deluxe)
NAV may be as exciting as tapioca pudding. In his defense, it's delicious pudding. The pop-rapper's Bad Habits album doesn't do anything in particular to keep your interest, aside from a nice feature from The Weeknd, but the only reason to listen to the lengthy deluxe version is to subject yourself to a record that is catchier than a baseball on Opening Day. NAV takes any and every avenue to deliver a hook with addictive nursery-rhyme schemes, and even if the beats aren't all that imaginable, it's still something you won't be mad at if it creeps on during shuffle.
P!nk
"Hustle"
Already having co-written a song this week, P!nk's getting in on the fun with a song release of her own. "Hustle" gets some assistance from Imagine Dragons' frontman Dan Reynolds, but her powerhouse attitude rocks this dancey anthem to its highest potential. Her new album, Hurts 2B Human, looks like it'll be a mixed bag of surprises as newly-revealed collaborations include Khalid, Cash Cash, and Chris Stapleton. With Max Martin on board to produce, there's no question it'll be a record of P!nk bangers.
Ben Platt
Sing to Me Instead
The rise from Broadway to the Billboard charts is nothing short of amazing for the actor, singer, and songwriter Ben Platt. The contemporary pop music from Dear Evan Hansen made waves, mostly due to the charisma and personality of its leading man. When Platt left the show and announced his plans to release a solo record, nothing made more sense. Sing to Me Instead offers a look into Platt beyond Evan Hansen. It's a vulnerable record with concepts of love, relationships, and finding yourself (ironically, themes the musical had, too). But listening to it, the LP sets him into his own league that he'll undoubtedly conquer as a solo artist like he did on stage.
Our Last Night
"7 Rings"
If you've heard Our Last Night's covers before, you can almost imagine how they'll do a certain song before they've even done it. For "7 Rings", Ariana Grande's banger, the screaming vocals come right on cue once the chorus hits. You'll have to keep on listening to get to the fun surprise though: The guest feature from State Champs' Derek DiScanio.
Billie Eilish
When We All Fall Asleep, Where Do We Go?
Billie Eilish is music's strangest yet most irresistible pop star. Barely seventeen years old, the soft-sung songstress delivers a landmark release for a follow-up record with When We All Fall Asleep, Where Do We Go? When songs aren't borderline creepy and atmospheric, she finds a way to weave that DNA into more upbeat numbers like "My Strange Addiction" and "8". Given the similarities in age and quick ascension to the mainstream, her brooding anthems like "Bury a Friend" and "You Should See Me in a Crown" will undoubtedly draw comparisons to Lorde, but that's where the similarities should start and end. Eilish is her own beast and Asleep is her breaking out of her cage.
Other new releases:
Jake Miller – BASED ON A TRUE STORY.
Andy Black – "The Promise"
BANNERS – "Got It In You"
The Faim – "Amelie"
Beck, Cage The Elephant – "Night Running"
Bad Religion – "Do the Paranoid Style"
Interpol – "The Weekend"
Yoke Lore – "Chin Up"
Flume – "Friends"
Blackbear – "Hate My Guts"
Monsta X – "Flash Back"
Kevin Devine and The Front Bottoms – Devinyl Splits No. 12
G-Eazy – "West Coast"
Khalid – "Self"
Pink Sweat$ – "Coke & Henny Pt. 2"
Modest Mouse – "Poison the Well"
Jake Owen – "Senorita (feat. Lele Pons)"
Olivia O'Brien – "Just Friends"
Diplo – "Hold You Tight"
Rob Thomas – "I Love It"
Ciara – "Thinkin Bout You"
I Prevail – TRAUMA
Aly & AJ – "Church"
The Veronicas – "Think of Me"
Zara Larsson – "Don't Worry Bout Me"