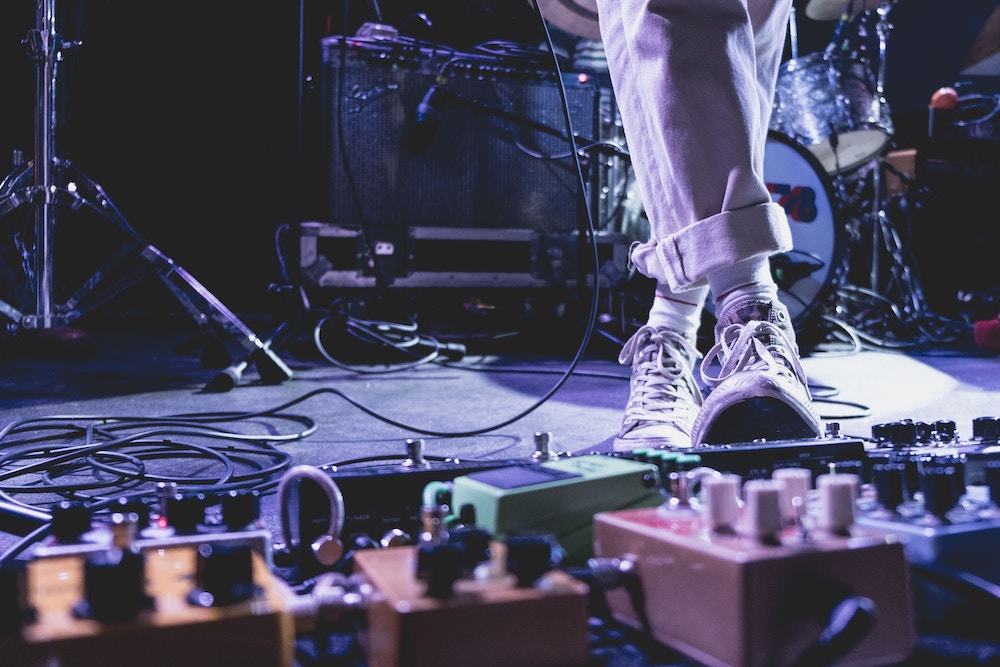 What better way to kick off a weekend than with new music? Fridays are always chock full of the latest songs and albums ready to be the soundtrack to everyone's antics, and here you'll find some of the week's standout releases. Whether you're ready to spin an anticipated song from a favorite artist or just taking a look at what's out there, there's a whole lot of tunes to dive right into. Who knows—maybe you'll find your next obsession.
Maren Morris
GIRL
Maren Morris' world was flipped upside down when the seasoned country singer/songwriter appealed to the masses with last year's number one single with Zedd, "The Middle". While the electro-pop track was a change of pace for Morris no doubt, the versatile vocalist pulled it off perfectly. She carries over a similar attitude for her new album GIRL. Sure, it's not an EDM album—it's still very country, of course—but the pop flavor is in full force, especially in the R&B-tinged "RSVP".
Our Last Night
Let Light Overcome
Don't let Our Last Night's success with cover songs blind you from the truth: The metalcore/rock quartet are still masters of their own material, growing as artists each time they hit the studio with new stuff. Their latest EP, Let Light Overcome, has the band dishing out the best they have to offer—ferocious screams and riffs on tracks like "Demons" or "The Leap", and an ear for catchy hooks on "Soul Speak".
Louis Tomlinson
"Two of Us"
Out of all the ex-One Direction solo ventures, Louis Tomlinson's has to be the most puzzling. Still the only member without a proper full-length or EP, Tomlinson didn't have a single solo song to his name in 2018. But maybe things will start to ramp up now. His new single, "Two of Us", is here and definitely the strongest thus far. Tomlinson's trip into ballad-territory pays off, compared to his dance-pop-esque songs initially released. It gives him some personality and opens the door for some exciting stuff from him in the future…unless One Direction manages to come back before his next track.
Marshmello
"Here With Me" (feat. CHVRCHES)
It's only March and 2019 is already Marshmello's year. Between the ongoing success of his collaboration with Bastille in "Happier" to bridging worlds with his iconic Fortnite concert, anything the EDM DJ does this year just adds to his accolades—and his next potential highlight may be all thanks to CHVRCHES. The synth pop group gets together with Marshmello for "Here With Me", a track that suits both artists with ease. It may not be a surefire club staple but it's definitely a chart staple if anything.
Juice WRLD
Death Race for Love
Everyone's favorite emo rap god is back with songs you definitely would have put in your AIM away message (if it were still a thing). Juice WRLD's Death Race for Love comes less than a year after his debut, but this isn't a case of striking while the iron's hot. The 22-track full-length has some serious bangers ("Fast", "Feeling"), but it's his ability to keep you interested through the entirety that's most impressive.
Gesaffelstein
Hyperion
Hyperion is an amazing case of artist growth. The sophomore full-length from French house producer/DJ Gesaffelstein changes tunes from his acclaimed debut—this time, going for a star-laden track listing featuring the likes of The Weeknd and Pharrell. On feature-less tracks, where Gesaffelstein lets his beats do the talking, they're dark and unpredictable, making up one of the year's best electronic records thus far.
Sara Bareilles
"No Such Thing"
It was a long wait for new Sara Bareilles material—excluding her album of songs written for her musical Waitress—but the new songs we've gotten so far have been well worth the years. "No Such Thing", off her upcoming album Amidst the Chaos, is a haunting tune with a minimalistic soundstage but Bareilles' vocals fill up the space marvelously.
Ben Platt
"Temporary Love"
Despite how monumental Ben Platt's success has been with the hit Broadway show Dear Evan Hansen, it's incredible how little you think of it when listening to his original solo material. Like he rose as a Broadway star, he's rising as a lone musician with the help of songs like "Temporary Love"—an optimistic view on finding a potential new love. The material from Platt's new album thus far has been relatively somber but a track like this shakes it up nicely.
Flor
"Slow Motion"
One of Fueled By Ramen's best kept secrets is ready to burst through the doors to be heard. Flor's been killing it for a while now—and to be fair, so has the rest of the label's roster—but while Paramore and All Time Low may be reaping most of the plays, it's Flor who has steadily been bubbling up to the surface. The indie-pop hybrid's new single "Slow Motion", is a spacey take on their usual rock vibe and it results in something best suited for midnight drives.
Other new releases:
Twenty One Pilots – "Chlorine" (Alt Mix)
Smallpools – "Insincere"
Vampire Weekend – "Sunflower" / "Big Blue"
Billie Eilish – "wish you were gay"
Mokita – "Kiss & Tell"
Nick Murphy / Chet Faker – "Sanity"
Foals – "Part 1 Everything Not Saved Will Be Lost"
Local Natives – "When Am I Gonna Lose You" / "Cafe Amarillo"
The Black Keys – "Lo/Hi"
Andy Black – "Ghosts of Ohio"
Wild Party – "Recipe"
Cage the Elephant – "House of Glass"
Rozes – "Halfway There (Grl Pwr)"
Sleepy Tom & Lights – "Amateurs"
Halfnoise – "Who Could You Be"
Audien, Echosmith – "Favorite Sound"
Daya – "Insomnia"
Tritonal – "Diamonds"
Charly Bliss – "Chatroom"
Dido – Still On My Mind
Khalid – "My Bad"
Alesso – ALESSO MIXTAPE – PROGRESSO VOLUME 1
Kiana Lede, Lil Baby – "EX – Remix"
Daya – "Insomnia"
Global Dan, G-Eazy – 'W.A.N.T.S"
Sigrid – Sucker Punch
David Guetta, Tom Staar – "This Ain't Techno"
Robin Thicke – "That's What Love Can Do"
LION BABE feat Raekwon – "Western World"
Conan Gray – "The King"
Fuego, Greeicy – "Bien Fancy"