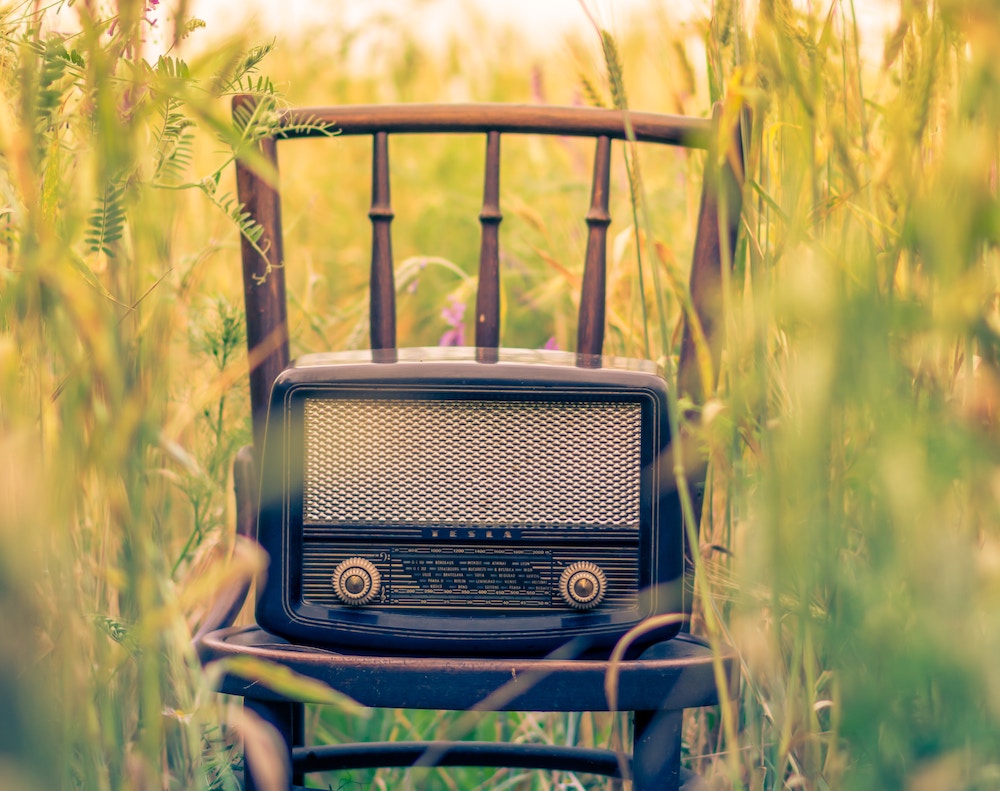 What better way to kick off a weekend than with new music? Fridays are always chock full of the latest songs and albums ready to be the soundtrack to everyone's antics, and here you'll find some of the week's standout releases. Whether you're ready to spin an anticipated song from a favorite artist or just taking a look at what's out there, there's a whole lot of tunes to dive right into. Who knows—maybe you'll find your next obsession.
Marianas Trench
Phantoms
With every album that Marianas Trench releases, you're left wondering how they could possibly progress from there. Each album raises the bar and takes their creativity to new heights—how much in the tank could they really have left? Good thing, frontman Josh Ramsay is a musical well that never dries up. He and the Marianas Trench guys do it again with Phantoms, in expert fashion. Incorporating electronic elements and a darker tone to their hooks, Phantoms is the playbook for a pop album—it's worth listening if not only to hear the stunning 7-minute closer "The Killing Kind".
Jonas Brothers
"Sucker"
Dig your tour shirts out of the closet and put those posters back on the wall (or admit you never took them down in the first place) 'cause the Jonas Brothers are officially back. After a lengthy six year hiatus, the grown-up JoBros continue to make hearts throb and stereos throb harder with their new single "Sucker". Taking DNA from Joe Jonas' dance-pop project DNCE rather than Nick Jonas' R&B-flavored solo project, the song is no doubt a step up for the trio with an exciting future ahead.
Carly Rae Jepsen
"Now That I Found You" / "No Drug Like Me"
Giving an extensive taste off her upcoming album, Carly Rae Jepsen's new songs are naturally pop brilliance. Both "Now That I Found You" and "No Drug Like Me" are like sequels to what she delivered with 2015's Emotion—but all that proves is she's consistent with her quality, crafting tunes that the 1980s wish they could have while fans hope that the 2010s don't take these gems for granted.
Weezer
Weezer (The Black Album)
The Black Album is a pretty big deal in Weezer-land, especially since Rivers Cuomo has been hyping the record's existence even before their last LP came out in 2017. So, with the band's now-sixth colored-themed full-length finally out, is it the strongest of the color spectrum? The band has gone from making influential, iconic albums to arguably becoming a shell of themselves for a span of a couple records, but they've recently gotten back on track to deliver solid rock for years now. The Black Album ultimately continues that trend, reminding everyone that they're more than just the band that covered "Africa".
Twin XL
How to Talk to Strangers
Twin XL may not be a supergroup by standard definition but the collaborative effort, between former The Summer Set members and industry-vet Cameron Walker, sure sounds like one with their debut EP How to Talk to Strangers. The trio has collective credits that include Set It Off, All Time Low, and The Ready Set, and nothing is off the table when it comes to their indie-pop shimmer and shine. "Good" is a beautiful Portugal. The Man x Passion Pit hybrid, while standout "Friends" has airy melodies that give the band an identity of their own.
As It Is
Denial: Reimagined
As It Is was already pushing the envelope with their music on their latest album, The Great Depression, which found the band delving into a dark pop-rock avenue—but they're expanding on that even further with a series of new EPs. The first of four, Denial takes three songs off Depression and reworks them completely. It's not just code for "acoustic" either—"The Great Depression" is a theatrical treat while "The Wounded World" gets an electro shake-up.
Bad Religion
"Chaos From Within"
Bad Religion are pissed (but that's just the way you want these punk legends to begin with). "Chaos From Within" is the latest cut from the ever-outspoken rock band—this time tackling the controversial border wall. Their new album, Age of Unreason, drops in May and it'll be chock full of topics like racism and Donald Trump. They aren't going to mince their words as they shout their battle cries behind massive punk riffs.
Gesaffelstein
"Blast Off" (feat. Pharrell)
You might need Google every time you try to spell Gesaffelstein's name but you'll be able to instantly identify his sound signature when it comes to new music. The French electronic musician is changing tunes on his new album, heading toward a heavier mainstream vibe as evident with his previous single featuring The Weeknd. Now, the Pharrell-assisted "Blast Off" takes his album to another level: Heavy 80s influence that would make David Bowie proud—and Pharrell pulls it off very well.
Parachute
"Had It All"
You'd hardly realize Parachute has been making music for over a decade but that's because their music is just timeless. Whether listening to older material or their new single "Had It All", it all stands out. The new track is simplistic piano-pop beauty, but in a way that could turn it into a marquee Parachute song similar to the iconic "She Is Love".
Other new releases:
You Me At Six – "Back Again (Acoustic)"
Our Last Night – "Bury the Hatchet"
Hoodie Allen – "Never Going Back"
The Mowgli's – American Feelings
Yoke Lore – "Beige (unburdened)"
BANNERS – "Got It In You (Acoustic)"
Hozier – Wasteland Baby
Foals – "Sunday"
The Japanese House – Good At Falling
FRENSHIP – "Remind You"
Tiffany Young – "The Flower"
While She Sleeps – So What?
Deafheaven – "Black Brick"
blackbear – "HIGH1X"
T-Pain – 1UP
Ben Platt – "Grow As We Go"
Ellie Goulding – "Flux"
Solange – When I Get Home
2 Chainz – Rap or Go to the League
G-Eazy, Blueface – "West Coast"
Juice WRLD – "Hear Me Calling"
Benny Blanco – "I Can't Get Enough"
Dido – "Still On My Mind" (with collected singles)
Norah Jones – "Just A Little Bit"
Mumford & Sons – "Beloved" (single version)
Zonderling – "I Do (feat. Andreas Moss)"
Summer Walker, Drake – "Girls Need Love [remix]"
benny blanco, Tainy, Selena Gomez, J Balvin – "I Can't Get Enough"
Kodak Black – "Pimpin Ain't Easy"
3LAU & Justin Caruso feat. Iselin – "Better With You"
Ben Platt – "Grow As We Go"
Martin Jensen, James Arthur – "Nobody"
Mansionair – Shadowboxer
Maluma – "HP"
Tom Walker – What A Time To Be Alive
Bea Miller, 6lack – "it's not u it's me"
Pink Sweat$ – "I Know"
A R I Z O N A – "Find Someone"
Rich The Kid – "4 Phones"
Doja Cat – "Juicy"
I Prevail – "Breaking Down" / "Bow Down"
Wyclef Jean – "Baba (feat. Kofi Black)"
Alphabeat – "Shadows"
Sigrid – "Sight of You"