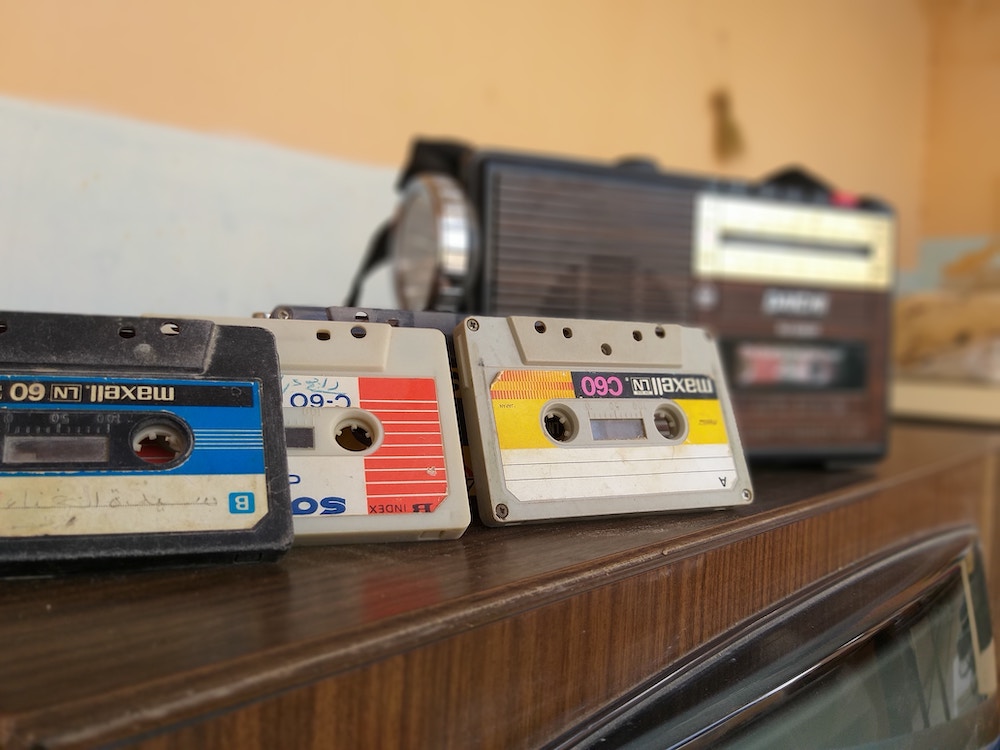 What better way to kick off a weekend than with new music? Fridays are always chock full of the latest songs and albums ready to be the soundtrack to everyone's antics, and here you'll find some of the week's standout releases. Whether you're ready to spin an anticipated song from a favorite artist or just taking a look at what's out there, there's a whole lot of tunes to dive right into. Who knows—maybe you'll find your next obsession.
New Found Glory
"The Power of Love"
In 2007 when New Found Glory made their second movie-themed covers album, From The Screen to Your Stereo Part 2, guitarist Chad Gilbert said they scrapped "The Power of Love" because they couldn't make it sound right. It took twelve years but it seems like they finally nailed it. Off the upcoming third installment to the cover album series, the 1985 hit gets New Found Glory-fied with a pop-punk flare that makes it better than ever before.
Pink
"Walk Me Home"
"Walk Me Home" is a full-fledged Pink song, even though it heads down a road uncharted for her. Powerful vocals and a strong hook have you wondering if you've heard it before but her Mumford and Sons-esque folk flavor shows otherwise. The song also reunites Pink with fun. frontman Nate Ruess in the writing credits—let's not forget how their last collaboration hit number one on the charts in 2013.
Offset
Father of 4
The long-anticipated album from rapper Offset is here, so that means the trifecta of Migos solo albums is finally complete. How does it stack up to Quavo and Takeoff? Father of 4 takes a largely melodic approach—sometimes even outdoing hooks on Quavo's record—so it's a solid collection that doesn't just feel like unused Migos tracks put together. Most importantly, it shows the creative mindset of each individual member before they eventually all get back in the studio once again.
Our Last Night
"The Leap"
With their hardest song in recent memory, Our Last Night emulate the best of Underoath's They're Only Chasing Safety in their new track "The Leap". A perfect mixture of screams and clean vocals, the song is perfectly suited for long drives, workouts, and everything in between.
San Holo
"Lead Me Back"
EDM king San Holo unleashes a song out of left field in the acoustic-driven "Lead Me Back". Touted as his most raw and vulnerable track yet, the guitar strums that segue into synth is impactful. It's ultimately an unexpected departure, but a welcome one as his songwriting soars to new heights.
John Mayer
"I Guess I Just Feel Like"
After teasing it live for a couple of months, John Mayer finally reveals his latest single, "I Guess I Just Feel Like". Quite the difference from his past single "New Light", the new track slows down the tempo and puts beauty in simplicity. Mayer notes there's "nothing hit-like about it" but he's selling himself a little short—the song is pretty accessible and can have a ton of lasting value on Adult
Contemporary charts.
The Maine
"My Best Habit"
The Maine's new album is shaping up to be straight up groovy. On the second song off their upcoming album, there aren't as many twists and turns like there were on its predecessor, "Numb Without You", but "My Best Habit" excels as The Maine gets down to business doing what they do best: A head-bopping chorus and the ability to replay it non-stop 'til the album finally drops.
The Dangerous Summer
"Where Were You When The Sky Opened Up"
Only a year removed from their comeback album, The Dangerous Summer return with a powerful and emotional new single. They've shown no signs of slowing down as the four-minute rock tune is a marvel; the steady guitar riffs linger behind booming drums and vocals full of urgency.
Simple Creatures
"Strange Love"
It only took one song to prove that the joint project between Alex Gaskarth and
Mark Hoppus wasn't going to be an All Time Low-Blink-182-hybrid, and their latest
single, "Strange Love", backs that up even further. Both songs from Simple
Creatures thus far has featured a hazy rock vibe with Gaskarth at the focus of their respective choruses, yet the new cut has more up its sleeve with an incredibly infectious melody.
Weezer
"High As a Kite"/"Living In L.A."
Coming off the heels of a brilliantly weird covers album, Weezer gets back to their own groove with two new songs taken off their upcoming Black Album full-length. Of course, the strangeness never quite ends with them in the first place: "High As a Kite" is accompanied by a music video that sees frontman Rivers Cuomo dressing up as Mr. Rogers. Meanwhile, "Living In L.A." sports an upbeat soundscape that encapsulates L.A. living to the max.
—
The Damned Things
"Cells"
Rock's greatest supergroup just got way more super. The hard rock quintet haven't released an album since their 2010 debut, but things are starting to ramp up again with their new single, "Cells".  For what it's worth, it's guitarist Joe Trohman's favorite song off their new album, and naturally the musicianship here is top notch. Even though they lost members Josh Newton and Rob Caggiano, Alkaline Trio's Dan Andriano steps in effortlessly for a seamless radio rock jam.
Other new releases:
You Me at Six – "Back Again" (Acoustic)
DREAMERS – "Die Happy"
Bad Suns – "One Magic Moment"
SWMRS – "Trashbag Baby"
grandson – A Modern Tragedy Vol. 2
bülow – Sweet Little Lies
Tiffany Young – Lips on Lips EP
Circa Waves – "Times Won't Change Me"
Why Don't We – "Cold in LA"
Maren Morris – "The Bones"
Dream Theater – Distance Over Time
Kehlani – While We Wait
Adam Lambert – "Feel Something"
Martin Garrix – "No Sleep" (feat. Bonn)
Diplo – Europa
Lil Pump – Harverd Dropout
Dido – Chances EP
RKCB – Shores
Lele Pons, Fuego – "Bloqueo"
Tropkillaz, J Balvin, Anitta – "Bola Rebola"
James Bay – "Peer Pressure feat. Julia Michaels"
Soulja Boy, Ray J – "Rich N Whippin"
Rob Thomas – "One Day Less (Dying Young)"
MO – "Theme Song (I'm Far Away)"
Gary Clark Jr – "Low Down Rolling Stone"
Marc Anthony – "Tu Vida en la Mía"
Jason Derulo, NCT 127, LAY – "Let's Shut Up and Dance"
Mötley Crüe – "The Dirt (feat. Machine Gun Kelly)"
Sleaford Mods – Eton Alive
XYLO – "Fireworks"
Doja Cat – "Tia Tamera feat Rico Nasty"