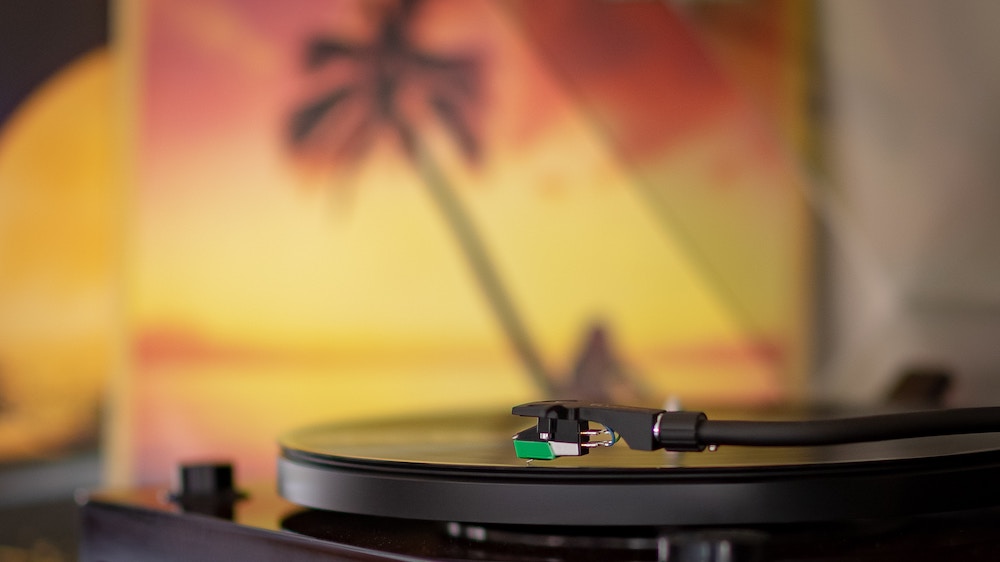 What better way to kick off a weekend than with new music? Fridays are always chock full of the latest songs and albums ready to be the soundtrack to everyone's antics, and here you'll find some of the week's standout releases. Whether you're ready to spin an anticipated song from a favorite artist or just taking a look at what's out there, there's a whole lot of tunes to dive right into. Who knows—maybe you'll find your next obsession.
Emarosa
Peach Club
Emarosa could have spent their career making the same album over and over again—to be fair, they would still sound pretty good—but the band has other ideas for their legacy with their new album Peach Club. Moving from an alt-rock sound to something you'd more likely hear on Top 40, Emarosa's catchy hooks and pop sensibilities weaved throughout the entirety is something to marvel at.
Charly Bliss
"Capacity"
If Charly Bliss aren't on your radar, they should be now. "Capacity" picks up right where their excellent album Guppy left off, but the garage-pop-punk band get a little more melodic on the new single. You can hear how much their songwriting has grown with their newfound indie vibe but they still incorporate the giddy vocals and hooks galore they're known for.
Our Last Night
"Demons"
Believe it or not, Our Last Night do in fact make their own music. The cover kings best known for putting a spin on today's biggest hits are back to try to make some original hits, too. Their new single "Demons" is one of the first non-cover songs
from the band since their 2017 EP, and the melodic chorus combined with brutal screams will definitely have you wanting more. Wish granted: Their new album is out March 8th.
Ariana Grande
Thank U, Next
Seeing a major artist release an album less than six months after their previous is uncommon; having both be equally great is pretty much unheard of. That said, Ariana Grande's 2018 Sweetener and new album Thank U, Next are quite different from each other—the lack of Pharrell on the latter results in less 'weird' eclectic songs. Instead Thank U, Next brings listeners into a more familiar territory by bringing writers Max Martin and Savan Kotecha on board. Ultimately, it works better as a proper follow-up to Dangerous Woman than Sweetener but all three reign supreme in her discography in their own ways.
Marianas Trench
"Echoes of You"
Marianas Trench are at their best when their songs run past five minutes and we're getting a taste of Phantoms' first behemoth with "Echoes of You". The multi-layered pop song is a haunting dancefloor jam that shapeshifts into a theatrical epic—partly thanks to guest vocals from Jellyfish's Roger Joseph Manning, Jr.
The Chainsmokers
"Who Do You Love"
(feat. 5 Seconds of Summer)
Considering how big of a 2018 The Chainsmokers had, it was easy to predict they'd keep on rolling this year, too. The pop duo's first offering of 2019 is a welcome surprise with a song featuring unlikely candidates 5 Seconds of Summer. 5SOS, who themselves have gone through a transformation with their latest album, assist The Chainsmokers in crafting one of their best songs yet. "Who Do You Love" veers on the side of straight-up pop rather than incorporating a ton of EDM elements but its drop is strong and memorable.
Twin XL
"Friends"
Three songs deep into Twin XL's career, they're still a pop band shrouded in mystery—mostly because of the potential that they're only beginning to tap into. "Friends" is a dazzling Passion Pit/Portugal. The Man lovechild—but even with the similarities, with each new track, they're slowly starting to come into their own identity.
Meghan Trainor
The Love Train EP
Meghan Trainor's post-Thank You era has kind of been a mess. Originally scheduled for release last August, her planned album Treat Myself was eventually delayed until January—until pre-orders were canceled and removed from digital services entirely. So, nobody really knows what the heck is going on but, luckily, there is hope for the future. Releasing today is a six-song EP that'll hopefully steer things back on track. Along with Treat Myself's lead single "All the Ways", five additional tracks round out the collection—some bops, some ballads—and hopefully one turns out to be the hit she desperately deserves.
Gerard Way
"Happy Together" (feat. Ray Toro)
For Gerard Way's February song release, he's dipping his feet into covers with a take on The Turtles' classic, "Happy Together". Soon to be featured on Way's The Umbrella Academy series for Netflix, you barely even realize that it's not his song considering how well he pulls it off—and the addition of Ray Toro on the track makes it all the more exciting.
R3HAB
"This Is How We Party" (feat. Icona Pop)
Putting Icona Pop with DJ/producer R3HAB is a match made in club-anthem heaven—and they pretty much dropped a marquee summer jam in February. The 2:30 runtime makes it perfect fodder for some extensive remixes, but the song in its current state is an absolute blast for all occasions, with Icona Pop's infectious vocal melodies and a synth-heavy breakdown.
Other new releases:
The Mowgli's – "Mr. Telephone"
Cheat Codes – "Ferrari (feat. Afrojack)"
The Amazons – "Mother"
Superorganism – "Hello Me & You"
The Japanese House – "We Talk all the Time"
Beck – "Super Cool"
Khalid, Disclosure – "Talk"
Florida Georgia Line – "Y'all Boys"
Maren Morris – "Common"
Wiz Khalifa – "2009"
LCD Soundsystem – Electric Lady Sessions
Diplo, Octavian – "New Shapes"
RL Grime – "Arcus"
Elohim – "TV"
David Guetta, Brooks, Loote – "Better When You're Gone"
Quinn XCII – Holding Hands (feat. Elohim)
Mahalia – "Do Not Disturb"
Kim Petras – "1,2,3, dayz up (feat. SOPHIE)"
Gary Clark Jr – Pearl Cadillac EP
H.E.R. – "Think"
Marshmello, SVDDEN DEATH – "Sell Out"
KIAN – "Childism"
Kelly Rowland – "Crown"
Far East Movement – "Blossoms (feat. Vava & Troop Brand)"
Nicki Minaj – "Bust Down Barbiana"