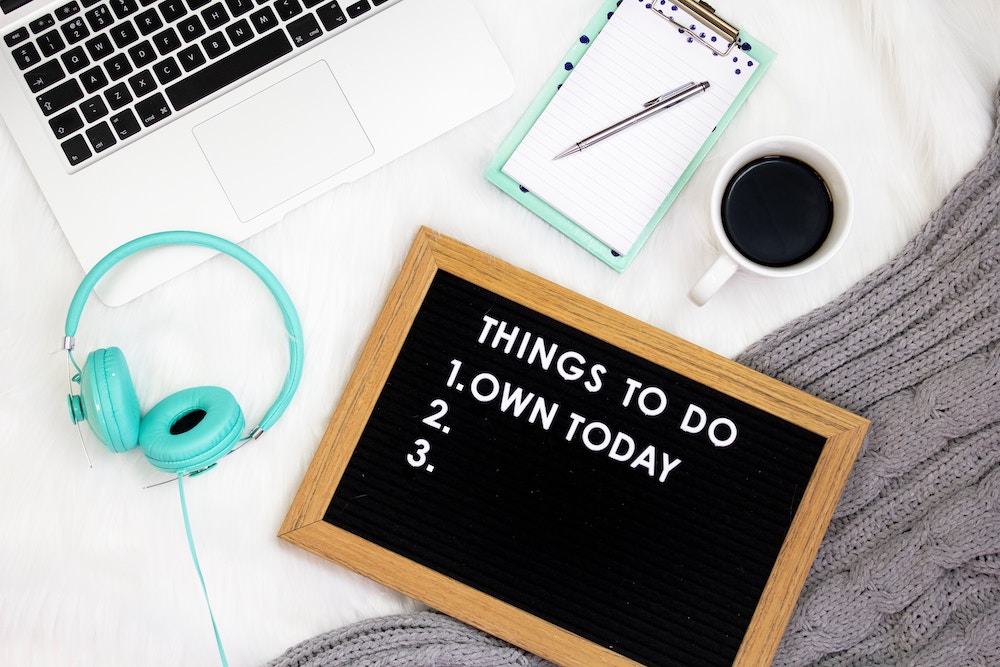 What better way to kick off a weekend than with new music? Fridays are always chock full of the latest songs and albums ready to be the soundtrack to everyone's antics, and here you'll find some of the week's standout releases. Whether you're ready to spin an anticipated song from a favorite artist or just taking a look at what's out there, there's a whole lot of tunes to dive right into. Who knows—maybe you'll find your next obsession.
Marianas Trench
"Only the Lonely Survive"
Marianas Trench may be one of the only bands who can make a three and a half minute song feel like an eight minute journey. "Only the Lonely Survive", the latest cut taken from their upcoming album, Phantoms, takes you on a wild ride. A movie soundtrack-esque chorus is merely a highlight in a song full of them: Josh Ramsay's immaculate vocals lead you to believe his pipes may just be Marianas Trench's fifth member.
Set It Off
Midnight
If we're being honest, Set It Off singer Cody Carson could belt the phone book in his fiery, theatrical voice and it would probably be incredible. Instead, we get a new Set It Off album in that voice—and a long one at that. Midnight, the band's fourth full-length, runs fifteen tracks—which is pretty extensive for an album in the genre—but it only means good things. Midnight is luckily barren of filler, with each song serving a purpose that results in the band's strongest outing to date.
Shoffy
"Cool Again (Stripped)"
Singer/songwriter Shoffy takes his single "Cool Again" back to basics with a chilled out, stripped-down rendition. To be fair, the original track is pretty chilled out too—Shoffy just kills it when it comes to mixing together hip-hop and indie vibes and it's displayed marvelously on last year's album Lenses. But this stripped-down "Cool Again" puts a microscope on his talent and there's no denying there's a ton of it.
Emarosa
"Cautious"
One listen to Emarosa's new material will tell you they are not the same band as they once were. Though heading into a more accessible pop sound for their upcoming album Peach Club, it doesn't appear as though it's going to be all unapologetic dance jams like lead single "Givin' Up" would lead you to believe. Instead, the newly-released "Cautious" is a lyrically vulnerable track with shimmering guitar riffs that pay homage to the 80's.
Ben Platt
"Bad Habit" / "Ease My Mind"
Ben Platt is taking his talents from the stage into the studio, and we couldn't be more grateful. The former Dear Evan Hansen star finally unveils his first batch of solo tracks in the form of singles "Bad Habit" and "Ease My Mind". It's a little tough to shake the Evan image out of your head but, after a couple of listens, the piano-driven ballads are a wonderful introduction to Platt's life off Broadway.
Cassadee Pope
Stages
Even though Cassadee Pope's new album, Stages, is her first full-length in over five years, the country-pop singer hasn't missed a beat. More notably, it's also her first release as an independent artist since leaving Republic Nashville in 2017. With label woes behind her, Pope lets her songwriting shine as production work from country juggernaut Corey Crowder rounds out the tunes to help cement Pope as a queen of the genre—major label support or not.
Galantis
"Bones" (feat. OneRepublic)
It's never a bad thing when Ryan Tedder's voice is in our ears. The crooner and his guys in OneRepublic get together with EDM stars Galantis for a best-of-both-worlds track that is dying for radio play. "Bones" manages to bring out something different from both parties here—the Mumford & Sons-esque/adult-contemporary vibe is not an avenue that either act is particularly familiar with, but the catchiness will be undeniable when festival season rolls around.
Lil Peep
"I've Been Waiting"
(feat. Fall Out Boy & ILoveMakonnen)
Lil Peep fans get a nice surprise this week with another song emerging from the late artist's vault. It's no secret that Peep and collaborator ILoveMakonnen have a slew of tracks from when they worked together in the studio a few years back, but throwing other acts into the mix make it all the more fun to hear. ILoveMakonnen tapped Fall Out Boy for a feature in "I've Been Waiting"—a group Peep was a huge fan of. The airy pop track is given a jolt of energy from FOB's Patrick Stump that has us anticipating what could be next from Peep & Co.'s seemingly endless supply
of bangers.
Busted
Half Way There
From front to back, Busted's Half Way There is a trip down memory lane—whether it's in the musicianship that harkens back to their early pop-punk days ("MIA") or lyrical content about their beginnings ("It Happens"). Hell, even the album title is a low-key reference to their mega-hit, "Year 3000". But underneath it all, it never once sounds like a trio of 30-something-year-olds trying to relive their glory days. Instead, Busted are not only reminiscing their past but creating glory days right here in the present, too.
Kayzo
"Alone" (feat. Our Last Night)
Electronic DJ Kayzo has already made his mark in the rock genre by linking up with Underoath in last year's ripper, "Wasted Space". Now, he's back for round two with another band—Our Last Night. Whether collaborating with Baha Men or a DJ, Our Last Night finds a way to make an impact every time they hit the studio. They haven't incorporated electronics in their music quite like this before, but they might want to start; vocalist Trevor Wentworth is a natural in the brooding EDM number and it all pays off with a satisfying drop.
Other new releases:
American Authors – Seasons
The Mowgli's – "Hard to Love"
AJR – "100 Bad Days"
Grandson – "Apologize"
Cage the Elephant – "Ready to Let Go"
Interpol – "Fine Mess"
Circa Waves – "Me, Myself & Hollywood"
Empire of the Sun – "Chrysalis"
Mallrat, Basenji – "Nobody's Home"
Billie Eilish – "Bury a Friend"
Sheppard – "On My Way"
Tyler Carter – Moonshine
Ariana Grande – "7 Rings" (feat. 2 Chainz)
Florida Georgia Line – "Woman" (feat. Jason Derulo)
Niall Horan – Flicker Featuring The RTE Concert Orchestra (Live)
Big Boi – "Doin' It (feat. Sleepy Brown)" / "Return of the Dope Boi (feat. Killer Mike & Backbone)"
Broods – Don't Feed the Pop Monster
Xuitcasecity – "Lead Me On"
Alma – "When I Die"
Snakehips – "Gucci Rock n Rolla" (feat. Rivers Cuomo & Kyle)
The Mountain Goats – "Younger"
Santana – In Search of Mona Lisa