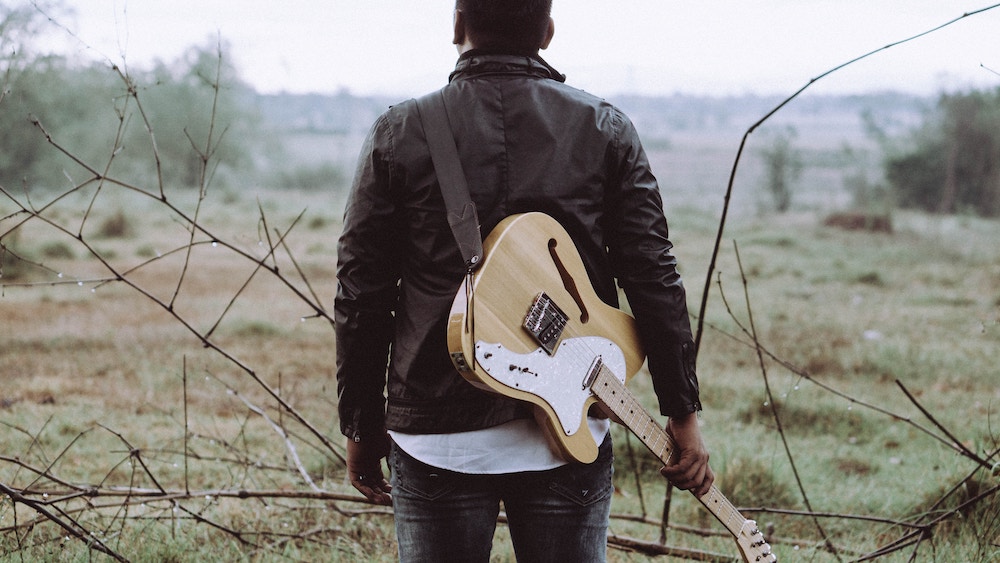 What better way to kick off a weekend than with new music? Fridays are always chock full of the latest songs and albums ready to be the soundtrack to everyone's antics, and here you'll find some of the week's standout releases. Whether you're ready to spin an anticipated song from a favorite artist or just taking a look at what's out there, there's a whole lot of tunes to dive right into. Who knows—maybe you'll find your next obsession.
Simple Creatures
"Drug"
There's no question Blink-182 was a major influence on All Time Low but it took the collaboration on ATL's "Tidal Waves" to prove that maybe this was a thing that should happen more often. Prayers answered. ATL's Alex Gaskarth and Blink's Mark Hoppus join together as Simple Creatures, unleashing their first song titled "Drug". With a pure rock flavor, the dual vocals mesh together perfectly. "Drug" ultimately doesn't sound like an All Time Low song featuring Hoppus or a Blink-182 song featuring Gaskarth—it's its own thing, and that's the most exciting part of it all.
Bring Me the Horizon
Amo
Bring Me the Horizon's Amo is polarizing, but it's what the band has been leading up to since their 2006 debut. With each release—now six in total—slowly stripping away their metalcore roots, Amo is the final piece to frontman Oli Sykes' vision as a radio-rock powerhouse. Dabbling between stadium rock on "Mantra" and borderline-Top 40 pop on "Mother Tongue", the songs on Amo are as good as the band is at changing tunes.
Weezer
Weezer (The Teal Album)
Nobody expected this. Nobody asked for this. It can be argued that nobody even wanted this. But The Teal Album—Weezer's surprise cover album—is here, and you probably won't be able to stop listening to it. Given that their cover of Toto's "Africa" is their biggest hit in years, it makes sense that they'd go all-in on other covers that, like "Africa", are karaoke go-to's. Featuring ten tracks in total, the sheer absurdity of their take on TLC's "No Scrubs" is worth the price of admission alone.
Backstreet Boys
DNA
When NBA players are too old to dunk on people anymore, they learn to remodel their game to fit their shoddy knees, so they can stick around in the league—shout out to Vince Carter! The same is true for music—just take a look at the Backstreet Boys. To be honest, these guys are way too old to be called Backstreet Boys but, name aside, they've been molding their sound to fit the current era for years. Their new album DNA should be commended for sounding darn-near indistinguishable from new kids on the block like Pretty Much and Why Don't We, but the country cut "No Place" reaches heights that the up and comers can't even touch.
Say Anything
Oliver Appropriate
Max Bemis set the expectation bar high when he introduced the newest—and potentially final—Say Anything album as a sequel to their breakout record …Is A Real Boy. Oliver Appropriate, a concept record about the character from the aforementioned record, showcases Bemis' knack for storytelling in song. It's impossible to replicate the impact …Is A Real Boy had on the music scene, but looking at the new record as an expansion on it rather than a sequel can help listeners appreciate what it is—a solid rock record and a more than adequate swan song.
Gerard Way
"Hazy Shade of Winter" (feat. Ray Toro)
Releasing his fourth song in as many months, the latest from Gerard Way has more to it than just a standard single release. First off, "Hazy Shade of Winter" is a cover of the 1966 hit from Simon & Garfunkel and adds some rock flare to an otherwise folky track. Secondly, it's another one of his solo tracks featuring former My Chemical Romance bandmate Ray Toro. And finally—most excitingly—the song is to hype the upcoming Netflix adaptation of Way's comic book series The Umbrella Academy.  You'll have to wait until February 15th to watch it but this song is good to jam to in the meantime.
Lil Aaron
Dark Matter
Continuing to build on each release he drops, Lil Aaron's first offering of 2019 is yet another collection of sad-fun-pop-rap-rock hybrids to get acquainted with. With a cover art featuring Aaron's iconic green hair seemingly shaved off into a sink—maybe a metaphor that we're seeing a different side of him—the hip-hop production of "Lurked" is one of his best to date while the vulnerable "Last Time I Checked" has a vibe made for nighttime drives.
American Football
"Uncomfortably Numb"
(feat. Hayley Williams)
Paramore's Hayley Williams is no stranger to guest vocal spots; but what's most impressive is the variety of genres she has featured in and subsequently blended into effortlessly. Whether pop, indie, or hardcore, Williams' vocals just fit literally every single time and the trend doesn't end on American Football's new song "Uncomfortably Numb". An unlikely pairing, sure, but the slow methodical stylings of American Football simply play into Williams' strengths and the result is downright beautiful.
Cassadee Pope
"If My Heart Had a Heart"
Despite being the most emo song title in recent memory, Cassadee Pope's new album cut "If My Heart Had a Heart" proves she is still a force in the country pop genre, even if she's just gearing up to release her second solo album. A strong chorus drives the lovelorn ballad while expert songwriting keeps it from sounding cheesy—instead making it a frontrunner for the next hit in country.
Other new releases:
Chase Atlantic – Don't Try This
X AMBASSADORS – "Boom"
Vampire Weekend – "Harmony Hall" / "2021"
Foals – "Exits"
Lauv – "I'm So Tired" (feat. Troye Sivan)
Call Me Karizma – "Monster (Under My Bed)"
Prettymuch – "Blind"
Florence + The Machine – Moderation
Dua Lipa – "Swan Song"
J. Cole – "Middle Child"
Julia Michaels – Inner Monologue Part 1
Hunter Hayes – "Heartbreak"
Ryan Adams – "F*** The Rain"
Dillon Francis – "Lost My Mind"
Dido – "Give You Up"
Diplo – "Boom Bye Bye" (feat. Niska)
Frank Turner – Don't Worry EP
Summer Walker  – CLEAR EP
Rudimental – Toast to Our Differences (Deluxe)
King Princess, Fiona Apple – "I Know"
Beck – "Tarantula"