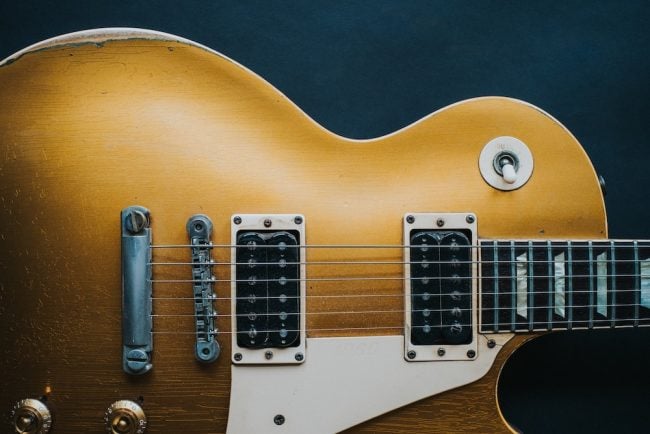 What better way to kick off a weekend than with new music? Fridays are always chock full of the latest songs and albums ready to be the soundtrack to everyone's antics, and here you'll find some of the week's standout releases. Whether you're ready to spin an anticipated song from a favorite artist or just taking a look at what's out there, there's a whole lot of tunes to dive right into. Who knows—maybe you'll find your next obsession.
Emarosa
"Don't Cry"
Emarosa's new era goes far deeper than your typical album cycle. The former post-hardcore act is ditching their past lives for something much more accessible as evident by the brand new single, "Don't Cry". Following up the upbeat "Givin' Up", "Don't Cry" continues down a pop path and shows off the softer side of new-look Emarosa. Vocalist Bradley Walden takes their songwriting to new heights with a soaring hook and memorable melody.
Busted
"Radio"
It's all about nostalgia for Busted, who is just weeks away from releasing their second album since reuniting in 2015. "Radio" is yet another tune about reminiscing over the olden days—this time it's being with a lost love—but what really makes the song shine is the triad of vocalists who help bring it all to life. Of course, vocals from the three members is what makes Busted, well, Busted, but the way they've been pulling it so far on Half Way There sounds as good as it did back in 2002.
August Burns Red
"The Legend of Zelda"
The Legend of Zelda is officially metal. August Burns Red took the most iconic part of the game—its music—and gave it a brutal spin in epic fashion. Mashing-up the theme as well as others parts of the game, the reimagining will be featured on the band's upcoming Phantom Sessions EP out in February. Also included on the EP is a MIDI rendition of "The Frost", turning the band into full-blown Nintendo-core.
Betty Who
"I Remember"
Betty Who is heading into uncharted territory with her aptly-titled forthcoming record Betty, but she's never sounded so comfortable. Out next month, Betty will be the Australian pop artist's first full-length without a major label after leaving RCA Records soon after the release of 2017's The Valley. If anything, the split has only made her music stronger. Her latest single, "I Remember", puts Who in the driver's seat of a dance-pop smash that's begging to keep a spot in your listening rotation all year long.
Future
"Jumpin on a Jet"
Future fires with a purpose on "Jumpin on a Jet"—his second single in as many weeks. This time, however, the single comes with a little more news: A new album and the rapper's first release of 2019. Out next week, The WIZRD runs 20 tracks deep and features the aforementioned single—a Southside-produced banger that falls in line with what you'd expect from Future (but more of the same isn't necessarily a bad thing).
Taking Back Sunday
Twenty
Few bands are lucky enough to survive twenty years—even fewer are lucky enough to sustain a level of quality that keeps them relevant through the two decades. For Taking Back Sunday, the influential rock band has accomplished both feats. To celebrate the milestone, the band's compilation record Twenty is not only a summary of what makes them so special but also a look into the future. Two new songs, "A Song for Dan" and "All Ready to Go", show that Taking Back Sunday aren't slowing down—but it's going to be a while until we get the compilation Forty.
Halsey
"Without Me" (feat. Juice WRLD)
It seems like Halsey finds new ways to outdo herself each year when it comes to her success. From her hit with The Chainsmokers to establishing herself as a household name, Halsey took her domination to the next level this past week with her first number one charting solo single in "Without Me". Now, to coincide with its accolade, a new version emerges featuring Juice WRLD that'll only help its case on the charts for next week. The Juice WRLD edition adds a solid verse from the rising rapper, who tends to work well with pretty much anyone you pair him with. Instead of diluting a good song with an unnecessary verse, Juice adds his emo-flair without taking anything away from what got the track to number one all on its own.
Imagine Dragons
"Believer" (feat. Lil Wayne)
Speaking of features, Imagine Dragons jumps on the remix-train, too, with a new version of their hit "Believer" featuring Lil Wayne. This studio version follows up the live rendition that the two performed this week during the College Football National Championship—but does it live up to the hype? Plain and simple: Wayne shows he's still got it on his lengthy verse, and that's all the track needs to help it rise up the charts as it did before.
American Authors
"Stay Around"
Evolving from a pop-rock band to a full-blown rock powerhouse, American Authors have proven again and again with new music that they could land another radio hit in a moment's notice. "Stay Around", the latest track taken off their upcoming album Seasons, states its case with explosive drums and an arena-ready chorus that'll sound perfect in amphitheaters all across the country this summer.
Other new releases:
The Ready Set – "In My Feelings"
Walk The Moon – "Timebomb"
COIN – "I Want It All"
Billie Eilish – "When I Was Older"
Radiohead – "Ill Wind"
Dan + Shay – Acoustic – EP
Sam Smith – "Dancing with a Stranger" (feat. Normani)
Fidlar – "By Myself"
White Lies – "Tokyo"
Kehlani – "Nights Like These" (feat. Ty Dolla $ign)
Calvin Harris – "Giant" (feat. Rag'N'Bone Man)
Lana Del Rey – "hope is a dangerous thing for a girl like me to have – but i have it"
Khalid – "Saturday Nights" (feat. Kane Brown)
BloodPop – "Newman"
Gesaffelstein – "Lost in the Fire" (feat. The Weeknd)
Lauren Jauregui – "More Than That"
Alec Benjamin – "Let Me Down Slowly" (feat. Alessia Cara)
Grey, LEON – "Want You Back"
Broods – "Hospitalized"
Rudimental – "Scared Of Love" (feat. Ray BLK & Stefflon Don)
Gary Clark Jr. – "This Land"