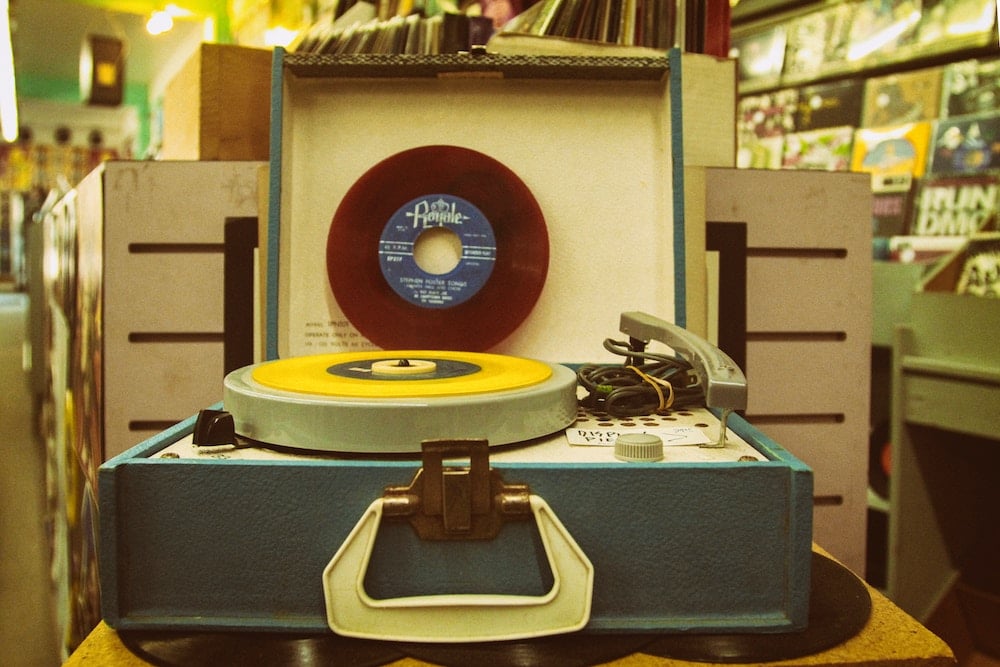 What better way to kick off a weekend than with new music? Fridays are always chock full of the latest songs and albums ready to be the soundtrack to everyone's antics, and here you'll find some of the week's standout releases. Whether you're ready to spin an anticipated song from a favorite artist or just taking a look at what's out there, there's a whole lot of tunes to dive right into. Who knows—maybe you'll find your next obsession.
Set It Off
"For You Forever" / "Dancing With the Devil"
Set It Off's flair for the dramatic hasn't slowed down during the promotional cycle for their upcoming album, Midnight, in which they've been busy teasing the release of two brand new songs out today. Like the album title implies, it's no surprise that both tracks are better suited to listening with lights down low rather than being windows-down rockers—"Dancing with the Devil" is the easy standout with its brooding vibe disguised by a singalong chorus.
Busted
"Reunion"
UK band Busted proved that their lengthy hiatus was worth the wait when they released their comeback album Night Driver two years ago. The synth-pop adult-contemporary hybrid was a far cry away from the tween tunes that had them selling out arenas way back when, but it showed this was not the band of old. With the second album of Busted 2.0 upcoming, they seem to be reverting back to the sound that started it all. Yet, in a way that's smart with loads of substance. "Reunion" is an even stronger outing than their first single "Nineties" with more nostalgic pop-punk riffs and a chorus that'll kill it live.
Various Artists
Spider-Man: Into the Spider-Verse
Not only is Spider-Man: Into the Spider-Verse getting great reviews—it's also delivering on the music front, too. The animated Spidey film comes equipped with a soundtrack packed with chart-topping superheroes, like Post Malone and his lead single "Sunflower". Also making appearances are the likes of Nicki Minaj and Lil Wayne, so it'll get you pumped up for sure—just don't try to climb on any walls.
Goldfinger
The Goldfinger Christmas EP
It's never cool to hope a band breaks up but what if it's because Goldfinger's John Feldmann wants to make only Christmas music 24/7…well, that's a different story. Feldmann brings out the best of the holiday season in his band's four song Christmas EP, taking on yuletide classics that are worth hearing for the millionth time. Between performing Christmas tunes for his daughter's classroom to putting a fresh spin on songs we all know and love, Feldmann's proven to be the gift that keeps on giving.
Zayn
Icarus Falls
The super long album is nothing new in 2018—Wiz Khalifa dropped his 25-track collection, Rolling Papers 2, back in July; rap-duo Rae Sremmurd released their triple-disc 27-song record SR3MM in May. No matter how big of a fan you are of an artist, twenty seven songs on a record is a metric crap-ton of music to sift through in the age of streaming. However, there's something to admire about the fact that an artist, Zayn, specifically, was so amped about everything they recorded that they refused to cut anything out. Zayn's sophomore record Icarus Falls is a pop behemoth surprisingly low on filler—even if some songs hit harder than others ("You Wish You Knew", "There You Are"). Case in point, never judge an album by its cover…erm, or rather, runtime.
Various Artists
The Prom (Original Broadway Cast Recording)
The Prom is probably the next Broadway hit that's going to take over the world. The cast soundtrack dropping today is going to help its cause big time. Opening last month, the comedy is based around a girl whose conservative high school won't let her take her girlfriend to the prom and its songs are loaded with dance numbers from front to back. Plus, actress Caitlin Kinnunen is basically a walking future Tony Award. The Prom is a can't-miss on Broadway but fortunately the soundtrack is a much cheaper option until you get around to seeing it.
Avril Lavigne
"Tell Me It's Over"
Avril Lavigne's break-up anthems are evolving from power ballads to something much more unique displayed on her latest track "Tell Me It's Over".  In a song about closing the door on a relationship that you know is wrong, Lavigne dishes out a strong vocal performance unlike anything we've heard from her with instrumentation taking an R&B influence—it shows that nothing is off-limits for her comeback, which culminates in a new album out on February 15th.
The Chainsmokers
Sick Boy
The Chainsmokers quietly complete their sophomore album Sick Boy with the release of their 10th song this year, "Hope". While never announcing that new singles were going to take this shape, the result is something impressive enough that the typical album cycle doesn't even seem matter in the first place. "Hope" is another duet featuring the duo's Drew Taggart with rising Swedish singer Winona Oak, who just recently inked a record deal with Atlantic. Overall, Sick Boy manages to find the perfect balance of familiar Chainsmokers pop and a sound for them that's new and inventive.
Katy Perry
"Immortal Flame"
"Yeah, Katy Perry's new song from that Final Fantasy game is pretty dope"…believe it or not, that's a statement that can truly be said in 2018. "Immortal Flame" coincides with Perry's partnership with mobile game Final Fantasy Brave Exvius, but that doesn't mean this is just a throwaway—the ballad is a definite bop and will probably make you lose all your mana.
—
Ariana Grande
"Imagine"
Plain and simple, it's impossible for Ariana Grande to follow-up a single like "thank u, next". The phenomenon was a perfect storm of timing, subject matter, and just the fact that the track was a complete banger—the number one Billboard spot speaks for itself. Still, the show can't stop there. Grande's next outing from her forthcoming record is "Imagine" and it's still special in its own right with its R&B stylings. If you want to read deep into the rumor mill, some believe the track is about Grande's late ex Mac Miller.
Gerard Way
"Dasher" (feat. Lydia Night)
Fans have been waiting a long time for this one. Videos of Gerard Way performing his new holiday song, "Dasher", date all the way back to 2014, when no proper release of the track was in sight. Fortunately, it was well worth the wait and holds up to its live version quite well. Additionally, Way adds a guest vocalist in The Regrettes' Lydia Night to the mix, resulting in a not-so-cheerful Christmas track to break up all that happiness in your holiday playlists.
Other new releases:
American Football – "Silhouettes"
Nothing,nowhere. – "Ornament"
Papa Roach – "Elevate"
Mokita – "London"
gnash – "T-Shirt"
Prettymuch – "Jello"
The Lumineers – "Pretty Paper"
The Band CAMINO – "Less Than I Do"
Switchfoot – "All I Need"
Miley Cyrus & Mark Ronson – "Happy Xmas (War is Over)"
Robin Thicke – "Testify"
Pitbull, Rhea – "Ocean to Ocean (Aquaman Soundtrack)"
Bad Bunny – "Solo di me"
Alicia Keys – Vault Playlist Vol 1
Allie X – "Last Xmas"