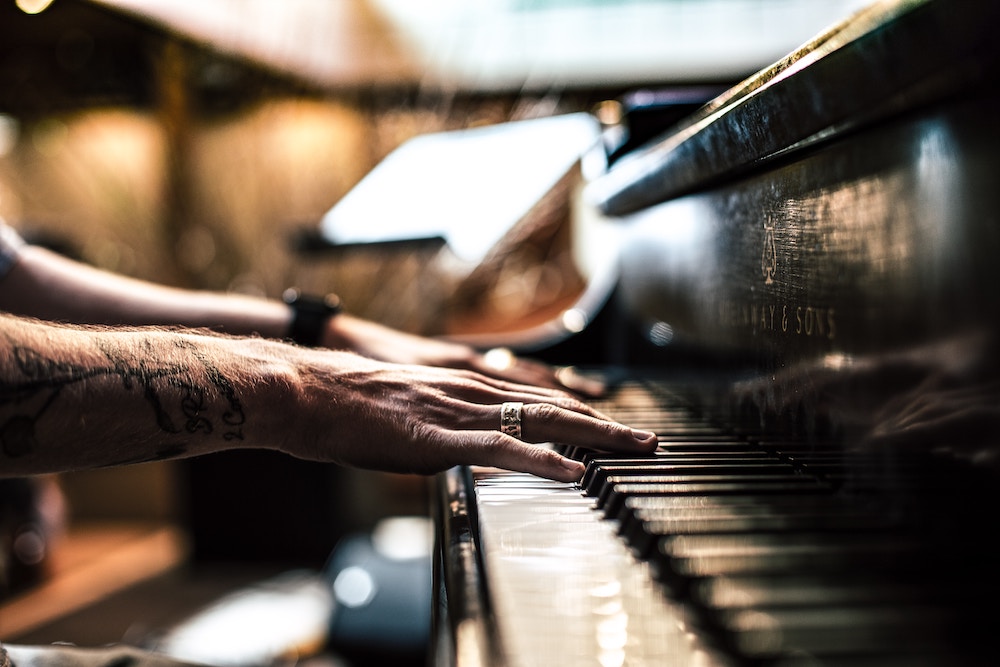 What better way to kick off a weekend than with new music? Fridays are always chock full of the latest songs and albums ready to be the soundtrack to everyone's antics, and here you'll find some of the week's standout releases. Whether you're ready to spin an anticipated song from a favorite artist or just taking a look at what's out there, there's a whole lot of tunes to dive right into. Who knows—maybe you'll find your next obsession.
Copeland
"Night Figures" / "On Your Worst Day"
Copeland (regularly proving that love isn't dead) is releasing a new album on Valentine's Day and holding everyone over with two brand new songs today. Both tracks show off the strengths of the band immensely—ethereal instrumentation topped by beautiful production. "Night Figures", with its closing orchestral segment, is a song that needs to be played over and over, not just because of its quality but because of all the elements present that need to be unraveled.
Tritonal
"When I'm With U"
EDM wizards Tritonal can pull a hit out of thin air and "When I'm With U" is yet another highlight on their impressive resume. What's most impressive, however, is their habit of featuring collaborators who aren't household names, but rising stars who are bound to be something special. This time around, the duo brings singer Maia Wright on board to grab the reins of the synth-heavy track like a well-seasoned veteran.
Benny Blanco
"Roses" (feat. Juice WRLD and Brendon Urie)
In Benny Blanco's solo efforts he's shown that he's using his namesake as a melting pot for putting together unconventional collaborations that would normally never exist outside of a Tumblr fanfic—like the recent "Better to Lie" featuring Swae Lee and The Neighbourhood frontman Jesse Rutherford. He's digging a bit deeper into emo hearts now with "Roses", a track featuring emo-pop-rap sensation Juice WRLD and the one and only Brendon Urie. A song mostly dominated  by Juice, Urie's vocals creep into the mix to put an exclamation point on another A+ outing from producer/songwriter Blanco. The song is featured on his debut album, also out today, which he says he'll continue to add songs to whenever he feels like it. This guy is basically pop's biggest science experiment and it's super awesome.
Kyle
"Hey Julie!" (feat. Lil Yachty)
No, unfortunately this is not a Fountains of Wayne cover, but the fun part is that rapper Kyle reconnects with his boy Lil Yachty to essentially make "iSpy" part 2—it doesn't exactly hit on all cylinders like their past collaboration did but "Hey Julie!" is bouncy enough to keep the vibe going all through the weekend.
American Authors
"Neighborhood" (feat. Bear Rhinehart)
Despite a huge hit under their belt you could still consider American Authors as massively underrated. With a new album on deck, the band continues to prove that they're inching their way back onto the airwaves near you with anthems like "Neighborhood". Reaching heights Imagine Dragons couldn't even touch, the song taps Needtobreathe's Bear Rinehart to what is already a fully-loaded rock marvel.
Smallpools
So Social
Smallpools is like a party that never ends—and you wouldn't want it to in the first place. The indie-pop trio strikes gold with their new EP So Social, headlined by the standout track "Stumblin' Home"—a euphoric electro jam primed for repeat listens. That's not to discredit the other four, though, as they all link together as a late contender for one of the best EPs of the year.
Zayn
"Good Years"
Yeah, Zayn's upcoming 27-track album may be more songs than you'd ever need from him in your lifetime but at least everything he's come out with has been a mega banger. With "Good Years" Zayn drops an uplifting ballad that makes it increasingly more and more convincing that Icarus Falls may be very light on the filler.
XXXTentacion
Skins
Even as a posthumous release, you get the sense that Skins is exactly the album that XXXTentacion would have released if he were still alive. A quasi-inspirational introduction? Check. The majority of songs clocking in at barely 2 minutes? Check. Misogynistic lyrics? Well, also check. Even with his camp approving the lyrics and content, there are still instances of his problematic past seeping through—most notably on the Kanye West-featured "One Minute" which references his highly-publicized sexually violent past; it just further darkens the cloud that the rapper brought upon himself from the very start.
AFI
The Missing Man
AFI's brand new EP accomplishes a lot in a short amount of time. Though five songs in length, The Missing Man shows off the many personalities of the band that they've displayed throughout their career—the fast punk stylings of "Get Dark" and "Trash Bat" harken back to their early days, while cuts like "Break Angels" and "Back into the Sun" show off a softer pop sound chock full of melody.
Lil Aaron
Worst Christmas Ever
For those who aren't totally amped over Christmas, Lil Aaron's WORST CHRISTMAS EVER EP might just speak to you. The eccentric pop-singer-rapper-genre blender extraordinaire brings an Auto-Tune'd, cynical outlook on the holiday season with songs you probably don't want playing around the tree this year—the lyrical content is not the kind that would impress grandma. Produced by Blink-182's Travis Barker, the five song collection is as catchy as holiday music should be, despite tracks like "Top Under the Mistletoe" being as unconventional as they come.
Other new releases:
Taking Back Sunday – "All Ready To Go"
Bastille feat. Kianja, S-X, Craig David, Seeb, Swarmz, Rationale, James Arthur, Lily Moore, Moss Kena, Jacob Banks – Other People's Heartache (Pt.4) – EP
Seeb, Bastille – "Grip"
Coldplay – Live in Buenos Aires
Marshmello – "Project Dreams" feat. Roddy Ricch
BAYNK, Glades – "Off Limits"
Brett Young – Ticket to L.A.
Gucci Mane – Evil Genius
Ice Cube – Everythangs Corrupt
Far East Movement – "Bad Habit (feat. Justine Skye and Air)"
R3HAB, Mokita – "All Into Nothing"
Rudimental – Walk Alone (feat. Tom Walker) [remixes]
Broken Bells – "Shelter"
Natalie Portman – "Wrapped Up/Alive (Vox Lux Original Motion Picture Soundtrack)"
ROMANS – "Animals"