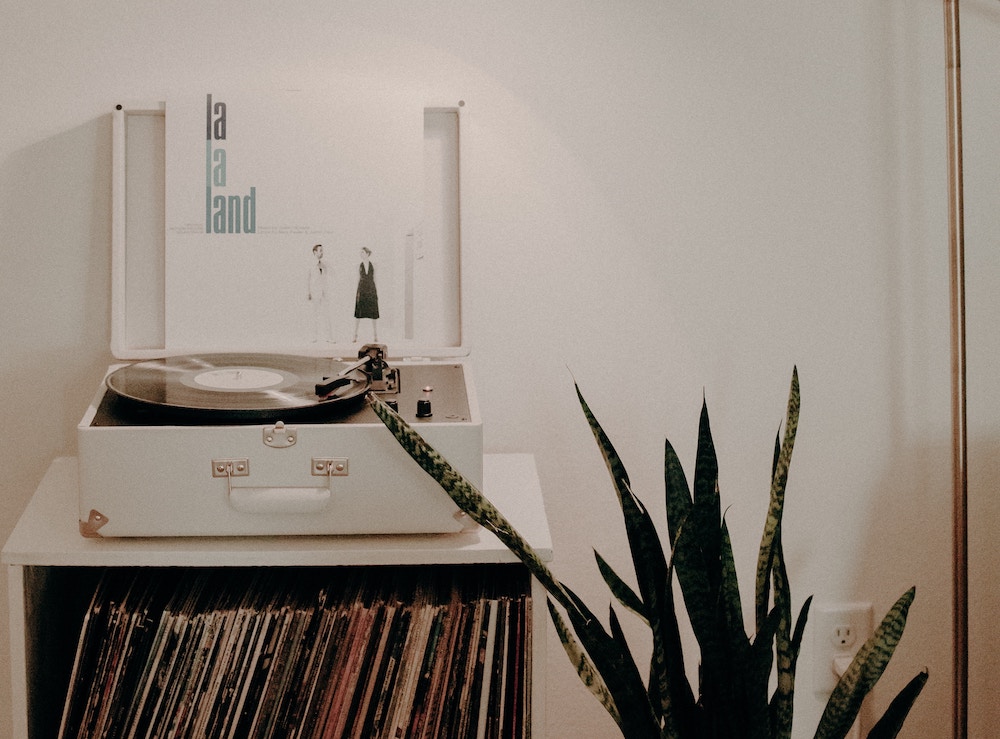 What better way to kick off a weekend than with new music? Fridays are always chock full of the latest songs and albums ready to be the soundtrack to everyone's antics, and here you'll find some of the week's standout releases. Whether you're ready to spin an anticipated song from a favorite artist or just taking a look at what's out there, there's a whole lot of tunes to dive right into. Who knows—maybe you'll find your next obsession.
Various Artists
Songs That Saved My Life
You can't be a musician and not have key songs, artists, or moments that made an impact on you. That's why some of your favs are getting together to celebrate those tunes on a new cover compilation. You won't find covers like Neck Deep taking on Blink-182—a band that obviously plays a big role in their influences—on Hopeless Records' Songs That Saved My Life but rather more unconventional choices like Natalie Imbruglia's "Torn". The fun doesn't stop there. Dance Gavin Dance brings a ferocious quality to Third Eye Blind's "Semi-Charmed Life", while As It Is implements their brand of pop-punk to The Postal Service's "Such Great Heights".
I Don't Know How But They Found Me
1981 Extended Play
Six songs—one being an intro—is hardly enough to warrant satisfaction from I Don't Know How But They Found Me but their new EP is undeniably one of the strongest debuts in the genre this year. Fronted by ex-Panic! At the Disco member Dallon Weekes, the Passion Pit/Smallpools-esque pop weaved into tracks like "Absinthe" and "Choke" will skyrocket the group to the top of "bands to watch" lists for next year.
Lil Peep
Come Over When You're Sober Pt. 2
Lil Peep's first posthumous release, the sequel to last year's Come Over When You're Sober, is naturally going to invoke a lot of feelings out of fans and listeners alike, but what stands out the most is how close he was to becoming a superstar. This collection makes that abundantly clear. Continuing to blend the lines between emo, pop, and hip-hop, it's impressive how cohesive the record is—as producer Smokeasac ingeniously pieced together Peep's vocals on tracks with little guidance. Though we'll never be able to witness just how far Peep could have gone, albums like this help paint a bittersweet picture of what could have been.
Backstreet Boys
"Chances"
In case you were wondering, Backstreet Boys have still totally got it. Going on 25+ years strong, their latest single "Chances" shows how the group can still stay in the game without having to settle for a run-of-the-mill contemporary sound that compromises their integrity. Co-written by OneRepublic's Ryan Tedder, the uplifting pop track holds a familiar yet natural sound that tells you Backstreet is most certainly back.
Andrew McMahon in the Wilderness
"Paper Rain"
Life, death, and Andrew McMahon making incredible music—the only real guarantees in this world. The fourth song released off the new Upside Down Flowers album, "Paper Rain" is proving to be one of his strongest outings in years. The mid-tempo, piano-driven number sports a strong chorus but an even stronger level of musicianship as the keys help make the drums pop nicely.
Bohnes
"Don't Sing the Blues"
As fast as singer/songwriter Bohnes can deliver a song that pulls on your heartstrings, he can just as quickly unleash one that punches you straight in the face—that's exactly what "Don't Sing the Blues" does here. Off his upcoming record out later this month, this groovy rock cut will be a force to be reckoned with during live shows to breakup the moments when everyone is misty-eyed from the ballads.
Steve Aoki
Neon Future III
First and foremost, respect to Steve Aoki for putting the super-old Louis Tomlinson-track "Just Hold On" on his new album. 'Cause the song rips. Also, it's Aoki's album and he can do what he wants. That 'IDGAF' attitude speaks volumes on the latest installment of his Neon Future saga, where this third iteration is easily the strongest. The EDM-pop defies genres on multiple tracks on the record but the headliners are undoubtedly the collaborations with Blink-182 and Jimmy Eat World's Jim Adkins. On the surface, they may appear like they're thrown in for the sake of variety but they're actually incredibly well done and absolutely addictive.
Imagine Dragons
Origins
Imagine Dragons have helped redefine radio rock ever since their explosive 2012 single "It's Time". So while the high quality of their fourth full-length, Origins, isn't a surprise it's always a treat to see what tricks they have up their sleeves to help push the genre even further. While "Zero" is a surefire pop smash, cuts like "Only" have a major Chainsmokers vibe, and "Stuck" has to be the best song Maroon 5 never recorded.
Ariana Grande
"thank u, next"
An end of the week surprise last Sunday resulted in one of the most wholesome breakup songs around—plus the biggest streaming song debut for a female artist. Ariana Grande's "thank u, next" comes after the recent breakup with ex-fiancé Pete Davidson but there isn't any vitriol here. Grande actually namedrops a number of her exes (including Mac Miller) not to berate them but to thank them for the experiences in their respective relationships that led her to who she is today. When it ends up turning into a song like this maybe we should thank them too.
Jon Bellion
Glory Sound Prep
Glory Sound Prep is not the kind of follow-up you'd expect from Jon Bellion, a guy who is coming off a successful album that netted him a huge double-platinum single. Then again, part of Bellion's personality is how unpredictable he is with his songwriting, so perhaps Glory Sound Prep is exactly the record that he was aiming for. In general, the 10 song LP is far more hip-hop oriented with two rap-centric tracks barely featuring Bellion at all, but a gem like "The Internet" shows his A+ hooks are still a big part of his work.
Other new releases:
Muse – Simulation Theory
Fickle Friends – "San Francisco"
Raleigh Ritchie – "Me Myself and I"
MAX, Leslie Grace, Joey Bada$$ – "Still New York"
Foster the People – "Worst Nites"
OneRepublic – "White Christmas"
August Burns Red – Winter Wilderness EP
All That Remains – Victim of the New Disease
Architects – Holy Hell
Crystal Fighters – Hypnotic Sun EP
Monsta X – "Shoot Out"
The Smashing Pumpkins – "Knights of Malta"
New Years Day – "Skeletons"
Rooney – "Maneater"
Kane Brown – Experiment
Little Mix – "Told You So"
Jeff Goldblum & The Mildred Snitzer Orchestra – The Capitol Studios Sessions
They. – Fireside EP
Sabrina Carpenter – Singular Act I
Kelly Clarkson – "Never Enough"
Little Dragon – Lover Chanting EP
Ari Lennox – "Shades of Choke"
The Smashing Pumpkins – Knights of Malta EP
Ashley Tisdale – "Voices in My Head"
Palmyra Delran & Debbie Harry – "Happy Birthday Middle Child"
Hanson – String Theory
Jonas Blue – Blue