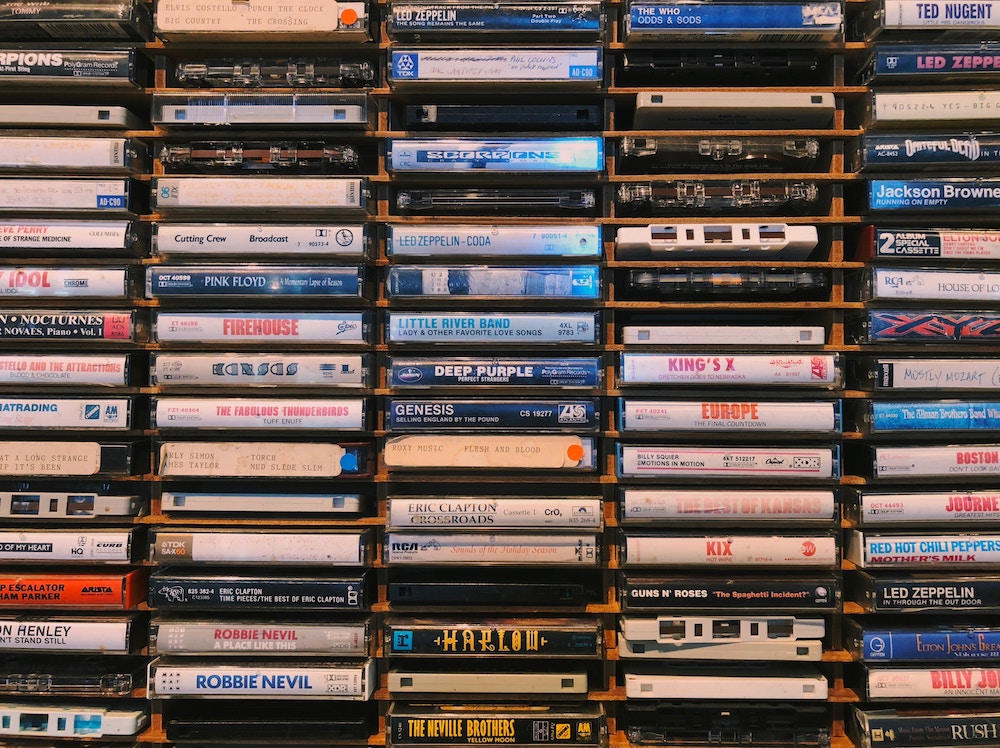 What better way to kick off a weekend than with new music? Fridays are always chock full of the latest songs and albums ready to be the soundtrack to everyone's antics, and here you'll find some of the week's standout releases. Whether you're ready to spin an anticipated song from a favorite artist or just taking a look at what's out there, there's a whole lot of tunes to dive right into. Who knows—maybe you'll find your next obsession.
The Story So Far – Proper Dose
The Story So Far's growth with Proper Dose isn't just impressive for a pop-punk band—it's impressive for a band in general. The group takes risks on their fourth full-length but they don't sound like risks, they just sound like a natural progression ("Take Me As You Please", "Upside Down"). Still, their patented pop-punk aggression comes fast and hard on tracks like "Out of It" and for those who want something a little different they deliver it here marvelously.
The Chainsmokers – "This Feeling"
After a break from the guest-fueled EDM that propelled them into superstardom—and a venture into self-made pop headlined by member Drew Taggart on vocals—The Chainsmokers seem to have shifted back to the days that helped start it all. On "This Feeling" the duo enlists Kelsea Ballerini to take most of the vocal responsibilities while Taggart has a lesser role but the two combine beautifully for what could very well be their next "Closer"—it's definitely what they were aiming for.
Our Last Night – "Who Let the Dogs Out"
(feat. Baha Men)
Welp, that's it. There's no reason for any band to do another cover song of anything ever again. Our Last Night worked some kind of strange voodoo magic to whip out a cover of the iconic jam "Who Let the Dogs Out"—but also had the Baha Men themselves get in on the action, too. It's about as strange as you'd expect, with the Bahamian group's gang vocals clashing with Our Last Night's rock riffs and breakdowns. It's best not to question how this happened and instead just bask in the weirdness.
Avril Lavigne – "Head Above Water"
Five years since her last album and nearly two years since first teasing new music, Avril Lavigne finally makes her return to the game with the driving power ballad "Head Above Water". The uplifting track, a little in the vein of Kesha's "Woman", has Lavigne full on belting for the three minute duration. The good news is that it sounds like something right out of an older record of hers—the bad is that we'll have to wait a little longer for a potential bratty pop single.
Imagine Dragons – "Zero"
In an amazing twist of events, Jack Antonoff somehow had no role in Imagine Dragons' new song, "Zero". The band's new track was written for the new Disney film Ralph Breaks the Internet and it's definitely a Disney-esque song with a major Bleachers vibe to it. Of course, these kinds of breezy pop tunes are nothing new from Imagine Dragons—think "On Top of the World" or "Thunder"—but "Zero" surpasses them all with ease.
Lil Peep & XXXTentacion – "Falling Down"
"Falling Down" is a posthumous release featuring Lil Peep and XXXTentacion and a bittersweet one at that. Two talented artists gone far too soon mesh well on a song pieced together by rapper iLoveMakonnen, but according to some of Peep's collaborators the song never would have happened had Peep still been alive. Drama aside, the track is solid and it's only a matter of time before more music surfaces from their respective vaults.
nothing,nowhere. – "Dread"
Singer/songwriter nothing,nowhere. has been quiet since canceling his last tour a few months back in order to focus on his mental health and now he's putting his struggles into song on the new track "Dread". Released alongside a string of new tour dates, "Dread" details what's been going on in his head with lyrics like "I had to cancel the tour, I couldn't take anymore", shining a light on issues that anyone can go through.
Justin Courtney Pierre
– "Shoulder the Weight"
There's a hole in our hearts that Motion City Soundtrack used to fill but we find solace in the fact that former frontman Justin Pierre is still making music—and great music at that. Using his full-name (middle and all) as his stage name, Pierre drops his latest solo offering in "Shoulder the Weight". Motion City fans will have a lot to like about his music—the vocals are there, the songwriting is there, and you can tell the passion hasn't left Pierre a bit.
Say Anything – "Pink Snot"
The latest track from Say Anything's swan song, "Pink Snot" brings the act back to square one. The acoustic number highlights frontman Max Bemis' gravelly voice with an A+ vocal spot from Eisley musician and wife Sherri DuPree. Now 2 for 2 with new songs, the upcoming record is shaping into the 'proper' sequel to …Is a Real Boy like Bemis said it was.
Thomas Rhett – Life Changes
(Deluxe Edition)
Superstar country croonster Thomas Rhett released one of the best country-pop albums in recent memory with last year's Life Changes. For those who missed out or just need a refresher, the record is now re-released with a bunch of new stuff. It'll be hard to keep "Unforgettable" off repeat, but the deluxe version here sports three bonus tracks and additional edits of his latest single "Leave Right Now". Not a bad deal.
Other new releases:
The Neighbourhood – Ever Changing
Prince – Piano and a Microphone 1983
Chris Cornell – "When Bad Does Good"
Weezer – "California Snow"
Peter Bjorn and John – "Gut Feeling" / "One For The Team" / "Every Other Night"
Metric – Art of Doubt
Avenged Sevenfold – "Mad Hatter"
AJR – "Role Models"
Disturbed – "A Reason to Fight"
Hands Like Houses – "Tilt"
Joyce Manor – Million Dollars to Kill Me
Mumford & Sons – "Guiding Light"
Young the Giant – "Heat of the Summer"
Black Honey – Black Honey
Crystal Fighters – "Another Level"
MØ – "Imaginary Friend"
MILKK – "Thinkin Bout You"
Bülow – "Two Punks in Love"
Lana Del Rey – "Venice Bitch"
Kesha – "Here Comes the Change"
Tyler the Creator – "Peach Fuzz"
Allie X – "Little Things"
Nao – "Drive and Disconnect"
Josh Groban – Bridges
Machine Gun Kelly – Binge EP
Rita Ora – "Let You Love Me"
Brockhampton – Iridescence
Noah Cyrus – Good Cry
Cher – "One of Us"
Chris Ayer – "Stranger"
French Montana – "No Stylist" feat. Drake
Gallant – "TOOGOODTOBETRUE" feat. Sufjan Stevens & Rebecca Sugar
Whethan – "Radar" feat. Honne
Lil Uzi Vert – "New Patek"
Elle King – "Naturally Pretty Girls"
Slash – "The Call of the Wild" feat. Myles Kennedy & The Conspirators
Macy Gray – "Over You"
Greta Van Fleet – "Lover, Leaver"
Jessie Reyez – "Dear Yessie"