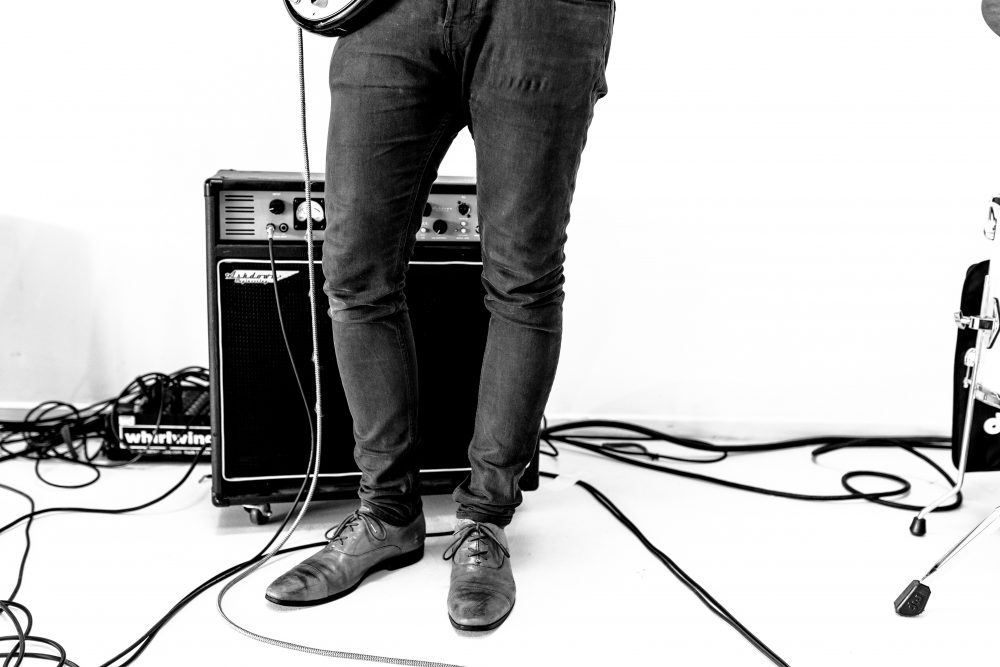 What better way to kick off a weekend than with new music? Fridays are always chock full of the latest songs and albums ready to be the soundtrack to everyone's antics, and here you'll find some of the week's standout releases. Whether you're ready to spin an anticipated song from a favorite artist or just taking a look at what's out there, there's a whole lot of tunes to dive right into. Who knows—maybe you'll find your next obsession.
The Night Game – The Night Game
Despite how drastically different The Night Game is from frontman Martin Johnson's former act Boys Like Girls, the classic-pop-rock tunes on his solo debut aren't all that surprising. The Night Game has all of Johnson's strong suits—excellent vocals, addictive pop melodies, and soaring hooks—but the songwriting here has improved to a level that makes it feel like this project is simply the next step in his career, not necessarily a new venture entirely.
Clinton Sparks – "Think About You"
His motto is "GET FAMILIAR!!!!" but chances are you're probably very familiar already. Producer/DJ Clinton Sparks is best known in the pop-punk/rock realm as the host of Fall Out Boy's storied mixtape Welcome to the New Administration, that dropped before their 2008 album Folie à Deux. Featuring an original demo of the newly released FOB track "Lake Effect Kid", Sparks became a legend in scene-lore with the tape—but now it's time for Sparks to break out on his own. "Think About You", his newest solo cut, features guest vocalist Marc E. Bassy and disguises itself as a smooth pop tune til the EDM drop takes it up a notch.
Machine Gun Kelly – "Rap Devil"
It didn't take long for one of Eminem's Kamikaze victims to fire back with a diss track of their own, and Machine Gun Kelly is the brave soul. On "Rap Devil" MGK responds to his mention in Eminem's "Not Alike" with a scathing rapid-fire attack on Em's age, drop in quality over the years, and…his beard. If (or rather when) Eminem responds with a counter-diss, it'll probably send MGK to an early grave…but, in the meantime, he gets credit for a swift and clever clapback.
—
Prince – "17 Days
(Piano & a Microphone 1983 Version)"
Prince may be gone but his songs will live forever—especially because the guy probably has enough material locked away in the vault to last multiple lifetimes. In just a few weeks, a posthumous Prince record titled Piano & A Microphone will release—a nine track collection of Prince belting away in early versions of songs that would later be part of some of his most iconic releases. The latest taste, "17 Days" gives a listen into the beginning stages of funky-disco track stripped to its bones.
Boston Manor
– Welcome to the Neighbourhood
If you're in the mood for a friggin' rock record look no further than Boston Manor's latest LP: Welcome to the Neighbourhood. The British quintet's new album is basically a lovechild of You Me at Six and Bring Me the Horizon but the vocals from frontman Henry Cox put the group in an entirely new category. While they fit well in pop-punk/alternative scene, a lot of these songs could make a killing on U.S. rock radio charts—most notably the hook-driven, arena-ready tune, "Funeral Party".
See our review of Welcome to the Neighbourhood
Childish Gambino
– "All Night" / "Algorhythm"
Childish Gambino in his post "This Is America" stage is unpredictable. With such a polarizing and monumental song, it's hard to pinpoint where he's going to go next. We've heard two summertime pop jams in the form of "Summertime Magic" and "Feels Like Summer" since, but his latest drop may give us a little more insight on what's been going on in his head creatively. Released to fans who bought tickets to his tour, "All Night" and "Algorhythm" are said to be tracks that aren't 100% complete but the electronic elements and mellowed-out vibe is complement enough to keep everyone more than satisfied.
—
Atreyu – "The Time is Now"
Atreyu's seventh album, In Our Wake, is shaping up to be the band's strongest yet. After being a band for more than two decades, it's impressive to see such an influential act still rock out in ways we haven't seen before. This is displayed perfectly on their new song "The Time is Now". With soft verses exploding into a huge chorus, the chant-like vocals almost sound like something you'd hear from Fall Out Boy. Still, there's no question that this is Atreyu through and through—the riffs are intense and the drums are ear-shattering.
Logic – "Everybody Dies"
A new Logic album is on deck for later this month and the newest track, "Everybody Dies", is going to raise the hype significantly. Clocking in at four minutes, the song goes non-stop without a real hook in sight as Logic raps about living life to the fullest. It's definitely solid and, coupled with previously-released songs like "The Return" and the Ryan Tedder-assisted "One Day", it seems like Young Sinatra 4 is going to cater to every type of Logic fan there is.
Basement – "Stigmata"
There's no question that Basement is Fueled by Ramen's best kept secret—it's just a matter of when the secret gets spilled to everyone. The rock band's latest song off their upcoming album is titled "Stigmata" and follows up last month's "Disconnect" nicely. While not as heavy musically, the melodic chorus carries the song from start to finish as Basement goes 2-for-2 on tracks from their upcoming album Beside Myself.
Other new releases:
DREAMERS – FLY – EP
The Faim – Summer Is Curse
Hozier – Nina Cried Power – EP
Metric – "Now or Never Now"
Dua Lipa – "Want To"
Gengahr – "Atlas Please"
Lenny Kravitz – Raise Vibration
Steve Aoki, Nicky Romero – "Be Somebody (feat. Kiiara)"
MØ – "Way Down"
Sylvan Esso – "Funeral Singers (with Collections of Colonies of Bees)"
MKTO – "How Can I Forget"
Kane Brown – "Homesick"
Paul McCartney – Egypt Station
Magic – Expectations
In Real Life – "Got Me Good"
Silk City – "Electricity (with Dua Lipa)"
Kanye West – "I Love It (& Lil Pump)"
T.I. – "Jefe (feat. Meek Mill)"
Carrie Underwood – "End Up With You"
Noah Cyrus – "Mad At You (with Gallant)"
Jessie Reyes – "F*** Being Friends"
Elle King – "Good Thing Gone"
Lukas Graham – "Love Someone"
Say Lou Lou – "Golden Child"
Estelle – Lovers Rock