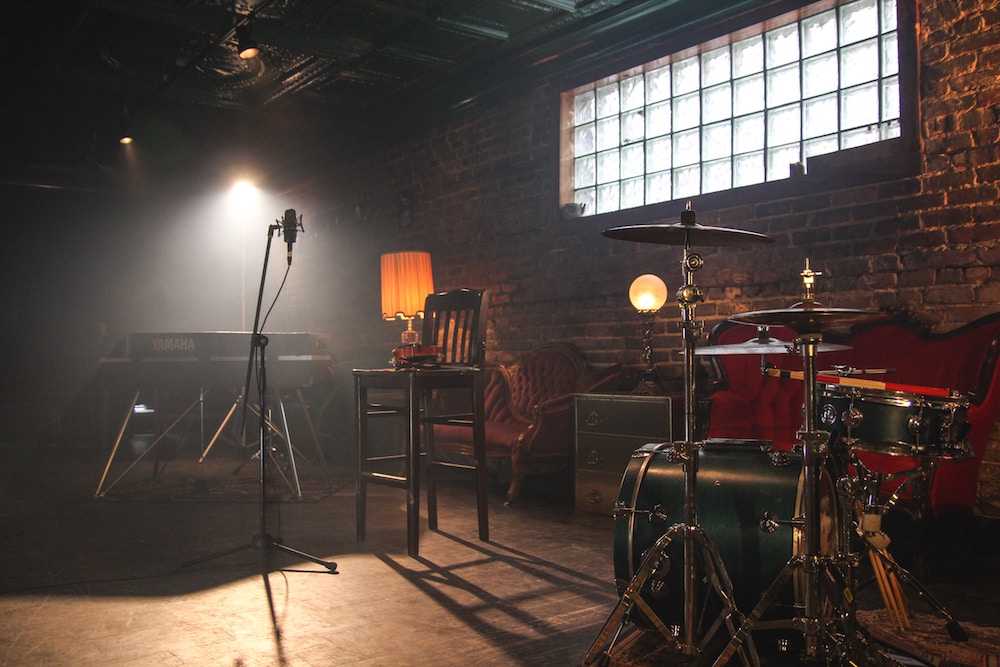 What better way to kick off a weekend than with new music? Fridays are always chock full of the latest songs and albums ready to be the soundtrack to everyone's antics, and here you'll find some of the week's standout releases. Whether you're ready to spin an anticipated song from a favorite artist or just taking a look at what's out there, there's a whole lot of tunes to dive right into. Who knows—maybe you'll find your next obsession.
Eminem – Kamikaze
The 'Rap God' is now the 'Surprise Release God' too. Once the clock struck midnight, everyone kind of did a double take when an entirely new Eminem album popped up out of seemingly nowhere. Titled Kamikaze, the record's purpose is loud and clear throughout the tracks: It's a direct response to the public and the media who weren't so crazy about his 2017 comeback record Revival. Fortunately, Eminem keeps this whole situation from being super awkward by making sure this record completely kills it. Rap beats, rap guest spots, and virtually nothing to do with anything pop—Eminem's message is heard loud and clear.
(We have so many thoughts on Kamikaze. Here's what Gunz had to say.)
WSTR – Identity Crisis
Identity Crisis is anything but for WSTR. The UK powerhouses made waves with last year's Red, Green, and Inbetween but what they've accomplished on their latest full-length is something pretty darn remarkable, especially with such a short turnaround between records. The new LP still keeps WSTR's underlying pop-punk DNA—they haven't done a complete 180 or anything—but they've implemented arena-style guitar riffs where everything is just bigger and louder.
Alkaline Trio – Is This Thing Cursed?
One listen to Is This Thing Cursed? and you wouldn't guess that Alkaline Trio's new album comes after the longest break in their career. The band's ninth full-length record is essentially a greatest hits collection as it sports elements from every past Trio era from glimmering pop hooks to hard-nosed punk—it's done so in a way that sounds as genuine and natural as possible. While every song is undoubtedly a highlight, a standout is the infectiously catchy "Sweet Vampires".
Twenty One Pilots – "My Blood"
Trench is still over a month away but, luckily, the Twenty One Pilots dudes are doing the best they can to ease the pain from anticipation. "My Blood" marks the fourth Trench track to hit streaming outlets, and it also marks the fourth vastly different song from the record, too. Shying away from rock, rap—and whatever other styles have been on Trench thus far—"My Blood" is pretty much dance-pop with a strange dark edge.
The Bottom Line – "Reasons"
One of the UK's best kept secrets is finally being unveiled with The Bottom Line's explosive new single "Reasons". With a music video shot at Download Festival, featuring the likes of Neck Deep and Simple Plan singing along, you already know the unsigned pop-punk quartet is in pretty good company. Where The Bottom Line goes from here remains to be seen but "Reasons" is enough of a reason to keep a very close ear on them.
—
Why Don't We – 8 Letters
Boy bands like Prettymuch and BTS have redefined what 'boyband' means but, the far less flashy, Why Don't We have lurked in the shadows long enough—they're ready to make a big impact with their first album, 8 Letters. Proving that their hit single "Trust Fund Baby" wasn't a fluke, the record is packed with surefire smashes like the hip-hop tinged "Choose" and the club-staple "Friends."
The Night Game- "It's the End of the
World As We Know It (And I Feel Fine)"
As a warm-up to The Night Game's debut full-length next month (which is shaping up to be kind of incredible), the act drops a cover of R.E.M.'s "It's the End of the World As We Know It (And I Feel Fine)". Featuring production from Cobra Starship alum Ryland Blackinton, the track reshapes the 1987 rock classic by slowing down the tempo and keeping it more in line with what The Night Game usually delivers in a new wave fashion. Though it's not included on the album, it's a fun b-side to jam to as a bonus.
Good Charlotte – "Prayers"
When it comes to their songs, Good Charlotte are no strangers to the slower side of things, and since their upcoming record Generation Rx is only nine tracks in length, they've got to make every number count. For "Prayers", the latest and so far slowest song we've heard from the album, acts as a driving rock anthem—in the vein of The Young and the Hopeless' "Hold On"—with its themes of love, violence, and loss.
Vinyl Theatre – Starcruiser
Leaving a big time record label and thriving on your own isn't the easiest of tasks but Vinyl Theatre has taken it in stride with the release of the best record in their career thus far. Starcruiser is the group's first record since leaving Fueled By Ramen but what they've managed to craft in these 11 songs sound straight out of a major label debut. Doubling down on electronic elements and synths, Starcruiser is a beautifully digestible pop record for a veteran band who are still only getting started.
Other new releases:
Muse – "The Dark Side"
Nothing But Thieves – "Forever & Ever More"
Troye Sivan – Bloom
The Faim – "A Million Stars"
Lauv – "Superhero"
Wayfarers – "Heart of Mine"
No Rome – "Narcissist (feat. The 1975)"
Betty Who – "The Other Side"
The Struts – "Body Talks (feat. Kesha)"
Blood Orange – "Chewing Gum (feat. A$AP Rocky & Project Pat) – Edit"
Fatherson – "Reflection"
Passenger – Runaway
Carrie Underwood – "Love Wins'
Michael Jackson x Mark Ronson – "Diamonds are Invincible"
Iron & Wine – Weed Garden
The Kooks – Let's Go Sunshine
Kanye West – "XTCY"
Doja Cat – "MOOO!"
Gallant – Haha No One Can Hear You! EP
Nao – "Make It Out Alive (feat. SiR)"
Cody Simpson – Don't Let Me Go EP