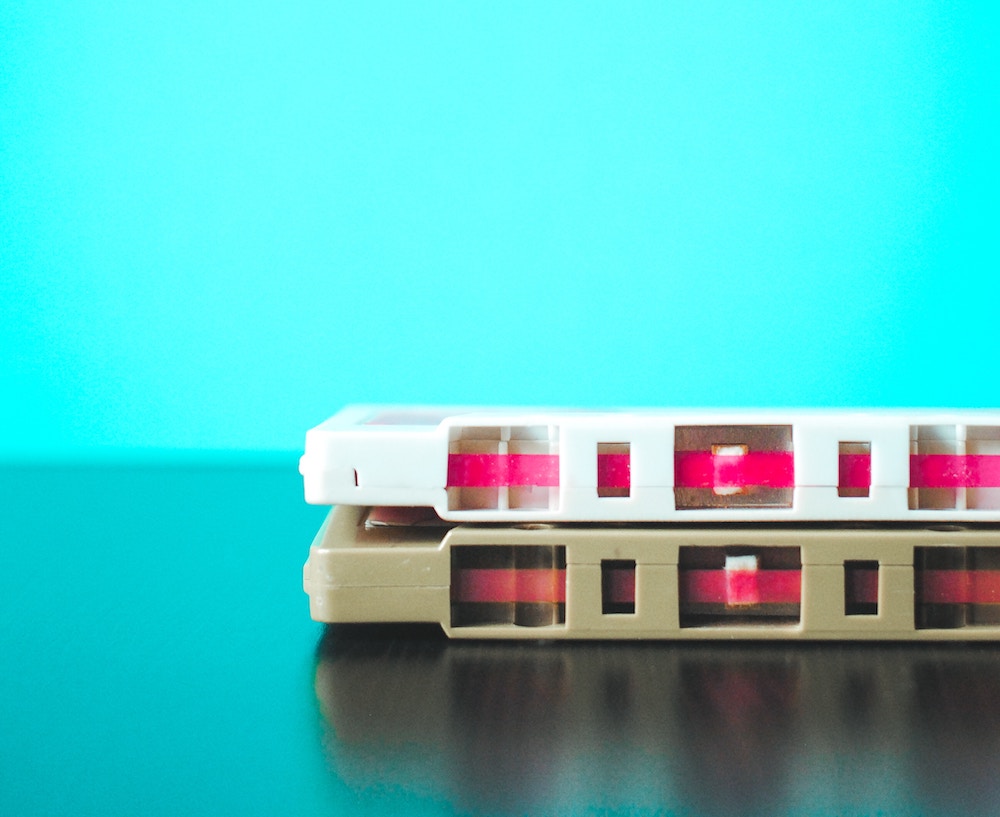 What better way to kick off a weekend than with new music? Fridays are always chock full of the latest songs and albums ready to be the soundtrack to everyone's antics, and here you'll find some of the week's standout releases. Whether you're ready to spin an anticipated song from a favorite artist or just taking a look at what's out there, there's a whole lot of tunes to dive right into. Who knows—maybe you'll find your next obsession.
Fall Out Boy – Lake Effect Kid EP
Ah, there's that song. It took about ten years but Fall Out Boy finally gives their long lost demo, "Lake Effect Kid", a proper home with a new three-song EP. Even though all the attention is going to go to the band's old relic, the EP's other tracks deserve love, too. "City in a Garden" is a love letter to their hometown, while "Super Fade" could have easily snuck onto Mania with its frantic instrumentation. All in all, Lake Effect Kid EP is a nice surprise to kick off a weekend, and we're left hoping someone could love us half as much as Fall Out Boy loves Chicago.
The Story So Far
– "Upside Down" / "Take Me As You Please"
The story so far on Proper Dose is it's easily going to be The Story So Far's most adventurous record to date. Dropping two new songs "Upside Down" and "Take Me As You Please", both present elements that are far from what we're used to hearing from the band. The former takes a cue from Turnover with its acoustic stylings and immensely hook-laden verses, while the latter offers a similar style but builds into something bigger and louder—as if this is the stripped down version of a song originally written to be full-blown pop-punk.
Bring Me the Horizon – "Mantra"
It doesn't matter how long Bring Me the Horizon took to release new music, you knew that when they returned it'd be with a vengeance. The UK act follow through on that with "Mantra", the first song we're getting off their upcoming album Amo, which won't release until next year. The song never misses a step with the band's patented metal feel but the hook is good enough to have it blare across rock radio for the foreseeable future.
BTS – Love Yourself: Answer
BTS closes out their monumental era with a fitting finale. Love Yourself: Answer is part new album, part compilation—as the collection features some new jams as well as tracks featured on the previously released records Love Yourself: Her and Tear. The K-pop behemoths get bigger every time they sign onto the Internet and rightfully so; they're selling out shows everywhere they go and making a big impact on U.S. charts. It's hard to believe but 2018 is only the beginning for them.
Hellogoodbye
– "You've Got An Expensive Heart"
By the time Hellogoodbye's new album comes out you'll already go through a decent amount of dancing shoes. Releasing a song a week until the record's October release date, "You've Got An Expensive Heart" is yet another new Hellogoodbye song heavy on funky-disco-feel-good-vibes. Whether slower or upbeat, Forrest Kline's pipes just seem to work with it all.
Plain White T's – Parallel Universe
Parallel Universe, the new album from Plain White T's, has all the makings of an LP meant for ten years ago while still wrapped in a very 2018 package. For instance, this record marks a return to Fearless Records, which they haven't been on in over a decade. It was also produced by guru Matt Squire—best known for crafting tunes for the likes of Panic! At the Disco and All Time Low. That said, the result is a Plain White T's record that's immensely real, honest, and packed with rockstar anthems that make you realize the band is better off without Delilah anyway.
Liam Payne – First Time EP
Liam Payne's first proper release, the First Time EP confirms what we pretty much already knew: Payne is far and away creating the best solo music out of any of the former One Direction members. Is it so good that we'll stop mentioning his One Direction heyday, yah? Probably not. But First Time combines Payne's strong suits—ones he's displayed from the start—into a neat four-song package that acts as a perfect prelude to an inevitable full-length. The title track shows off his hip-hop influences with a guest spot from French Montana, while "Depend on It" proves he can make a ballad that ranks up there with some of pop's best.
The Chainsmokers – "Save Yourself"
The Chainsmokers' latest track, "Save Yourself," is a gritty collaboration with L.A. DJ/producer Nghtmre that brings the duo back to their EDM roots with style. Featuring minimal vocals from member Drew Taggart, the track breathes on a ferocious drop that ripples through the speakers with piercing synths alongside a head bopping melody. As the sixth track released in the new era of The Chainsmokers, the guys show they're ready to pull any style out of their back pocket and own it.
Atreyu – "In Our Wake" / "Anger Left Behind"
Metalcore heavyweights Atreyu return for album number seven and they're building the hype with the release of two singles: "In Our Wake" and "Anger Left Behind." Both tracks pack a serious punch as the two provide soaring choruses coupled with ear shattering riffs and screams. Out on October 12th, In Our Wake is set to deliver a healthy twelve song track listing, and with the quality of these singles, it'll be something worth anticipating once fall rolls around.
Other new releases:
Andy Black – "My Way"
You Me At Six – "Back Again"
Young the Giant – "Superposition"
LANY – "I Don't Wanna Love You Anymore"
Third Eye Blind – Thanks for Everything
The Amity Affliction – Misery
Blackbear – "The 1"
Interpol – Marauder
Kodaline – "Head Held High"
Seinabo Sey – "Good In You"
The Lumineers – Live Tracks EP
Alice in Chains – Rainier Fog
Logic – "The Return"
Jason Derulo – "Goodbye"
Kyle – "Moment"
Nick Jonas – "Right Now"
Disclosure – "Where Angels Fear to Tread"
Blood Orange – Negro Swan / "Chewing Gum (feat A$AP Rocky)"
Jessie Reyez – "Body Count (feat. Normani & Kehlani) [Remix]"
Kiiara – "Gloe" / "Messy"
HONNE – Love Me / Love Me Not
Black Coffee, David Guetta – "Drive (feat. Delilah Montagu)"
R3HAB – The Wave
Hunter Hayes – One Shot
Kyson – "Every High" / "Clear Air"
The Knocks – Goodbyes (feat Method Man)
Clutch – "In Walks Barbarella"
Rooney – "Do You Believe"
Cher – "SOS"
Justice – Woman Worldwide
White Denim – Performance