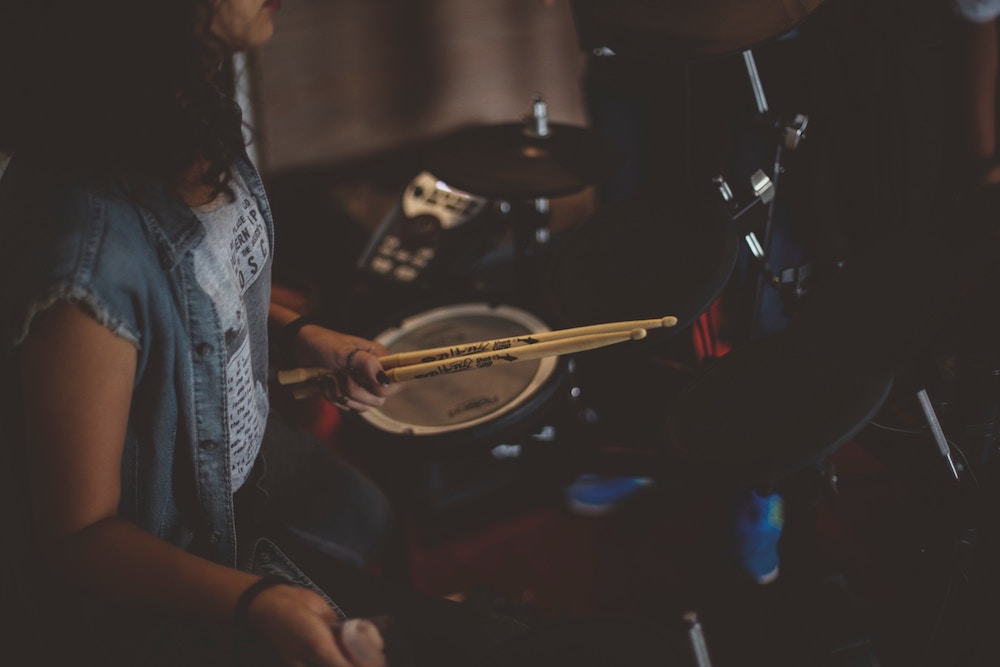 What better way to kick off a weekend than with new music? Fridays are always chock full of the latest songs and albums ready to be the soundtrack to everyone's antics, and here you'll find some of the week's standout releases. Whether you're ready to spin an anticipated song from a favorite artist or just taking a look at what's out there, there's a whole lot of tunes to dive right into. Who knows—maybe you'll find your next obsession.
The 1975 – "TOOTIMETOOTIMETOOTIME"
Bop
/bäp/
informal
noun
1. This song.
Plain and simple, The 1975 craft a damn-near perfect pop song with the latest release off their upcoming album. With vocals drenched in Auto-Tune and lyrics about a troubled relationship made worse by the digital age, the band naming their LP A Brief Inquiry Into Online Relationships starts to make a little more sense now. "TOOTIMETOOTIMETOOTIME" switches up the pace from the previously-released singles and—even though those songs were great in their own right—this new jam proves The 1975 has some incredible upbeat tracks up their sleeve.
Say Anything – "Daze"
The good news: Say Anything has a new album coming out. The bad news: Our own Mike Gunz reports it may be the last Say Anything album ever. Long story short, frontman Max Bemis just needs a freakin' break and, hell, he deserves one—he goes into way more detail in a nine-page PDF letter. Really. But a ton of that letter goes into what the new album Oliver Appropriate is all about. Like the fact it's the first time Bemis created a record as a 'character' since the band's breakout LP …Is A Real Boy, with lyrical content going into themes like sexuality and spirituality. "Daze", the record's lead single, kicks off the latest (and final?) era of Say Anything with a bang; a beautiful melody coincides with Bemis' urgent vocals to make for a plain ole' fun SA song.
Saves the Day – "Rendezvous"
New Saves the Day and Say Anything music in the same week? Is this real life? The pop-punk pioneers are back with a new single off their upcoming album—their first in five years. And "Rendezvous" completely rips. Hard-hitting guitars take precedence here and frontman Chris Conley says the track is all about the illustrious journey he's been on over the past two decades. "Rendezvous" is a battle cry from Conley and the crew telling us that the best of Saves the Day may still be yet to come.
Hellogoodbye – "Let It Burn"
Hellogoodbye might not be making the same kind of music now that they were in 2005 but don't think they've forgotten how to craft a song that'll make you want to dance. On the third consecutive week of new tunes, Hellogoodbye drops the funky "Let It Burn"—arguably the strongest of the batch thus far. With instrumentation from the 70's but melodies from 2018, the song is a perfect concoction celebrating old and new.
Against the Current – "Personal"
With a sophomore album on deck, Against the Current are quickly showing a side of them that we've never heard before. On "Personal", vocalist Chrissy Costanza sings about the loss of a close friend as emotion bleeds through the track. Coupled with the previously-released "Strangers Again" and "Almost Forgot", Past Lives is looking like a real winner.
Belmont – Belmont
Chicago's Belmont sounds like the lovechild of Set Your Goals and Four Year Strong and—even though we're in an amazing place as far as pop-punk goes—this sort of sound is sorely needed. Belmont's debut full-length barely clocks in at a half an hour with no time for any ballads or slow jams on this ten track collection. While it may be a little early to put them at the ranks of Neck Deep or The Story So Far, tracks like "Hollowed Out" are enough proof that Belmont will have no problem getting there.
Young Thug – Slime Language
Happy birthday, Young Thug! To celebrate he's given us a present by dropping a new record. What a guy. Slime Language isn't technically an album-album—or even a mixtape for that matter—it's more of a compilation showcasing the best of his label Young Stoner Life but, hey, we'll take any Thugger any way we get it. 15 tracks long, bangers like "Gain Clout" and "STS" are stark reminders that Young Thug is still one of the best in the game.
Thrice – "Only Us"
The world would be a sad dark place if Thrice's Dustin Kensrue's voice didn't exist. "Only Us", the new song taken from Thrice's upcoming album, builds as Kensrue's vocals evolve into borderline screams as the instrumentation ramps up with it. It's a track that you find something interesting about with every listen—whether it's the expert lyrics or the theatrical nature of the tune in the first minute and a half.
Death Cab for Cutie – Thank You for Today
Death Cab for Cutie's Ben Gibbard wears his heart on his sleeve and displays it in excess on his band's ninth album Thank You for Today. With the themes of relationships and getting old, the band hasn't lost its youth, even if they're without longtime member Chris Walla for the first time in decades. Luckily, the album doesn't suffer without Walla's creative input—"Gold Rush" is one of Death Cab's best singles in a while and guest vocals from Chvrches' Lauren Mayberry on "Northern Lights" is the icing on the cake.
Ariana Grande – Sweetener
Sweetener, the new album from Ariana Grande, is filled from front to back with surprises—all of which are very good ones. Grande goes against the grain heavily with this record, as some of these songs are just straight up weird. Credit to Pharrell for the weirdness of course, considering he produced a large part of this album and his tracks are more or less the best that Sweetener has to offer. The song Pharrell guest features on, "Blazed", is a highlight, but "Everytime" will make you feel like you're back in the late 90's listening to the latest hit on the radio.
Other new releases:
Calvin Harris – "Promises"
Cole Swindell – All of It
Janet Jackson – "Made for Now"
Marshmello – "Happier"
Paul McCartney – "Fuh You"
Prince – Anthology: 1995-2010
Disturbed – "Are You Ready"
SWMRS – "Berkeley's on Fire"
Animal Collective – Tangerine Reef
Coheed and Cambria – "The Gutter"
Boston Manor – "Bad Machine"
Sammy Adams – "Action"
Allie X – "Science"
Blue October – I Hope You're Happy
mewithoutyou – (Untitled) E.P.