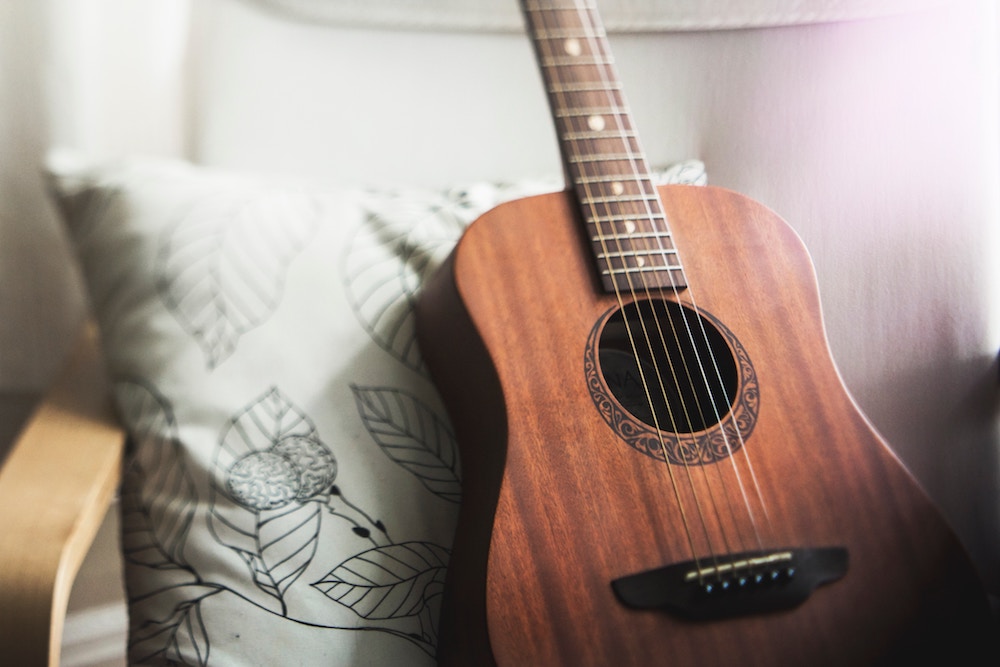 What better way to kick off a weekend than with new music? Fridays are always chock full of the latest songs and albums ready to be the soundtrack to everyone's antics, and here you'll find some of the week's standout releases. Whether you're ready to spin an anticipated song from a favorite artist or just taking a look at what's out there, there's a whole lot of tunes to dive right into. Who knows—maybe you'll find your next obsession.
Alkaline Trio – "Is This Thing Cursed?"
When Alkaline Trio's new album, Is This Thing Cursed?, drops, it'll be the longest time the band's ever had in between albums—probably something to do with their singer joining Blink-182. Point is, though, the songs we've heard thus far from the record has the band sounding fresher than ever. The latest offering, its title track, is heavy on vocals from guitarist Dan Adriano rather than lead Matt Skiba. Even though the trio claims this new LP is influenced by their older albums, this track proves they've got something new up their sleeves entirely.
WSTR – "Crisis"
After hearing WSTR's new song, "Crisis," the only crisis is that their upcoming album isn't already here. The band is in the process of avoiding a sophomore slump with ease as the UK-based group is now 2 for 2 with new material, and "Crisis" should put to bed any criticisms that they sound too much like other bands in the genre. Naturally, the track is powered by a ridiculously catchy chorus and charismatic vocals—something WSTR is embedding into their DNA with each new release.
As It Is – The Great Depression
A concept record is a risky task, but As It Is takes the challenge in stride and delivers an immensely solid follow-up to 2017's Okay. Granted, "follow-up" is being used rather loosely here as the band opts for a sonic shift away from straight-up pop-punk and replaces it with songs that are harder and faster than they've ever created before. Overall, The Great Depression goes into some heavy lyrical territory consisting of mental health issues, but it's done with the utmost sincerity that makes the record well worth the risk for the band.
Twenty One Pilots – "Levitate"
New Twenty One Pilots is beginning to sound like a mixed bag, but that's just the way we like them. With "Levitate", the third song released off the duo's new album, Trench, you barely get a second to breathe as the track fills your ears with pounding drums and rapid fire rapping. It's dark and atmospheric—similar to the two other songs they released—but this has a certain tenacity to it that overflows the hype level for the upcoming record, and it'll definitely make for a great live track, too.
Why Don't We – "8 Letters"
The Why Don't We dudes are getting down to business. In the short time that they've been together, they've put together a couple EPs and found a lot of success with their hit track, "Trust Fund Baby"—and that success is about to get even bigger. A full-length album from the boyband is finally on deck, and the fact that "Trust Fund Baby" isn't even on it shows the confidence they have in the eight tracks it has. A song it does have, however, is the lead single "8 Letters," an electro-pop hybrid with a drop that would even make The Chainsmokers jealous.
Quavo – "Bubblegum" / "Lamb Talk" / "Workin Me"
As hard as it is to believe, your speakers won't actually burst into flames from listening to Quavo's new solo tracks. The Migos member and hook aficionado dropped a trifecta of songs onto streaming services, but does it measure up to the quality he's delivered on guest features over the past few years? If you didn't know better, you might just figure these songs were throwaway Migos cut—they're standard trap beats with Quavo's Auto-Tune'd vocals, so it's nothing really groundbreaking. That said, fans will find enjoyment—critics just aren't going to care.
Fall Out Boy – "The Last of the Real Ones" (Milk N Cooks Remix feat. Princess Nokia)
Fall Out Boy and remixes are like leftover pizza and a microwave—some things just go together beautifully. The band never seems to take the foot off the pedal when it comes to remixes either, always dishing out something with actual substance rather than something thrown together just to pad stream numbers. The latest track of theirs to get a remix treatment is "The Last of the Real Ones", which gets some help from artist Princess Nokia to send the track's attitude sky high.
With Confidence – Love and Loathing
Seems like every time you blink, Hopeless Records is releasing yet another kickass album to prolong the summer months as much as humanly possible. The label releases Love and Loathing, the newest LP from Australian band With Confidence, and it's here to give your season one final chokehold without letting go. Though the band's always had a pop-punk edge to them, it dwindles a little bit to make room for a heavier pure-pop persona that ultimately fits the band better than ever imaginable.
You Me at Six – "IOU"
"IOU" is a new song from You Me at Six that's a little out of left field, but hey, let's play ball. The latest track taken from their upcoming album, VI, sports a funky rhythm that acts as a change of pace for the UK quintet hellbent on bringing the best rock arenas have to offer. Still, it's something that doesn't take long to enjoy—the light R&B sound almost takes after Maroon 5's Songs About Jane, and that's probably one of the best albums to draw a similar sound from.
Other new releases:
Jason Mraz – Know.
Foxing – Nearer My God
LSD – "Thunderclouds"
Kane Brown – "Weekend"
FRND – "Before U I Didn't Exist"
Hoodie Allen – "Wasting All My Time"
Third Eye Blind – "10"
Gnash – "Dear Insecurity"