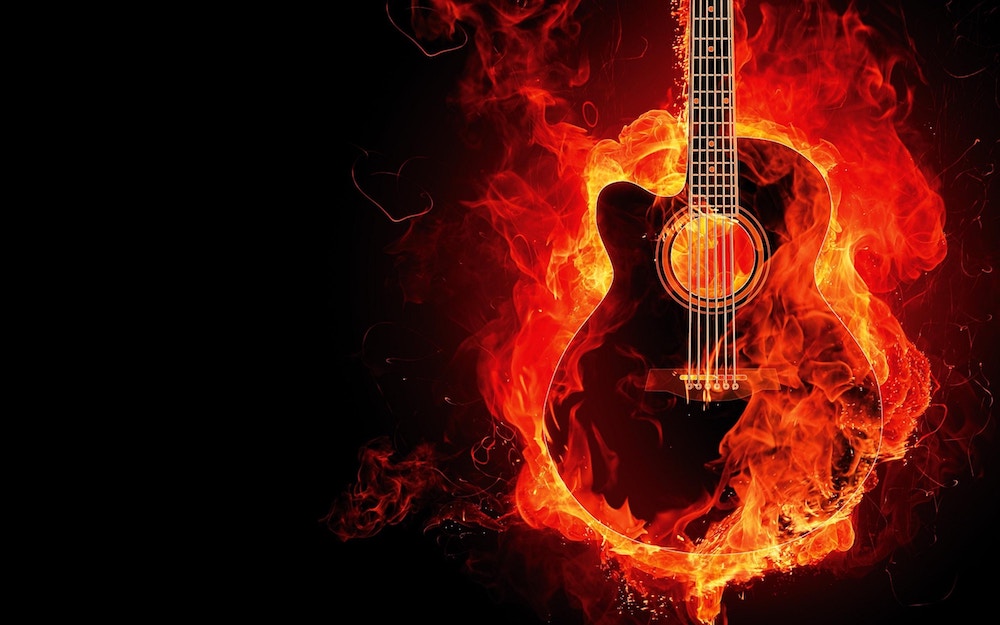 What better way to kick off a weekend than with new music? Fridays are always chock full of the latest songs and albums ready to be the soundtrack to everyone's antics, and here you'll find some of the week's standout releases. Whether you're ready to spin an anticipated song from a favorite artist or just taking a look at what's out there, there's a whole lot of tunes to dive right into. Who knows—maybe you'll find your next obsession.
All Time Low – "Birthday"
Let's be real: Birthdays are just an awful reminder that we're all getting old but luckily All Time Low is helping us find some reason to celebrate. Some lucky fans were in for a treat (literally) when a birthday cake dropped on their doorstep—equipped with a brand new ATL song. "Birthday" has a pop-punk edge with frontman Alex Gaskarth sounding better than ever, and the song being free was just the icing on the cake. Maybe next time they can write a song called "Money" and mail us all checks?
Drake – Scorpion
Drake is a force that can't be stopped—you can only hope to contain him. That's what rapper Pusha T did on his recent Drake diss that called him out on being a deadbeat dad—something that would basically be a nail in the coffin for any rapper. But Drake's response is just to keep it quiet and drop an entire double album instead. Split into two parts, Scorpion sports the best of both worlds as the first half is rap-focused while the other is geared toward R&B. It's a mix that caters to every fan, and it's the perfect recipe to solidify his spot at the top of the throne.
Coheed & Cambria – "Unheavenly Creatures"
You knew Coheed & Cambria couldn't stray away from the path for too long. After seven albums and a decade of making concept LPs under "The Armory Wars" series, the band turned their craziness down a notch for 2015's The Color Before The Sun—their first album with no relation to its predecessors. Whether they weren't happy with the mixed reviews or inspiration simply struck again, Coheed's back with another "Army Wars" collection with Vaxis — Act I: The Unheavenly Creatures. It's a mouthful, but also an earful. The title track is the third and latest drop, offering a synth-y upbeat tune that shows this record will definitely dabble in plenty of different styles.
Manchester Orchestra
– The Black Mile Demos
No matter which way Manchester Orchestra sounds, it'll always sound good to us. From regular ole albums to acoustic records to live recordings, they can't go wrong. Turns out the barebone-versions of their songs are pretty dang good too and that's what you get with The Black Mile Demos. Featuring songs from their last album, A Black Mile to the Surface, and a b-side, the raw versions of these tracks give listeners an insight into the early days before being spruced up in the studio. Naturally, the album sounds great but you can appreciate it much more when you have both the demo and album version to compare.
OneRepublic – "Connection"
With some artists, we have to accept we're living in their world of singles. It's a scary moment not knowing whether a band's dope songs are ever going to be on an album 'cause, well, they only keep coming out with songs. For OneRepublic, they arguably dropped their weakest effort to date in 2016's Oh My My but since then we've gotten a steady stream of one-off singles. The latest comes in the form of "Connection", a catchy melody-driven track that strays far away from Ryan Tedder's pop-rock songwriting as he opts for something far poppier. Whether this will be featured on an album remains to be seen, but the group is certainly on the right track.
Handguns – "Death Cheater"
One of the best pop-punk bands who are a little more under the radar, Handguns continue to deliver—this time with their new single "Death Cheater". While nothing too different from what you'd hear on 2015's record Disenchanted, Handguns follow the "if it ain't broke, don't fix it" mantra as the song sounds like they haven't had any time away whatsoever.
MAX & Joey Bada$$ – "Still New York"
Singer/songwriter MAX is slowly but surely becoming the superstar that Pete Wentz probably always knew he could be. Since signing with Wentz's label DCD2, MAX has been straight up dealing with his music and his latest drop may be one of his highlights already. "Still New York" featuring Joey Bada$$ encapsulates the personality of the big city in song form as MAX's raspy vocals bring the song to life. It's another highlight for his discography and another highlight for a weekend playlist.
We the Kings – "Even If It Kills Me"
No, it's not a Motion City Soundtrack cover but it is another fantastic song off We the Kings' upcoming album, Six. "Even If It Kills Me" is disguised as something of a pop-punk song, if you simply listen to the instrumentals, but the arena-style vocals from frontman Travis Clark reveal its true self as a bonafide radio-pop anthem.
Fall Out Boy – "The Last of the Real Ones"
(Remix feat. MadeinTYO and Bülow)
Who doesn't love a good Fall Out Boy remix?! Although, there's a bit of a difference between your standard remix and what the band just released—their new version of "The Last of the Real Ones" is really just featuring two artists with no real alteration to the actual music itself. Still, the features are unique; enlisting hip-hop artist MadeinTYO and female pop singer Bülow, there's a beautiful dynamic here that you normally won't find on a usual Fall Out Boy track.
MxPx – "Let's Ride"
Over 25 years in the making and MxPx still has it. The legendary pop-punk trio is gearing up for their 12th album set for release next month, and one listen to the new single "Let's Ride" is all it takes to get you excited for what comes next. Grabbing the listener with slick riffs and breakneck drumming is par for the course with these guys, and while other bands try desperately to change their sound and try something new, MxPx remain the masters of the same music they started strumming back in 1992.
Other new releases:
Gorillaz – The Now Now
Bullet for My Valentine – Gravity
Rise Against – "Megaphone"
Breathe Carolina, Sunstars – "Feel It"
Passenger – "Runaway"
Pale Waves – Noises
Years & Years – "All for You"
Alice in Chains – "So Far Under"
Guns N Roses – Appetite for Destruction (Super Deluxe Edition)
The Knocks – Shades EP / "Shades" (feat. Foster the People)
Eden – "About Time" / "Stutter"
Let's Eat Grandma – I'm All Ears
Florence + the Machine – High as Hope
Wiz Khalifa – "Gin & Drugs"
Charli XCX – "Focus" / "No Angel"
Teyana Taylor – K.T.S.E
Labrinth, Stefflon Don – "Same Team"
Sheryl Crow – "Wouldn't Want To Be Like You" (feat. Annie Clark)
Mansionair – "Technicolour"
Kenny Chesney – "Pirate Song"
Michi – "Tell Her"
XYLO – "Don't Panic"
Dean Lewis – "Be Alright"
Mike Perry, Willemijn May – "Don't Hide"
Sean Paul – Mad Love The Prequel / "Bad Love" (feat. Ellie Goulding)
HONNE – "I Got You" / "Forget Me Not"
Bad Bunny – "Estamos Bien"