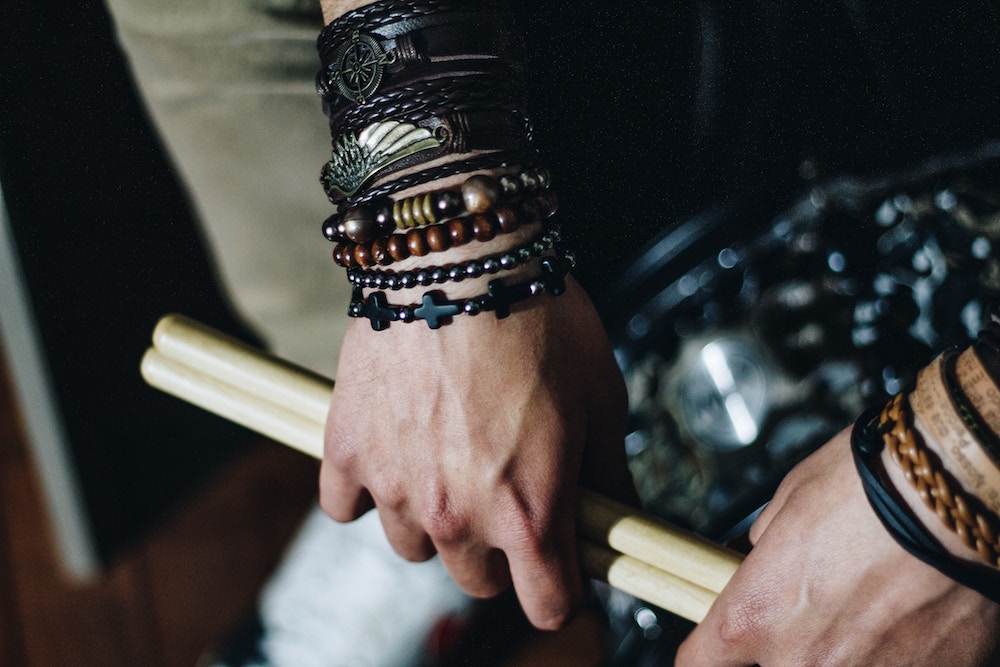 What better way to kick off a weekend than with new music? Fridays are always chock full of the latest songs and albums ready to be the soundtrack to everyone's antics, and here you'll find some of the week's standout releases. Whether you're ready to spin an anticipated song from a favorite artist or just taking a look at what's out there, there's a whole lot of tunes to dive right into. Who knows—maybe you'll find your next obsession.
State Champs – Living Proof
State Champs didn't just write the soundtrack of the summer—they wrote the soundtrack to living without a care in the world. The band's new album, Living Proof, is the poster child for all things pop-punk: John Feldmann production? Check. Co-writing by Mark Hoppus and Alex Gaskarth? Check. It's all here and it's wrapped in an immensely addictive package that deserves a spot in anyone's rotation.
All Time Low – "Everything Is Fine"
Everything is fine, and it's all because of new All Time Low music. The guys just unveiled a brand new song despite releasing an album only a year ago, but the complaints are non-existent here. "Everything Is Fine" captures the maturity of Last Young Renegade while combining it with the tenacity of older material from records like Dirty Work (sorry, Dirty Work is considered old and so are you) and the result is something that'll appease fans regardless of when they became listeners. It may just be a one-off single to promote their new tour. But any new ATL is good ATL.
With Confidence – "That Something"
Somebody arrest Hopeless Records 'cause they're killing the game. Having just signed UK group WSTR, Hopeless' roster is basically the Golden State Warriors of music. With Confidence isn't the flashiest band around, so they get straight to the point with their new single "That Something." Off their upcoming album Love and Loathing, the trio hone their pop-punk prowess in this irresistible tune.
Mayday Parade – Sunnyland
Like leftover McDonald's french fries, Mayday Parade just gets better with age. There's no doubt that their debut full-length, A Lesson In Romantics, is a certified genre classic but what they've managed to accomplish since then is really something impressive. They continue to up the ante on Sunnyland, an incredibly personal record and one that doesn't sound disjointed despite the fact they worked with multiple producers for the first time in their careers. Nothing is an obstacle for Mayday Parade—and they've been proving it for the last decade.
The Gaslight Anthem
– The '59 Sound Sessions
Three years have passed since The Gaslight Anthem decided they were going to take a break but that all changes now with their reunion and upcoming tour to celebrate the classic The '59 Sound. To honor such a great record it's only right that they do it in style: The '59 Sound Sessions features nine tracks of previously unreleased material. You'll find some demos, covers, and even some b-sides. The bad part? You'll still have to wait for them to put out a brand new record someday.
5 Seconds of Summer – Youngblood
It's funny to think about how not too long ago 5 Seconds of Summer were on tour with One Direction. But similarly to their boy band pals 5SOS have evolved, too. They're no longer "1D with guitars," they're their own stars with guitars—and their re-invention on the new LP Youngblood tells the tale. Featuring dance floor anthem "Talk Fast" and the emphatic closer "Ghost of You", 5SOS has created their magnum opus…but the best is still yet to come.
Mike Shinoda – Post Traumatic
Everybody grieves in different ways—the way Mike Shinoda dealt with losing his band mate and one of his closest friends was by laying it all out on the line in an album. The Linkin Park member opted to forgo his Fort Minor moniker and go with his regular name for this record and it's obvious why: These tracks bleed honesty and emotion as Shinoda tries to convey his feelings after losing Linkin Park bandmate Chester Bennington last year. Stacked with guest features, hip-hop and electronic elements, Post Traumatic opens a new chapter for Shinoda—one in which he hopefully finds a way to cope.
DNCE – People to People
Whether it's an album, a single, or an EP, DNCE throws everything they've got at anything they release. The four song People to People EP is short but sweet and it pretty much encapsulates all you'd want from summer songs. From the funky "TV in the Morning" to the massively catchy "Still Good", these four songs are all you need to realize DNCE are sounding better than ever.
Betty Who – Betty, Pt. 1
Despite only releasing an album a year ago, Betty Who churns out a brand new EP that proves a lot can change in a small amount of time. After leaving her record label and becoming an independent artist, Betty exerts her creative vision in these pop songs like we've never seen from her before. "Just Thought You Should Know" sends listeners back to the 80's, while the standout and closer "Friend Like Me" makes us glad we've got a musician like Betty.
Death Cab for Cutie – "Gold Rush"
Indie rock veterans Death Cab for Cutie are gearing up to drop their ninth full-length in August and "Gold Rush" is the first reason why everyone should be excited for Thank You For Today. Sampling Yoko Ono's "Mindtrain", Death Cab's carefree single is one of the best and most fun tracks we've heard from the band in a while. Considering the LP is only packing ten songs it's safe to say there won't be room for filler on this one.
Other new releases:
The Maine – "Saving Grace (Acoustic)"
Nekokat – Pleasure Beach (read our review)
CHVRCHES – "Stay – Recorded at Spotify Studios NYC"
Gorillaz – "Fire Flies"
The Killers – Live from the Royal Albert Hall
Young the Giant – "Simplify"
Troye Sivan – "Dance To This (feat. Ariana Grande)"
Kygo & Imagine Dragons – "Born to Be Yours"
Fickle Friends – You Are Someone Else (Versions)
Grandson – A Modern Tragedy, Vol. 1
Kodaline – "Shed A Tear"
Chromeo – Head Over Heels / "Don't Sleep (feat. French Montana)"
Chromatics – "Blue Girl"
Christina Aguilera – Liberation
Nicki Minaj (feat. Ariana Grande) – "Bed"
2 Chainz – "Bigger Than You" (feat. Drake & Quavo)
Jason Mraz – "Unlonely"
Dan + Shay – "Keeping Score (feat. Kelly Clarkson)"
Bebe Rexha – "I'm a Mess"
Marshmello – "Check This Out"
Alessia Cara – "Growing Pains"
Martin Garrix – "Ocean" (feat. Khalid)
Rudimental, Major Lazer – "Let Me Live (feat. Anne Marie, Mr Eazi)"
David Guetta, Showtek – "Your Love"
GoldLink, Miguel – "Got Friends"
Mura Masa, Octavian – "Move Me"
Nao – "Another Lifetime"
Macy Gray – "Sugar Daddy"
Maxwell – "We Never Saw It Coming"
Chaka Khan – Like Sugar EP / "Like Sugar – Switch Remix"
Aly & AJ – "Good Thing"
Anarbor – "MIA"