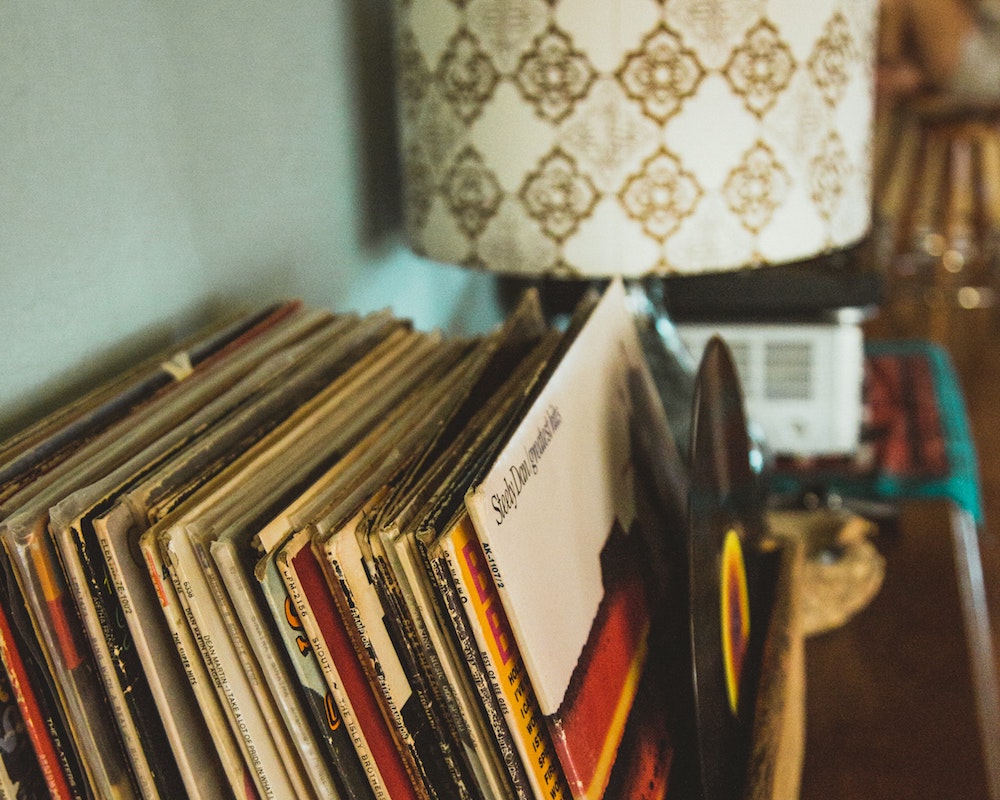 What better way to kick off a weekend than with new music? Fridays are always chock full of the latest songs and albums ready to be the soundtrack to everyone's antics, and here you'll find some of the week's standout releases. Whether you're ready to spin an anticipated song from a favorite artist or just taking a look at what's out there, there's a whole lot of tunes to dive right into. Who knows—maybe you'll find your next obsession.
Between You & Me – "Dakota"
No, you didn't step into a time machine that went back to the year 2000—you're just listening to the new Between You & Me song "Dakota". The Hopeless Records pop-punk outfit show that they're the real deal with a catchy certified-banger off their upcoming album Everything is Temporary. The full-length isn't out until July but a song like "Dakota" is more than enough to hold everyone over.
Panic! at the Disco – "High Hopes"
Panic! at the Disco's new album, Pray for the Wicked, is going to be a straight-up party and everyone is invited. With the latest taste from the record, "High Hopes", Brendon Urie & Co. don't give anybody a second to breathe. The Panic!-on-steroids number matches the quality of the previously released tracks, but if you close your eyes and imagine Patrick Stump dueting on this one it's almost too perfect.
State Champs – "Mine Is Gold"
Some bands just never let you down. "Mine is Gold" is the newest track off of State Champs' upcoming album Living Proof and it's helping cement the record as a summer staple. Crunchy guitars strum along with vocals full of urgency and the result is a textbook lesson in pop-punk songwriting.
Good Charlotte – "Actual Pain"
The boys in Good Charlotte are back and it feels oh so good…even if the song title suggests otherwise. "Actual Pain" finds the band heading back to their The Chronicles of Life and Death days by way of less brash instrumentation but a strong chorus that suits the frame of the song well. If this is an introduction to the next Good Charlotte era, there's a lot to be excited about.
Chvrches – Love is Dead
Chvrches knock it out of the park with their third album Love is Dead. The Scottish synth-pop dream team take their sound to new heights that'll result in shows played in far bigger venues, as songs like "Graffiti" and "Deliverance" deserve to be blasted in arenas across the globe. It's enough of a departure from previous material to sound fresh but the Chvrches DNA is embedded loud and clear.
Jessie J – R.O.S.E.
Jessie J's proper return to everyone's headphones is something to truly be impressed by. After year four of no album, her new music comes in a way that's ambitious as any pop artist can get. Titled R.O.S.E. the record is actually comprised of four separate EPs of four songs—each having a different theme attached to it—but what's consistent with them all is how quality they are. Emotionally charged and dabbling in a number of different styles, Jessie J is spreading her wings as an artist and we couldn't be more grateful.
Train – "Call Me Sir"
(feat. Cam and Travie McCoy)
An unconventional collaboration involving Train is hardly a surprise, the pop band has been making unconventional their middle name for the past two and a half decades. This time it's a little different: Train goes out of the box by enlisting Gym Class Heroes' Travie McCoy along with country singer Cam. It works marvelously on a breezy concoction of all the respective genres these artists are a part of and makes for a very fun listen.
Shawn Mendes – Shawn Mendes
The rise from becoming a social media star to a full-blown pop phenomenon is something that can't be overlooked. What Shawn Mendes has done from his Vine to becoming a walking Platinum record is something special but his self-titled new album takes it up a notch. Songs like "Youth" and "Particular Taste" are mature tracks that display his impressive growth—in a way that doesn't come off as disingenuous.
Mike Shinoda – "Running From My Shadow"
(feat. Grandson)
Linkin Park's Mike Shinoda didn't create a solo album just because he was bored; he's using it as a coping mechanism, a way to fight through his grief the best way he knows how. Naturally, the songs are ultra personal and the track "Running From My Shadow" is hardly any exception. Featuring rapid-fire verses and a powerful chorus, Shinoda speaks through his production but more importantly his words.
Zayn – "Entertainer"
Every new Zayn song is a sneak peek into what the pop star is cooking up for another album. With his fourth one-off track since his debut record, he appears to be heading into a more focused pop direction with less emphasis on R&B and the results are definitely positive. "Entertainer" is seductively sweet with a mood-setting piano line and although the instrumentation is barebones Zayn's vocals ultimately make up for it.
DALES – Demos
Since the end of The Summer Set, frontman Brian Dales made it clear that he wasn't going to stop making music. In fact, making the music he wanted to make helped him find his creativity as it was beginning to fade. His first official release under the moniker DALES shows a new side of his songwriting prowess, but fans of TSS will know he had this in him all along. The five-song EP is a smash from start to finish with Bruce Springsteen influences galore—the release may be titled Demos but these songs are ready for the big stage.
Other new releases:
Weezer – "Rosanna"
Smallpools – "Stumblin' Home"
Passenger -"Hell or High Water"
DREAMERS – "Screws"
The King's Parade – Woman EP
Taylor Swift -"Delicate" (Sawyr & Ryan Tedder Mix)
Snow Patrol – Wildness
Crystal Fighters – "Boomin' In Your Jeep"
James Bay, Alicia Keys – "Us"
Lauv – "Paranoid" / "Bracelet"
Hoobastank – Push Pull
U2 x Cheat Codes – "Love Is Bigger Than Anything In Its Way"
Belly, The Weeknd – "What You Want"
Goldfrapp – "Ocean feat. Dave Gahan"
G-Eazy – "Power"
Dave Matthews Band – "That Girl Is You"
Silk City, Diplo, Mark Ronson – "Only Can Get Better with Daniel Merriweather"
A$AP Rocky – Testing
Pusha T – Daytona
J. Blavin – Vibras
Loote, Joe Jonas – "Longer Than I Thought"
Riley Clemmons – "Better For It"
Jorja Smith – "February 3rd"
R3HAB, Skytech – "What You Do"
Glades – "Not About You"
NIKI – "Newsflash!"
Keegan DeWitt, Kiersey Clemons – "Heart Beats Loud"
HONNE – "Location Unknown (feat. Georgia) ◐" / 306 ◑
KWAYE – "I Go"
The Band Camino – "Fool of Myself"