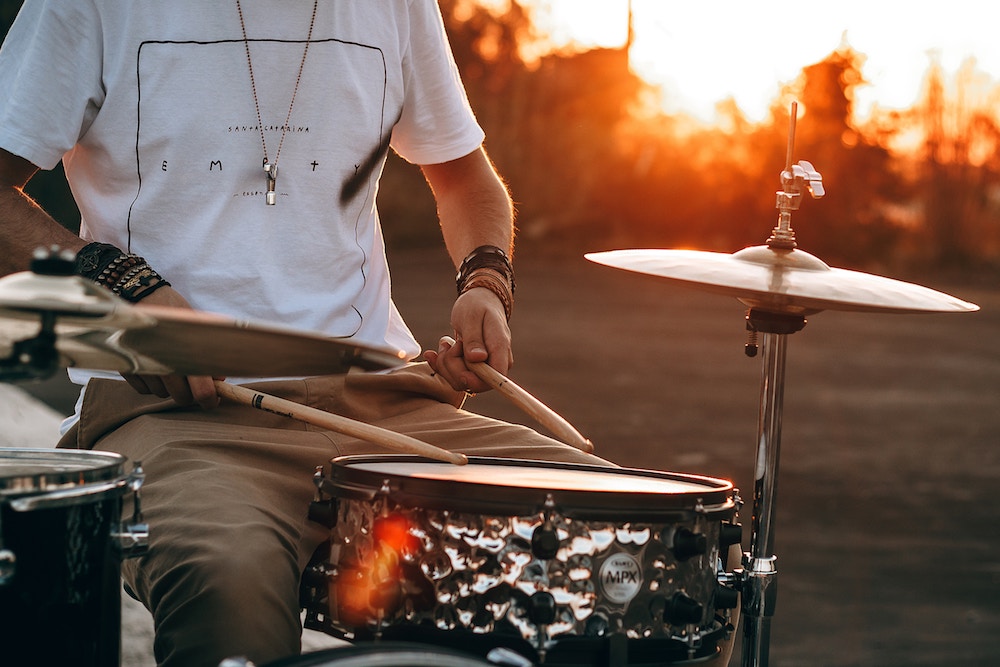 What better way to kick off a weekend than with new music? Fridays are always chock full of the latest songs and albums ready to be the soundtrack to everyone's antics, and here you'll find some of the week's standout releases. Whether you're ready to spin an anticipated song from a favorite artist or just taking a look at what's out there, there's a whole lot of tunes to dive right into. Who knows—maybe you'll find your next obsession.
Dance Gavin Dance – "Son of Robot"
The opening track to Dance Gavin Dance's upcoming album is a certified ripper. Would you really expect anything else? The post-hardcore group has made crunchy guitars and mesmerizing clean vocals their calling card and it's displayed in full force on "Son of Robot." As frantic screams set in within seconds of the track beginning, Tilian Pearson's smooth pipes give listeners a breather on this wild ride.
Rae Sremmurd – SR3MM
Dynamic rap duo Rae Sremmurd could very well have dropped one of the most ambitious hip-hop releases in years. A triple disc album, their third full-length actually counts as a collective record plus the first solo offerings from members Swae Lee and Slim Jxmmi. While Swae's LP has a more poppy vibe, Slim's brings the heat. When the two combine as Rae, however, it's simply the best of both worlds.
Matt and Kim – Almost Everyday
Almost Everyday is Matt and Kim's sixth full-length record and arguably their best yet. Finding a healthy middle ground between their patented indie-pop and full-on mainstream pop, songs like "Forever" and "On My Own" are showstopping tunes that make Almost Everyday a sure-fire summer staple.
Christina Aguilera – "Accelerate"
(feat. Ty Dolla $ign and 2 Chainz)
Christina Aguilera enlists some major heavy-hitters for her triumphant return to the game with new single "Accelerate." Featuring Ty Dolla $ign and 2 Chainz, "Accelerate" is a flavorful tune true to its name as its tempo never lets off the gas. The track is taken off her eighth studio album, Liberation, out on June 15th.
LSD – "Genius"
There's a new supergroup in town and this one will be impossible to ignore. LSD—short for Labrinth, Sia, and Diplo—combine their star power for an unlikely collaboration that works all too well. Their first offering "Genius" is pretty much that—it's a bouncy, feel-good production with Diplo's Latin vibe at the forefront. Vocals from both Sia and Labrinth help make it a standout track of 2018.
Mayday Parade – "Piece of Your Heart"
No matter how many years go by, Mayday Parade sound like they haven't aged a day. Throw their new single "Piece of Your Heart" on 2007's breakout A Lessons In Romantics and nobody would even bat an eye. The band's got a way of catering to their old sound while still progressing with their songwriting and it's shown effortlessly here. Off their upcoming album Sunnyland, the track gives fans a whole lot to be excited about.
Jimmy Eat World
– "Love Never" / "Half Heart"
It's scientifically proven that Jimmy Eat World makes a weekend better, so the band dropping two new songs on a Friday really helps us out. "Love Never" and "Half Heart" arrive seemingly out of nowhere with zero fanfare but they're far from throwaway tracks. The former is a straight-up rocker while the latter is a slow burn builder as they highlight all of Jimmy Eat World's strong-suits with ease.
Mean Girls – "Apex Predator"
Coming off a solid showing with nominations for this year's Tony Awards, the Mean Girls musical is ready to take over eyes and ears, just like the film did nearly 15 years ago. The official Broadway cast album is dropping soon but, in the meantime, songs are surfacing to hold everyone over. "Apex Predator" is a warning call for protagonist Cady to steer clear from Regina George, and the song's gritty vibe is something you could throw on a playlist before hitting the gym … seriously.
Shawn Mendes – "Youth" (feat. Khalid)
Shawn Mendes is only 19 but he's progressing as an artist more than some do in their entire careers. The latest offering off his upcoming album "Youth" puts Mendes in prime Adult Contemporary territory—practically graduating from his previous teen-pop persona—as soft vocals and acoustic guitar become layered with a poppy beat. Meanwhile, Khalid's vocals play off Mendes' perfectly resulting in an A+ collaboration.
This Wild Life – "Westside"
Don't let the acoustic guitars fool you: This Wild Life is as pop-punk as they come. Sure, the killer riffs and in your face gang vocals may be missing but the band's intensity coupled with gigantic choruses is enough proof that says this duo can hang with the best of them in the genre. "Westside" is a prime example of this as its acoustic stylings will keep your interest but the chorus will keep you coming back for more.
Other new releases:
Guns N' Roses – "Shadow of Your Love"
Alice In Chains – "The One You Know"
The Word Alive – Violent Noise (check out our premiere)
Parkway Drive – Reverence
Smallpools – "Pray For Me"
Halfnoise – Flowerss EP
BANNERS – "Let Go"
Cheat Codes – "Balenciaga"
Beach House – "Black Car"
Dirty Projectors – "Break-Thru"
Now, Now – "MJ"
Troye Sivan- "Bloom"
The King's Parade – "The Look"
Snow Patrol – "What if This is All the Love You Ever Get?"
Frank Turner – Be More Kind
Jess Glynne – "I'll Be There"
Florence + The Machine – "Hunger"
Dan + Shay – "All To Myself"
Future – "No Shame"
Travis Scott – "Watch"
Charlie Puth – "The Way I Am"
Wiz Khalifa – "Real Rich"
Desiigner – L.O.D.
Marshmello x Juicy J – "You Can Cry (Ft. James Arthur)"
Julia Michaels – "Jump ft. Trippie Redd"
Enrique Iglesias, Pitbull – "Move To Miami"
Jessie Reyez – "Body Count"
Gallant – "Doesn't Matter"