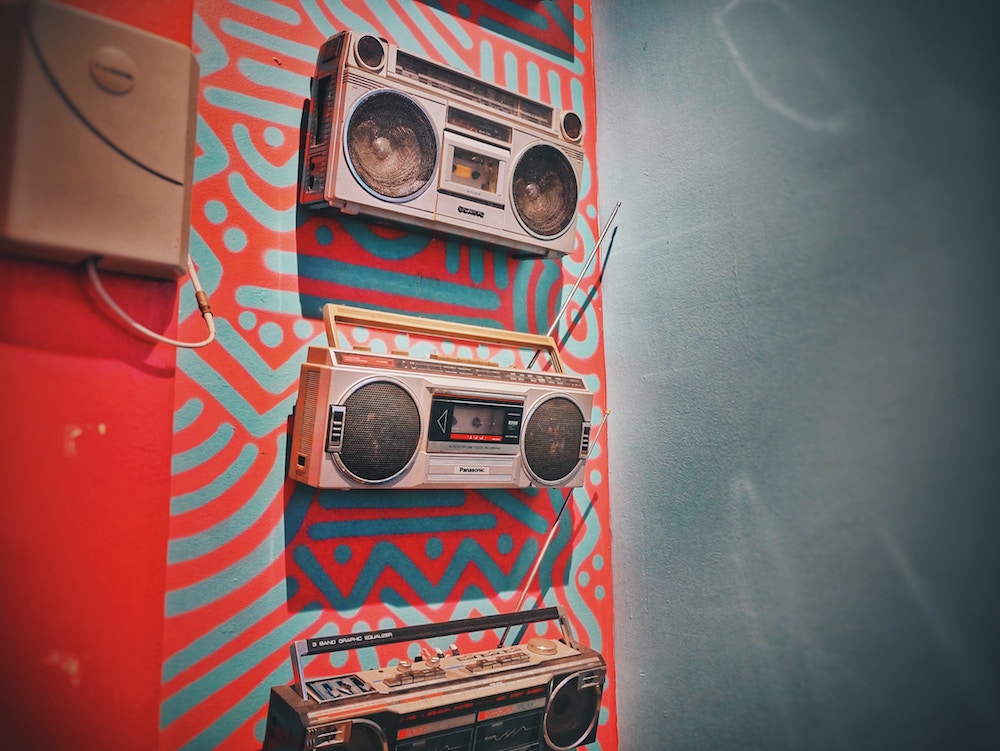 What better way to kick off a weekend than with new music? Fridays are always chock full of the latest songs and albums ready to be the soundtrack to everyone's antics, and here you'll find some of the week's standout releases. Whether you're ready to spin an anticipated song from a favorite artist or just taking a look at what's out there, there's a whole lot of tunes to dive right into. Who knows—maybe you'll find your next obsession.
BTS – Face Yourself
It's kind of exhausting being a world renowned K-Pop band but if anyone makes it look super easy: It's definitely BTS. The group that's taken the planet by storm unveils another album—this time one made specifically for the Japanese market. Including Japanese versions of some of their hit songs, the collection also throws in some brand new numbers like "Don't Leave Me" and "Let Go."
The Wonder Years – Sister Cities
Loss, love, and finding yourself are major themes on The Wonder Years' newest album Sister Cities and, fittingly, they always seem to write the words that fit what their fans are feeling. Sister Cities is packed with some of the most emotional Wonder Years songs to date as the band masters their songwriting to a level unmatched by any other group in the genre.
Underoath – Erase Me
Erase Me isn't just a comeback album for Underoath—it's an entire reinvention of an act that's already done it all. The best part? They still have a lot to say. Arriving nearly eight years after their last record, a lengthy hiatus has helped embed a brand new level of energy that's showcased across the 11 track full-length.
Thirty Seconds to Mars – America
The key to longevity when you're a rock band is to make sure you never make the same album twice. Even if you're a group as successful and talented as Thirty Seconds To Mars, your sound can have a tendency to run stale—that's why Jared Leto & Co. made a big change. America is still a rock album at its core. "Walk On Water" is the kind of arena-ready anthem they've always been known for, but cuts like the eclectic "One Track Mind" has the band venturing into uncharted territory—and naturally nailing it.
Cardi B – Invasion of Privacy
One of the country's most explosive personalities just dropped one of hip-hop's most explosive records of the year. Cardi B, who quickly shot to fame with her hit "Bodak Yellow", bares it all on her debut record Invasion of Privacy. An album born to live on the weekends, Invasion features a slew of trap beats and New York attitude with some additional help from future hubby Offset.

Various Artists – Revamp:
The Songs of Elton John & Bernie Taupin
This compilation may be titled Revamp but even though the songs are changed, the heart and soul behind them haven't gone anywhere. Some major artists get together to pay tribute to Elton John and songwriter Bernie Taupin as they cover classics, spanning throughout the duo's career. Revamp is a gem—Lady Gaga delivers a soulful rendition of "Your Song" while Ed Sheeran does "Candle In The Wind" major justice.
Various Artists – Universal Love
Kesha, Bob Dylan, and Benjamin Gibbard lead the pack on the Universal Love compilation—and it's probably one of the coolest ideas in music in a while. Artists take a classic song—for example, Kesha's choice of Janis Joplin's "I Need A Man To Love"—and flip around the pronouns so the song can speak to all genders. In Gibbard's case, he presents a heartfelt rendition of The Beatles' "And I Love Her" but titled "And I Love Him", of course.
Owl City – Reel 3
If life was a movie Owl City would be writing the soundtrack. Then again, if your life is filled with love, experiences, and exploration, he still might be writing the soundtrack anyway. The third reel—aka mini-EP—from his new album Cinematic drops with some of the record's strongest material yet. "New York City" captures the feeling of seeing big city lights while "Cloud Nine"'s multiple poppy key changes are a marvel to listen to.
Slim Jxmmi – "Chanel" (feat. Pharrell)
Slim Jxmmi, one half of dynamic hip-hop duo Rae Sremmurd, unleashes his latest solo effort in the track "Chanel". Let's be real: Featuring the group's other member Swae Lee, this could basically be considered a Rae track. However, the addictive hook and guest spot from Pharrell is enough to keep you from really caring who the main artist is credited as.
Hawk Nelson – Miracles
Hawk Nelson is going to still be making records when they're old and grey—but we're not mad about it. The pop-rock group is letting loose on their eighth studio album, Miracles, delivering a batch of tracks that give fans a taste of their whole new repertoire. Straying mostly away from their patented rock stylings, Miracles focuses more on electronic elements like various beats and synth to get the message across and it's does so in impressive fashion.
Knuckle Puck – Shifted
For as aggressive and in your face as Knuckle Puck can get with their sound, they also have the ability to dial it back and strip things down to as bare as it can get. On Shifted, the pop-punk powerhouses reimagine songs from their latest album, Shapeshifter, with an acoustic mellow vibe in mind. It's only five songs long, so our biggest gripe is the fact they didn't just reimagine the entire record.
Other new releases:
Chase Atlantic – "Numb to the Feeling"
This Wild Life – "Hold You Here"
5 Seconds of Summer – "Want You Back (Acoustic)"
Alice Merton – No Roots EP
St. Vincent – "New York (DJDS Version)"
Breaking Benjamin – "Save Yourself"
Band of Horses – "Into My Arms"
Bullet for my Valentine – "Over It"
Unknown Mortal Orchestra – Sex & Food
Halfnoise – "All That Love Is"
Alison Wonderland – Awake
Calvin Harris – "One Kiss" (feat. Dua Lipa)
John Legend – "A Good Night"
Various Artists – Jesus Christ Superstar Live In Concert
Flatbush Zombies – Vacation In Hell
Lil Xan – Total Xanarchy
Various Artists – Johnny Cash: Forever Words
Diplo, Desiigner – "Suicidal"
Snakehips – TAKE HOME TAPES (=–_–=)
Plan B – "Grateful"
Eels – The Deconstruction
Friendly Fires – "Love Like Waves"
Alina Baraz – The Color of You
Gallant – "Gentleman"
Maisionair – "Violet City"
Mikky Ekko – ADVANCE COPY EP
Eagles of Death Metal – "Blinded by the Light"
R3HAB, Noah Neiman – "We Do"
Glitch Mob – "I Could Be Anything (feat. Elohim)"
The Aces – When My Heart Felt Volcanic
Chromeo – "Must've Been" (feat. DRAM)